20 Incredible Things to do in Mysore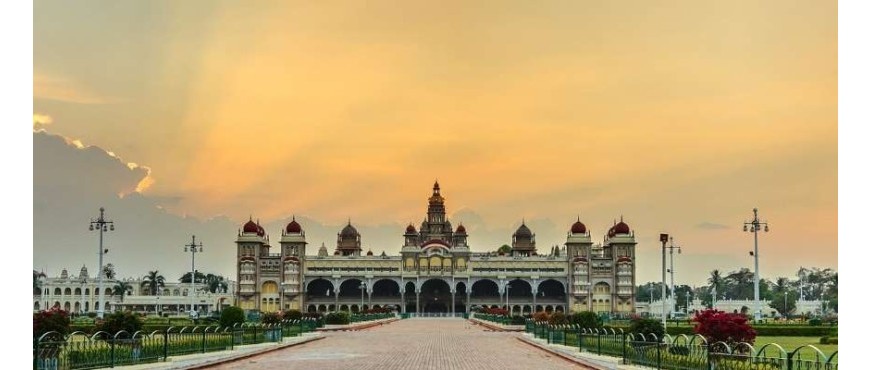 20 Incredible Things to do in Mysore
Mysuru or Mysore is popularly known as the city of palaces and is blessed with a rich heritage. It has an exceptional cultural ballpark in the southern state.
It has momentous tourist attractions in the country. This city has endeared several beautiful places that will make you fall in love with the place.
You can explore this beauty and take part in several activities to create a memorable trip. Warm and humble locals can guide you with itineraries. You can rent a bike in Mysore for full day sightseeing or avail one of the affordable tour packages for your visit to Mysore.
Now let's take a look at 20 implausible things to experience in Mysore
1. Walk alongside Meenakshipura Mysore Beach
You might have heard about the incredible backwaters present in Mysore. This place looks amazing during sunset. A peaceful time with your loved one is the best gift you can get from this implausible nature.
Technically the place is known as Meenakshipura but the localities are commonly known as Mysore beach. You will observe a natural river flow with blessed green shade and serene beauty, this place will for sure steal your heart.
2. Boating in Karanji Lake
Karanji lake is a spot in Mysore city where you can get a glimpse of spoonbills, darters, painted storks, lake ducklings etc. This gorgeous lake consists of rich natural habitat. Apart from 5 dozen bird species, this lake is blessed with the largest aviary probably in the country.
Tourists can look around the aviary and spot sarus cranes which are considered as the tallest flying bird in the biosphere of the world. Near the lake, you will find a boating point. Visitors can hire boatmen to rowboat or pedal your way through the stunning ambience.
Karanji lake is open from 8:30 AM – 5:30 PM for water sports and visiting. Localities will guide you to the destination but this place is present in Jockey Quarters, Mysuru.
3. Visit Silk Factory
You must have seen the famous Silk Saree being worn by several women all over the world. Mysore consists of a corporation factory that produces the world-famous silk industries from scratch to finish. If you look at the production process, you will realize why this saree is so superior and is considered a luxury.
Starting from the unspooled silk to the dying process you can observe all of it if you visit this silk factory. This industry is located in Mananthavady Road, Mysuru. You must add this to your to-do list to make the trip more diverse.
4. Mysore by Night
Mysore looks incredible at night. The ambience around the city makes the experience soothing at night. The best time to drive to Mysore via winding hill road is after evening. Bustling city life as well as thick jungle, you can find it all here.
The city is decorated with a mattress of jewels that makes Mysore breathtaking. You can view the full moon with your loved one and experience stunning nature.
There are many night out places in Mysore you can visit for hangout with friends or your life partner. Consider visiting the road pub that is located in Doora for a thematic night hangout with a vintage car and bikes in backgrounds. Other hangout places to visit in Mysore at night are Purple Haze, Opium, Pelican, and Khedda Lounge.
You can also consider dining with your partner in some of the finest restaurants in the heart of the city with soothing music and dim lights.
Maharaja's Palace is one of the top night visiting places in Mysore, where you can experience the illumination show. It was the official residence of the Kings for Mysore in ancient times.
5. Watch Sunset at Chamundi Hills
Your trip will be incomplete if you visit Mysore and skip Sunset at Chamundi Hills. There is a huge difference between the normal visit to Chamundi Hills compared to the evening visit.
Contrast is truly visible as the true nature lover will observe the beauty of these hills during both mornings and after dawn.
6. Visit Rail Museum
This place is considered one of the rarest spots in the country established in 1979. People bearing a high interest in railways will enjoy this place as it shows the spectacular journey of Indian railways. The history of railways has more than 150 years and has evolved efficiently. This museum is located on Krishnaraja Sagar road.
There is a display of a rare collection of ancient locomotives with royal carriages. The water pump is one of the major exhibits of the year 1934 and cranes which were hand-operated in the year 1885. This museum is open from 10 AM – 5:30 PM and is closed on Monday.
7. Visit Shivanasamudra Falls
This place consists of two waterfalls that emerge out of Shivasamudram waterfalls. Gaganachukki and Bharachukki are also known as twin waterfalls that are just kilometres away from one another.
The place is the best spot to take memorable pictures with a spectacular view and is the best thing to do in Mysore for couples. . There is a watchtower that offers the best view from the place free of cost.
Shivanasamudra Falls are open from 8 AM – 5 PM situated on the banks of the Kaveri River
8. Visit Balmuri Waterfalls
This magical place is located near the Krishna Raja Sagar Dam. Balmuri Falls is the perfect place to escape the stressful and hectic life to enjoy the beauty of gushing water. This waterfall has lush greenery around it. This stunning place is not a natural waterfall but not many people are aware but it's manmade.
There is a dam made across the Cauvery River which is also a picturesque place. It is located in Balumuri, Yadathittu Mysore, open from 6 AM-7 PM.
9. Experience Jet Skiing
Jet Skiing is an adventurous sport that is recommended to have an amazing watersport experience. In Mysore, you can experience jet skiing in Varuna Lake. Tourists can take pictures of these beautiful views and create memories. Clean and transparent lake water makes the experience even more memorable.
This soul-stirring activity can be experienced with friends and family which will make you want to do this again and again.
Entry fees are free of cost and open from 10:00 AM to 5:30 PM.
10. Camping in Mysore
Camping is a thrilling experience that can be done with your family and friends. Mysore offers a must-try vicinity camping that is just 10 km further from the city.
People who enjoy outdoor activities and are into adventure are recommended. We can guarantee a blissful camping experience with your loved ones and indulge with them.
11. Private Plane Ride
Not many people in their life get to experience travelling in a private plane. Mysore provides people with an opportunity to ride for people with a limited budget. Tourists can gain unique experience with the certified pilot who will provide commentary about the ride throughout. This is one of the top adventure things to do in Mysore.
This is a once in a lifetime opportunity that is recommended to everyone for a lifelong memory with people your love. This ride will cost around 5000 which is cheap considering the experience is worth more.
12. Cycling Tour
Mysore is the place for both nature-loving and adventurous people. One in a lifetime unique and thrilling experience can be obtained through cycling in Mysore. It provides you with an opportunity to experience the culture and beauty of the different places and interact with the localities.
You might even enter the new parts of the city and explore amazing places throughout the day. If you are looking for things to do in Mysore in 1 day, a cycling tour must be on your list.
13. Horse Riding
Horse riding is another adventure activity that can be experienced in Mysore. For the people who love animals and adventure is highly recommended.
Riding horses for hours is considered royalty. This activity is open from 10:00 AM to 6:30 PM for just 50 INR.
You can even reach the peak of the hills and view the scenic beauty. This is a perfect way to create an amazing experience of astounding beauty.
14. J Shaped Kukkarahalli Lake
Kukkarahalli Lake is a fabulous place for tourists to explore Mysore. This place is spread across 58 hectares and consists of about 5km of shoreline. The people who love nature will spend a great time viewing the lush greenery and spotting different species.
There are around 180 different birds present in the area such as Black-crowned-night herons, Spoonbills, Open-billed storks, Cormorant. This place is open from 6 AM – 6 PM but closed on Wednesday.
15. Taste Biriyani at Hotel Hanumanthu
Foodies out there, this is a perfect place for you. If the tourist wants to experience one of the best biryanis, you can visit this place. You will find World's best Boti which is highly acclaimed all over the world.
This destination will make you feel like heaven that will offer you the best piping hot mutton pulao which will add the cherry on top of your trip.
16. Sandalwood Oil Factory
Sandalwood oil is acclaimed for its calming property. This essential oil will provide benefits such as
Relaxation and peace
Reducing problems such as anxiety and depression
Reduces long term hypertension
Reduces blood pressure.
If you want to buy one of the best sandalwood oils then Mysore is the place for you. The tourist can go to the sandalwood factory located in Ashokapuram, Mysuru.
The factory is open from 9:30 AM – 1 PM and 2 PM – 5:30 PM and is closed on Sunday. You might as well see how the oil is extracted through the guided tour offered in the industry.
17. Visit Ranganathittu
Ranganathittu is a tiny island that is spread across 40 acres on the river Kaveri. This major tourist destination is a must-visit place for couples who like a peaceful stay.
Nesting and breeding are done for several species of different parts of the world in this place. The tourists can witness migratory birds from different continents.
18. Chamundeshwari Temple
Tradition and culture are present in Mysore. You can feel this by visiting different temples situated for years. Even if you are not religious by heart, this place is highly recommended to see the vintage and aesthetic of the city.
Temple is situated on the top of Chamundi Hills and is built on an impeccably awe-inspiring goddess. You do not need entry fees for visiting.
This temple is open from 7:30 AM to 9:00 PM every day.
19. Mysore Zoo
In this zoo, you can spot stars starting from bears to jaguars. For all the animal lovers out there, this is the perfect place for you. This place is a must-visit with loved ones, friends and children. Wildlife enthusiasts can gain a little thrill.
The entry fee is just 50 INR and 20 INR for children. You have to pay 30 INR for weekends and the timings are 8:30 AM to 5:30 PM except Tuesday is closed.
This zoo is located in Indiranagar at Sri Chamarajendra Zoological Gardens at Mysore.
20. Visit Shuka Vana
This place is a hidden attraction of the southern state. You can take a look at friendly parrots of various species in this rehabilitation centre for birds. It would be so amazing to see parrots talking in human language. This unseen treasure is a must on this list.
You will be able to locate this gorgeous destination in Avadhoota Datta Peetham near SGS Ashrama, Datta Nagar.
Timings of this place are 9:30 AM – 12:30 PM. Later it opened again at 3:30 PM – 5:30 PM. Shuka Vana place will be closed on Wednesday.
Mysore is a beautiful city that consists of several nature-loving spots, wildlife sanctuaries, lakes, backwaters, waterfalls, dams and several tourist attractions. Make sure that you are all packed up according to the weather and create a memorable experience with friends and your loved ones.