Top 20 Amusement Parks in India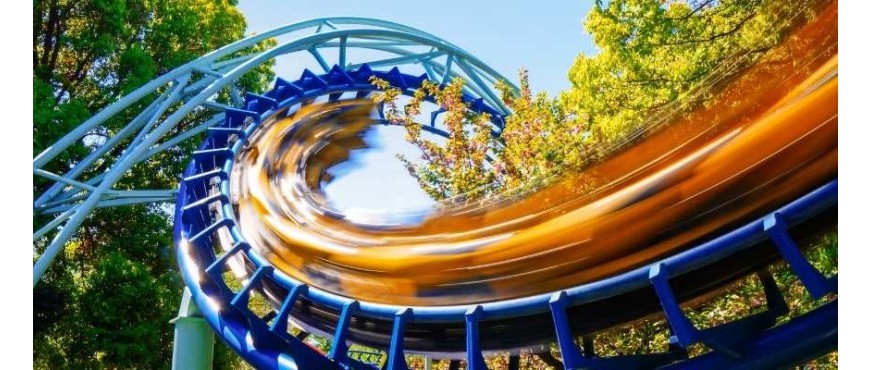 Top 20 Most Popular Amusement Parks In India

There are beautiful and enchanting amusement parks in India to visit. Visiting them can be a unique and fun experience. A lot of rides, roller coasters, theme parks, and swimming pools are something that eliminates the monotony in life.
These Adventure Parks in India are famous worldwide and liked by all. These amusement parks are worth your time and money. You can check them out for spending the weekend and a fun day out. Have a look at the top amusement parks in India mentioned below:
1. Imagica Adlabs, Lonavala
Adlabs Imagica opened in April 2013. It is a world-class entertainment theme park referred to as a one-stop recreation centre. Located on the Mumbai Pune Expressway, It is a famous amusement park in India with many entertainments like live shows and activities. You can reach here by renting a Self-drive Car in Pune.
2. KOD, Kingdom of Dreams
This is India's first live theatre destination. It is a leisure and entertainment spot to spend time. It is situated in sector 29, Gurugram. It represents contemporary and modern India with a mix of technological masterpieces. You can explore this and the rest of Gurugram by renting a Self-Drive Car in Gurugram.
Inside there is a Culture Gully which covers the culture of fourteen states inculcating street arts, fine arts and cuisines. In addition, it has two international standard theatres taking you on some unforgettable journey of mystic and diverse culture and tradition.
3. Wonder La Water Park, Bangalore
This is the best amusement park in India which attracts tourists all over the country. It is most famous for its high thrill. However, relaxing and fun rides are also available here. It is situated at the periphery of Bangalore on Mysore Road. You can hire a Self Drive Car in Bangalore to reach Wonderla Water Park. Hiring a Car is also helpful for exploring other destinations in and around Bangalore.
This park features over 60 rides. It has a great collection of high thrill points, proving an excellent amusement park. India's first reverse looping roller coaster is also located here. The water park is fantastic and has various slides that are thrilling or leisurely.
4. Wonderla Amusement Park in Kochi
Situated in the Kumar Puram, this amusement park has a breathtaking charm. There is a lot to celebrate in its vivacity. It has over 50 buggy rides and facilities to provide an exciting experience for visitors irrespective of age and gender. This amusement park has both land-based and water-based rides.
5. Wonderla, Hyderabad
Wonderla amusement park is the most exciting one among all of Hyderabad's beautiful attractions. It has a cheerful and loud atmosphere.
It is full of breath-taking opportunities and activities to spend your entire day. There are many adrenaline rush rides for adventure seekers. If you are looking for some relaxation, water pools are present.
Rides are also available for casual or frolic fun. Therefore, making it the most exciting amusement park in India.
You can also explore Kochi on the latest models of Bicycles & MTBs on Rent.
6. Ramoji Film City
Ramoji Film City is in Hyderabad. Founded in 1996 by Ramoji Rao, the head of Ramoji Group, it is a beautiful holiday destination with cinematic themes. Ramoji Film City is certified as the world's largest film studio complex by Guinness World Records. You can rent a bike in Hyderabad and explore the city cheaply, along with the Ramoji Film City.
So we can say that it is an excellent destination for our country, attracting millions of people because of its unique themes.
7. Essel World
Located in the capital of Maharashtra, Essel World is the most famous park in India. It has numerous exciting rides and entertainment purposes. The Essel World of Maharashtra is an excellent destination for family vacations.
8. Della Adventure Park of Lonavla
This is a fun amusement waterpark based in Lonavla. There are plenty of activities, including Aqua Zorb, swoop swing, flying fox and many others. In addition, the park has a nightlife club with several restaurants for fine dining and binge eating.
9. Nicco Park, Kolkata
An amusement park that people frequently visit for entertainment and recreation in our country. This park works on solar energy, causing no harm or pollution. For the visitors, every aspect of the ride they will experience is explained briefly at the start.
Park ensures a safe ride for everyone, and you can find principles and rules displayed inside the park for this very purpose. Numerous amusement rides are present, which are educational and recreational too.
It is the favourite park of parents because of the safety purpose and instructions. Over the 20 years after its establishment, It has gained recognition from Quality Management systems and Environment management systems.
It has also obtained a 'Social Accountability' certificate. A must-go-to for entertaining and educational purposes. Its other name is Disney land of West Bengal. It attracts visitors in plenty of amounts throughout the year.
TIP: You can rent a Self-Drive Car in Kolkata at the Cheapest prices in town and enjoy the cost-effective way of family travel.
10. Appu Ghar in Gurgaon
Established in 1984, Appu Ghar commemorated Asian Games. Appu was the mascot of the park.
It was running till 2008 and temporarily closed. Later it was reopened in Gurgaon in 2014 behind Huda City Centre, housing the oyster beach. It is open from 11 am till 7 pm.
11. Queens Land in Chennai
Located in Poonamallee, Queens Land is built over 70 acres. There are about fifty-one rides both in water and regular.
It also has a play area. It also has a green space along with a beautiful enormous food court. The weather is mainly 32 degrees Celsius. The entry fee is INR 500.
Check our range of Cheap Car Rentals in Chennai.
12. Aquatic in Kolkata
Kolkata's water theme parks and resorts have many exciting themed rides and entertainment. It has recreational activities for all the visitors.
It occupies 75,000 square feet of the area, providing a pleasant respite from the summer heat. They also provide lockers to keep the belongings and stuff safely.
It is open early at 10 am and closes at 6 pm. The entry fee is mostly 600 rupees. The entry fee for children is 450 rupees.
You can also head to the restaurants in between the ride. If you want to lay around in the pool or go for a thrilling water slide, there is everything here. Also, if you munch on some snacks, you can head to the restaurant serving a variety of both local and international.
13. Worlds of Wonder Water Park, Noida
Visiting Wonder Water Park is the best option if you feel dead because of this hot summer. Refresh yourself with a fun trip with friends and family to Wonder Park. This entertainment park in Delhi is one of a kind. It is spread over an area of 10 acres.
The ticket price is INR 740 for adults and INR 600 for children. It is full of fun and adventure, including housing activities like paintball and arcade games, air hockey and car racing VR games. The particular zone, ' La Fiesta', has activities that kids, adults, and senior citizens enjoy. It is open from 11 am and is closed at 8 pm.
14. Ocean Park
Situated in Hyderabad, Ocean Park is 20 kms away from the central city of Gandipet Lake, on Shankerpally Road. It can be called one of the most popular amusement parks in Hyderabad. There are two segments in the park. Half is a vast water park, and the other is an amusement park.
15. Adventure Island, Delhi
This is the most famous adventure park in Delhi. It is a one-stop destination for a hefty dose of thrill and enjoyment.
It is fun for both kids and adults. It is an excellent idea for a cute date for couples and a wide variety of ride options for kids and special events. There is a ride called butterfly feeling meant for adults.
16. Funtasia Island in Patna
Takshila Seas and Resorts Pvt. Ltd constructed Funtasia, the first water park in Patna, spreading over five acres of land.
Funtasia park is popular among both children and adults. Owning its vivid slides and water rides, this is a lovely park. You will find this place on Sampatchak Main Road.
17. Suraj Water Park
Located in Dongripada, Mumbai, Suraj Water Park is one of India's most popular amusement parks, especially among school kids. It is spread over 11 acres.
The park has a lot of rides and roller coasters. Along with these, the park has a beautiful restaurant to cater for your hunger pangs. Rates for the tickets for adults is 800 rupees. For children, the charges are 650 rupees.
18. Science City in Kolkata

Science City in Kolkata was inaugurated on 1st July 1997. It has been a significant attraction for the residents of Kolkata and the people who regularly visit Kolkata. It is called the finest and the largest science museum in the world.
It has a fun way to learn science. It is recognised as the largest science centre in India by the National Council of Science Museums. The Park opens at 9 am and closes at 8 pm. The ticket price is just rupees 60.
19. Black Thunder
Black Thunder is located in Coimbatore. It is an expansive water park in Coimbatore, covering an area of 75 acres and having an array of water-themed rides. Black thunder park is a must-visit if you are looking for a splendid escape from the summer heat waves.
This park has a lot of rides to suit every age group, including thrillers and relaxation experiences. Some of them are dashing boats, volcanoes, Dragon Coasters, and kiddies' pools. This park is famous for its helpful and attentive facilities and staff.
This park also provides visitors with food facilities in the form of a food court on the premise serving incredibly delicious food that includes snacks and meals.
All the tourists or visitors are provided with lockers to keep the valuable stuff safe while enjoying the rides and recreational activities. Also, changing rooms and showers are conveniently available, making it a go-to for visitors.
It has a separate feeding room for mothers, and providing this facility has become an exclusive attraction as a place to visit. Park administration is putting efforts into building and maintaining such facilities and comfort for visitors. It is the best place for families to come and spend their time here.
20. GRS fantasy park, Mysore
This is a fifteen-minute ride from Mysore. It can be called an Amusement Park and a water park serving perfectly as a picnic spot. It is one of the favourites among locals and a marvellous theme-based amusement park.
It has some fantastic amusing rides and activities, making it a perfect place for friends and family. It is opened at 10:30 usually and gets closed at 3:30 pm and then from 3:30 to 7:30 pm. The ticket price is ONR 750, and the charge for children is INR 600.
It also has a multipurpose playing system for kids and adults too. Water games or activities and a kid's pool are the main attraction of the GRS Fantasy Park. Inbuilt games are also present at Amazonia, an interactive river. In addition, there are many facilities like lockers, rooms for changing, restaurants and gift shops.
So if you are thinking of a fun and adventurous trip amidst holidays, this is the best destination.