5 Best Bikes for a Road Trip in India in 2022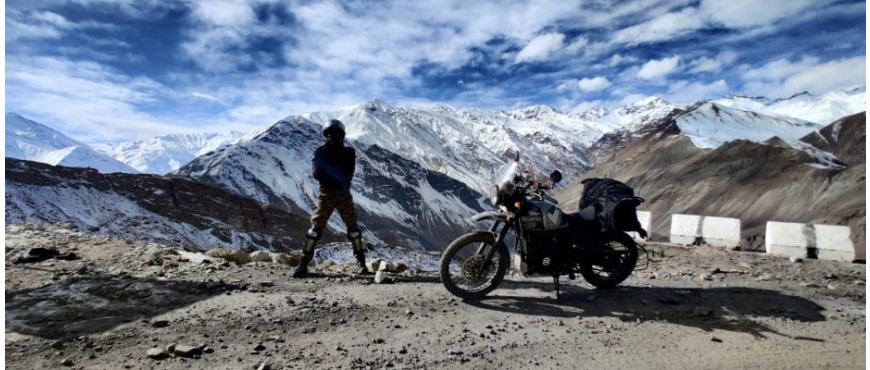 5 Best Bikes for a Road Trip in India in 2022
'Bike is a Traveller's best friend', Not just for a professional Biker but bikes level up the road trip happiness. This is because of all the perks a bike provides you over other means of transport for a trip. Factors that make it the best are…. Number one; more mileage means less fuel that is less expensive. Secondly, you don't have to pay a road toll for 2 wheelers!. Thirdly, it is faster, what I mean is; if you opt for public transport it will have many halts so will consume a lot of time to reach. And the best part is that long bike rides could be like an ice breaker from all the stress and anxiety acquired from your regular life.

Well, Thanks to all the Bike Rentals operating in the entire country which provide us with the best bikes to make our day a memorable one. So, all the travel enthusiasts here's a small list of bikes preferred by many while they hit the road- in India.
1. Royal Enfield Thunderbird 350
Mileage: 30kmpl
Engine Displacement: 346cc
The first place has been decorated by The Royal Enfield Thunderbird 350. It's a check on all the factors that one looks for in a bike. Not only is it an ideal stylish cruiser, but the bike is also very comfortable with leather cushions, forward foot set control, a huge fuel tank of 20 liters, and only weighs 192kgs. It also outshines in rest of all the features too.
Royal Enfield Thunderbird 350 produces 19.8bhp peak power and 28nm of torque and is also equipped with a five-speed gear set.
2. Bajaj Avenger Cruise 220
Mileage: 40kmpl
Engine Displacement: 220cc
The stylish and Ultra-comfortable Bajaj Avenger is a perfect choice for a long ride. It's got long seats with a backrest for the pillion rider, a Huge windshield, Wide handlebars, low seat height, and forward foot control, looks like it was made for the ultimate comfort of the rider. Apart from this, it can produce 18.8bhp of maximum power output and 17.5Nm peak torque. It has an air and oil-cooled engine. Bajaj Avenger accelerates from 0-100km/h in 5.2seconds.
3. KTM 390 Duke
Mileage: 34kmpl
Engine Displacement: 373cc
This bike was spotted almost everywhere on the roads in India and is different from the above-mentioned. It is light weighted. Some of the striking features of the bike are its up-right handlebars, digital TFT display, LED headlamps, and superior engine.
The bike is powered by a liquid-cooled, fuel-injected single-cylinder engine that can produce 42.90bhp maximum power and a torque of 37nm. Another main feature is that it comes with a 6-speed gearbox.
4. Royal Enfield Himalayan
Mileage: 36.26kmpl
Engine Displacement: 411cc
This bike had created some buzz in the market for its looks and performance and was made just to its name. If off-roading is your favorite, then this bike is made for you. The notable feature is the switchable ABS, which gives you more control over the bike during upright off-roading. Other features include a revised side stand, the height of the wheels;i.e a 21inch front wheel, and a 17 inch rear wheel which best suits rocks mountain-any terrain.

The Himalayan consists of a powerful single-cylinder engine with a 5-speed gearbox, generating 24.3bhp of power and a 32Nm torque.
5. Jawa Perak
Mileage: 32-35kmpl
Engine Displacement: 334cc
Jawa made its re-entry to the market and this is the best bike it has with a stylish black body and contrasting seat colour. Apart from this, it is a bobber motorcycle, exclusively made for a single rider. The bike has comfortable upright handlebars and a comfortable seating position, and a dual switch ABS.
Jawa Perak comes with a single-cylinder, liquid-cooled engine that generates 30bhp and 31Nm torque.
These are some best bikes preferred for a road trip in India, but this list doesn't end here because there are so many bikes out there that give tough competition to choose from. Every rider has their own expectation about an ideal bike for a long road trip, hope you find your perfect match!
So what you are waiting for? Rent a bike of your choice today.