Resorts in Udaipur with Lakeview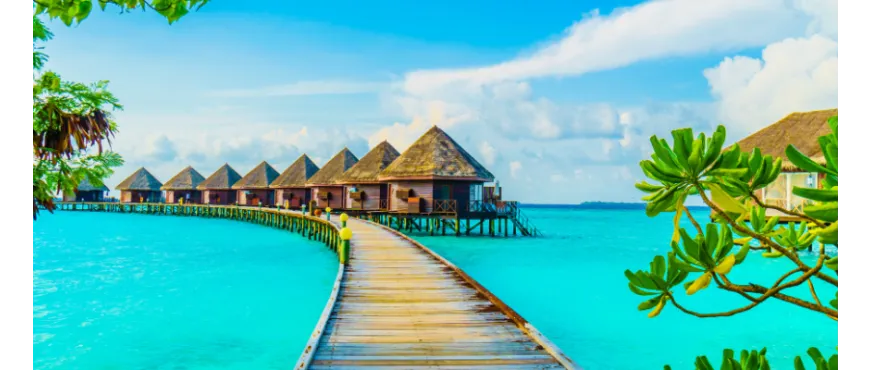 Resorts in Udaipur with Lakeview
The calm and serene beauty of Udaipur lies in the presence of its unravelling lakes, the ones due to which Udaipur is also termed as 'City of Lakes'. It is situated in the western region of the state of Rajasthan. The old age folklore says, 'None has the beauty as the one that lies in Udaipur'. The city's foundation was laid by Udai Singh II of Sisodia clan in the mid 16th century. It is famous for its lakes, forts, architectural beauty, rich cultural heritage and certainly at present for being one of the most chosen city for destination wedding. The famous lakes of Udaipur like Lake Pichola, Fateh Sagar Lake , Jaisamand lake are all surrounded by many resorts and out-dining locations giving it a visible detailed beauty. The eastern side of Lake Pichola is very popular among the visitors. You can enjoy the sunset behind the Aravalli range around which major cities of Rajasthan lies. Most of the lakes are situated nearby it because of it being the centre point.
With our self-drive car rental service in Udaipur, you have the freedom to explore the city's top attractions at your own leisure. Whether you want to visit the majestic City Palace, take a boat ride on Lake Pichola, or wander through the colourful markets, our self-drive cars give you the flexibility to create your own itinerary and make the most of your time in Udaipur.
1. The Lalit Laxmi Vilas Palace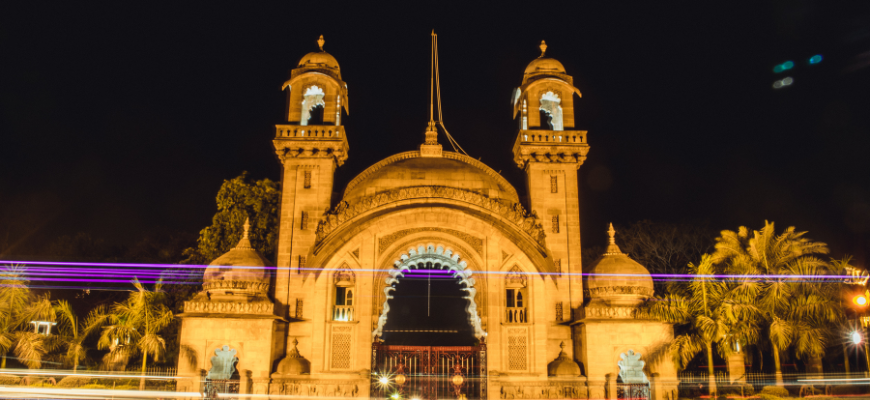 The palace was laid into existence in 1911 by Maharana Fateh Singh of Udaipur. It is made of Rajput and British architectural styles. The property was converted into a luxury hotel by the Lalit Suri. The hotel is situated on a hill. Fateh Sagar Lake, Lake Pichola, and the Aravalli Mountain Range can be seen there. The Lakshmi Villas Palace has a ground dome, tunnels, Jharokas, and beautiful courtyards. The hotel provides modern facilities and rooms. It also offers different types of cuisine, swimming pools, spa and wellness centres, and fitness facilities. The Palace Hotel is a popular venue for weddings and events.
2. Chunda Palace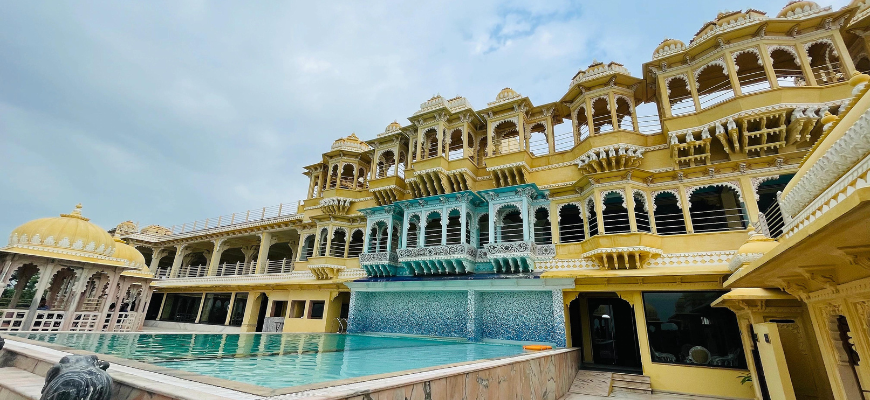 Chunda Palace was built as a residence for the Mewar family of Udaipur. The hotel is positioned in the heart of Udaipur. You can view the lake Pichola from here. Chunda Palace comprises Rajasthani architecture with carvings, a dome, and frescoes. The interiors are hand-painted murals, antique furniture, and artwork. The hotel provides rooms with modern amenities and luxuries, a comfortable stay for guests and many more. The hotel offers cultural performances, music, and dance to entertain guests. Chunda Palace provides a range of dining options like Rajasthani dishes, Indian delicacies, and international fare. Guest can enjoy their meals by enjoying Lake Pichola and the surrounding landscapes. The hotel has a swimming pool, an awareness centre, and a palace bar.
3. Taj Lake Palace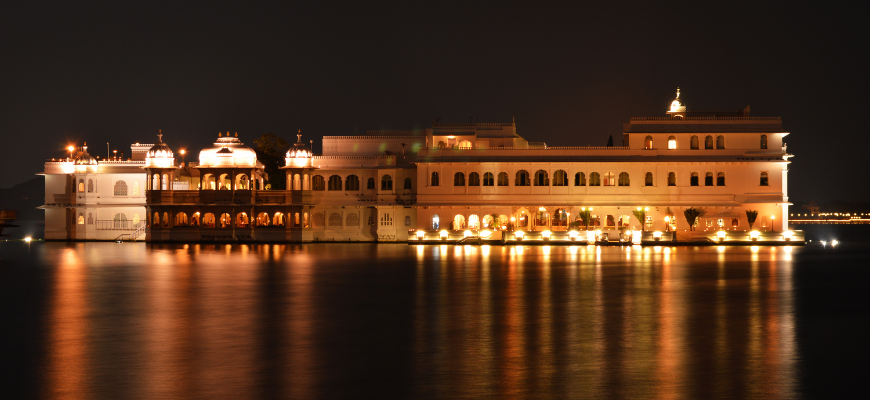 Taj Lake is one of the most popular hotels in the world. It is the most iconic and luxurious staycation place. It is situated in the middle of Lake Pichola. The Taj Palace was built in 1743 by Maharaja Jagat Singh II at Udaipur. It was later converted into a hotel by the Taj Group of Hotels. The hotel is made of Rajasthani and Mughal architecture. White marble facades surround the palace. The interiors are marble carvings, ornate glasswork, and beautiful paintings. The hotel provides luxurious rooms which have modern facilities. The hotel offers dining options like Indian, Rajasthani, and international cuisine. It also provides a spa, fitness centre, swimming pool, and a rooftop restaurant.
4. The Leela Palace
The Leela Palace is situated on the banks of Lake Pichola in Udaipur. It was built in 2009. It is made of Rajasthani culture and heritage. The palace has domes, arches, and beautiful courtyards. The interiors are carvings, fine art, and elegant furnishings. The hotel provides luxurious rooms with balconies or terraces with views of Lake Pichola. The Leela Palace offers dining options with Rajasthani cuisine, Indian cuisine, and International dishes. The palace is a popular venue for weddings and events. Its luxurious ambience and many other facilities attract tourists. The hotel provides a bunch of amenities to ensure a memorable stay for guests, like a spa, fitness centre, swimming pool and lakeside lounge. The hotel speaks volume of archaeological beauty and luxury imbibing Rajasthani touch.
5. Rainbow Restaurants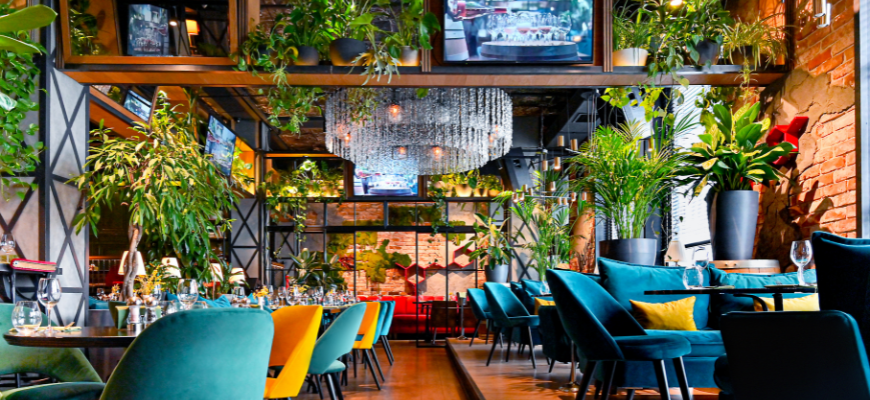 Rainbow Restaurant is a rooftop eatery near Fateh Sagar Lake. You can see a beautiful evening over the lake. It provides Indian, Chinese and continental dishes. The restaurant provides indoor and outdoor seating space for the visitors.. The rooftop seating is famous for watching stunning views of Fateh Sagar Lake. It caters to a variety of tastes, making it a great place. It is an ideal place to relax and enjoy a meal.
6. Ras Leela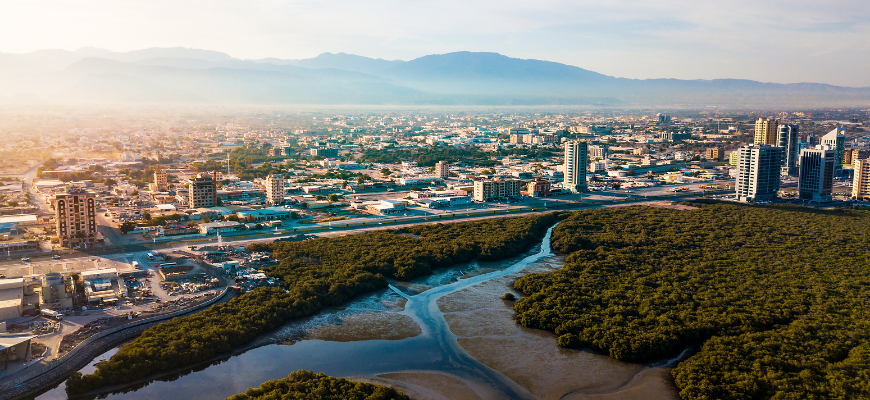 Ras Leela restaurant is situated near Fateh Sagar Lake. The restaurant provides beautiful rooftop seating for dining. It also provides a view of Fateh Sagar Lake and its surroundings. Ras Leela serves Indian and Continental cuisines. The main menu has Indian bread like naan and roti, kinds of pasta, sandwiches and salads. One of the most stunning attractions is the view of Fateh Sagar Lake. Most couples come here to seek a romantic dining experience.
7. Sun and Moon Rooftop Restaurant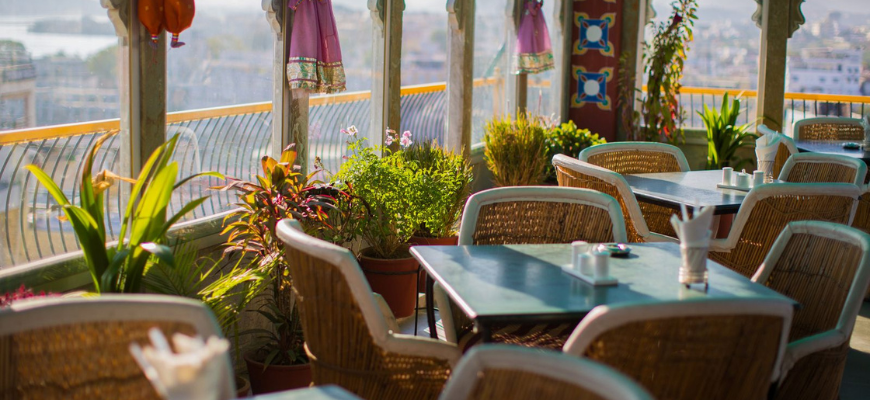 Sun and Moon rooftop restaurant is situated near Fateh Sagar Lake. It has outdoor and indoor seating options. It provides a stunning view of the Fateh Sagar Lake. It provides Indian, Chinese and continental cuisines. The main dishes are Indian Curries, Chinese noodles, fried rice, and continental options like pasta and sandwiches. The restaurant is famous for its friendly and quick service.
8. Tat Saraasa Resort and Spa
It is one of the sightseeing places in Udaipur, near Lakhawali Lake and the Aravalli Range. It is also known for its calm, charming, and beautiful surroundings. It provides rooms with private balconies with all modern facilities and comfort. It provides cuisines from all over the world. Private classes can be arranged on the meadows with a beautiful view of hills and lakes. You can do many activities like walking, riding and cycling in the Aravalli Hills. You can enjoy relaxing by the lakeside and swimming in the pool.
9. Shiv Niwas Palace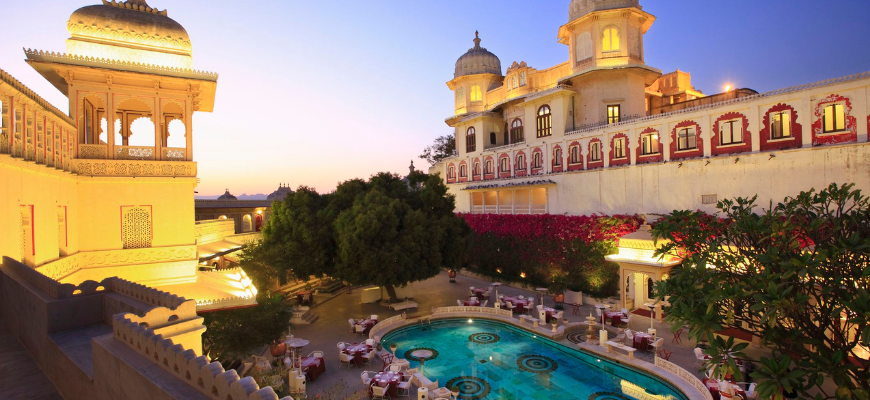 Shiv Niwas Palace is situated on the banks of Lake Pichola. It has a courtyard in the middle which include a Marvel pool, Balconies and rooftop terraces. The building is made of Rajput architectural styles. The interiors are ivory and mother of pearls. It has 36 guest rooms with 19 deluxe rooms, eight terraces suites, six royal and three imperial suites.
10. Aranya Vilas Udaipur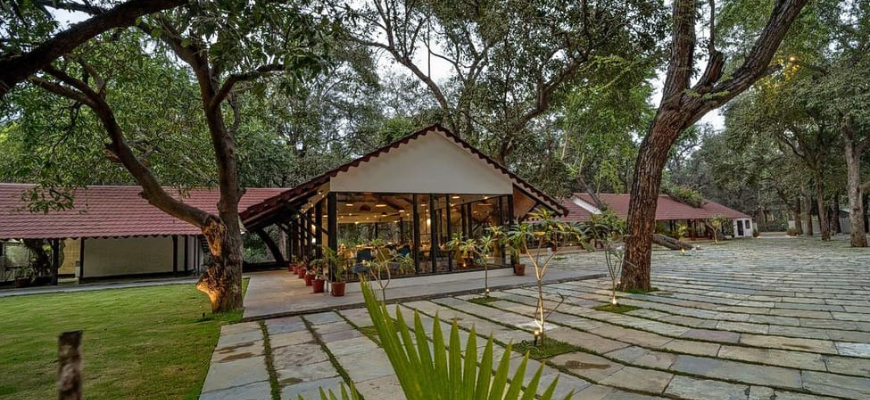 It is situated in Samora Bagh Pichola. It is one of the best villas with all types of modern facilities. Aranya Villas has 11 luxury accommodations and nine luxury ponds. It is situated near Lake Pichola. Villas have many amenities, like a clubhouse, swimming pool, gym, landscaped gardens, and children's play area. Most tourists come here to stay because of the warm welcome by the staff. It has lush green lawns and premium rooms that offer attractive views. It is spread over 20,000 square feet area. It also provides lavish in-house savoury delicacies. You can find all types of activities like adventure or wellness etc. The resort also has a luxurious cottage where you can get all the modern facilities, like a tv with Wi-fi, ac, and a coffee tea maker. It is the perfect place to watch natural views.
Bikes for Rent in Udaipur
Bike Rentals in Other Cities
Self-Drive Car Rentals in Cities
Rent Bicycles and MTBs in Cities