9 Amazing Things to Do in Chandigarh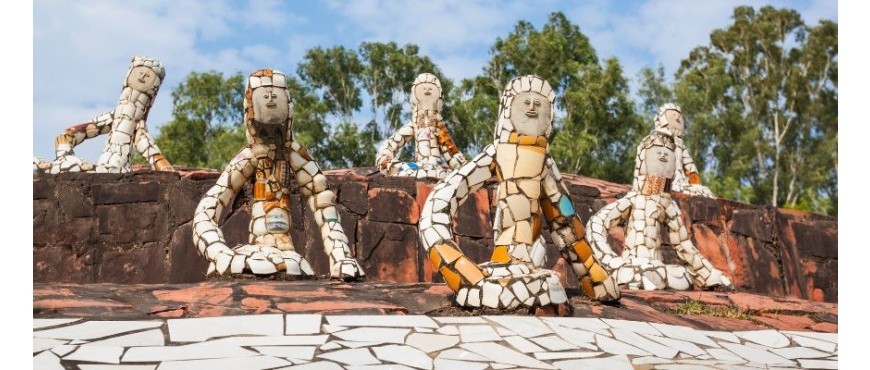 Nine Amazing Things to Do in Chandigarh
Chandigarh is one of the nation's most flawless and spotless cities. Hence, people sometimes call it "The city of beauty."
This city is enriched with picturesque gardens, has a well-maintained and spacious road network, and a pollution-free environment. All these allow residents and visitors to take in the lap of nature.
If you are thinking about going to Chandigarh, here are some activities that you shouldn't miss out on while you're there.
Admire the Beauty of Sukhna Lake
Sukhna Lake is widely considered one of the most stunning bodies of water in all of Chandigarh. It is also famous for its spectacular sunrises and sunsets that can be viewed from its shores. As a result, it is the tourist destination that receives the most number of visitors.
People travel to this location to take in the breathtaking views of the dense vegetation and peaceful environment that can be found in this region. In addition, there is a garden based on stones that contain a large selection of flora and flora on display. And there are some well-known vantage spots in the neighbourhood, such as the old peepal tree, the suicide point, and the Sukhna water dam, which we can also visit.
Another well-liked activity that can be done in this location is going for a boat ride and enjoying the picturesque views of the surrounding area. Paddleboats, Shikara boats, and Donut luxury boats, are the boats available here. Water sports like rowing and water skiing are also available here.
When we're done exploring, we can rest our weary bodies in one of the many local food courts, where we can enjoy some delicious fast food. A children's amusement park is also available here.
We can take our time and relax in the vicinity of the lake while enjoying the beautiful scenery and watching the migratory birds. To make this trip more exciting and unforgettable for us, we can also have the option of riding camels.
This lake is open from 6:00 to 6:00 in the evening. There are no entry fees, and boat rates range from fifty rs to one hundred and fifty rs, depending on the number of people.
Visit Rock Garden to have Some Fun
The Rock Garden is one of Chandigarh's most well-known locations and a stunningly beautiful kingdom. But, primarily, it is famous for the sculptures built out of recycled ceramics, considered waste material because they are composed of industrial and home garbage and abandoned things.
Only one man, utilizing his creative mind, has created this Garden. His name is Nek Chand Saini, and he is a government official. In his spare time in 1957, he made this stunning Garden. In addition, it is well known by the name of Nek Chand Saini's Rock Garden of Nathupur.
Only rocks were used in the construction of these sculptures. And every structure features pointed detailing. In this Garden, everything is assembled out of discarded objects and materials. In addition, there is a structure of dolls constructed out of shattered bangles, monkeys, plates, and furniture.
It is well worth the thirty rupees required to enter this Garden. Open daily from 9:00 am until 7:00 pm.
Go Shopping
In Chandigarh, one can shop in various locations, including the Shopping Center, Shastri Market, Furniture Market, Palika Bazar, Burail Market, and many other places.
This section has a wide variety of items, ranging from clothing to furniture, and if you are tired while Shopping, you can enjoy the small food stalls there.
Phulkari, Juttis, Handlooms, and Artifacts are Just some of the favourite things we can buy from here. The bright lights and bustling crowds of these shopping districts are sure to attract shoppers, who, in turn, are likely to spend a considerable amount of time there.
Chill at the Zakir Rose Garden
Zakir Rose Garden is one of the most beautiful botanical gardens in Chandigarh. Rose Garden is named after Zakir Hussain, who was the third President of India.
There are more than 1600 variations of rose species and 50,000 individual rose plants. You can also enjoy the well-known Musical Fountain and the Neelam Theatre in the Rose Garden neighbourhood.
This Garden is so fascinating and full of lovely vistas. You shall also be able to snap a lot of stunning images here that we can then be posted on social media. In addition, the Zakir Rose Garden is also famous for the annual Rose Festival, a significant cultural event in Chandigarh during February or March.
The time for this Garden is from 6:00 am through 10:00 pm. In addition, the entrance charge to this Garden is simply Rs. 50. And the month of February is highly recommended to visit this Garden.
Take a Tour of Chandigarh on a Bicycle
You can do a range of things in Chandigarh, but this is one of the most enjoyable options. Visitors that come to this location on vacation will most likely partake in this activity while they are there. Renting a bicycle in Chandigarh is inexpensive, and while you're out on the road, you'll have plenty of beautiful scenes to stop at and take pictures of the exciting things you pass along the way.
Enjoy the ride while catching up with pals simultaneously; it's one of the most remarkable things you can do. You not only learn more about the topography but also more about the people who live there and their culture while you ride.
If you want to maximize the amount of fun you have, the best time to go is in the morning, when the temperature is more relaxed and there is less chance of rainfall.
Visit the Bougainvillea Garden
This is one of Chandigarh's best-kept secrets, and the vast majority of visitors to the city are entirely unaware of its existence. This Garden is expansive and features 38 different kinds of bushes.
This location is known for its tranquillity, peace, and abundance of vegetation. Names of fallen warriors who served the country from 1947 to the present are inscribed on a garden wall nearby. This is the aspect of this location that makes it the most interesting and distinctive.
The place is open from 6:00 am through 9:00 pm, and there is no charge to enter.
See a one-of-a-kind piece of art at the Open Hand Monument
This memorial represents "the hand to give and the hand to take; peace and prosperity; and the joining of mankind," as its inscription reads. And plant a sense of optimism for a brighter tomorrow. Le Corbusier was responsible for designing yet another stunning monument in Chandigarh, which may be found here.
The 'open hand' sculpture, constructed of metal and stands 85 feet tall, contrasts starkly with the majesty and timelessness of the Himalayas in the capital complex.
You are not allowed to record videos inside this monument. However, suppose you want more information about this landmark or more in-depth details. In that case, you can hire a guide who will explain everything.
There is a tower of shadow in this structure because the face of the monument receives no natural light. In addition, just outside the walls of this structure is a sizable garden that features many stunning photo opportunities.
The experience of Chandigarh is incomplete without seeing this monument. It's an absolute must-see place.
Watch The Pretty Miniatures, International Doll Museum
In 1985, the museum was opened to the public. The museum is well-known for the magnificent dolls, and toy trains preserved here throughout the years. In addition, this museum features displays of popular children's stories, which keep the children glued to the location.
In general, this is a place that is enjoyable to go to for both young people and older people. The Dolls Museum is a beautiful destination if you want to take in the stunning scenery and get a feel for the museum's rich history. Here, we can observe dolls from a wide variety of countries and cultures in this room, which increases our curiosity.
There are 250 dolls from 25 different countries included here as samples. The planning of the arrangement and décor is done so well that we can't stop ourselves from admiring this place.
Eat Delicious Food
Chandigarh has excellent culinary variety. Some of the city's most well-known restaurants are Sodhi's Zaika, Fire N grill, classic 44, and Night Food Street 24*7.
Chandigarh is well-known for its Sindhi sweets, Amritsari Kulcha, Garg Chat, Pal Dhaba, Papdi Chaat, Bhel Puri, Pani Puri, Bhalla Papdi, Aloo Tikki, Ragda Patties, Kachori, and other food items that are sure to please your appetite.
Every neighbourhood in Chandigarh has its unique selection of delicious street meals.
So, what are you waiting for? Go and explore Chandigarh city.