10 Best Places to Visit in Goa with Friends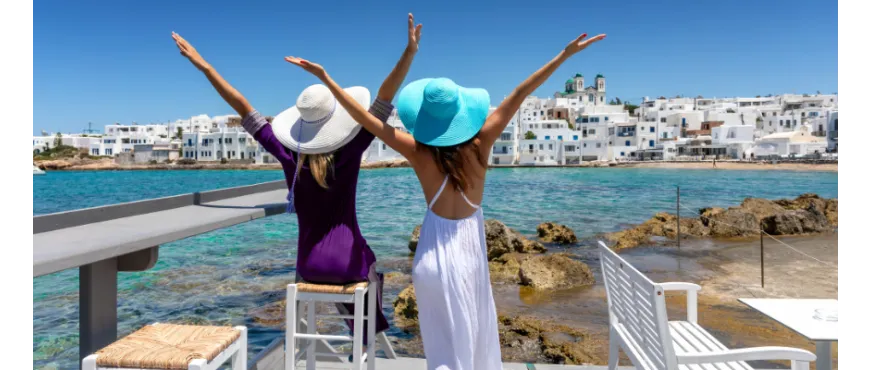 10 Best Places to Visit in Goa With Friends
Goa is a well-known holiday destination in western India, drawing in millions of sightseers every year. It is renowned for its picturesque beaches, vivacious nightlife, and relaxed atmosphere, making it a perfect spot for a holiday regardless of what you are looking for ­Self-drive bike on rent in Goa is an easy way to explore Goa's beautiful beaches, lush forests, and historical monuments. Book a self-drive car for rent today.
It is India's smallest state and is known for its endless beaches, eclectic seafood and stellar nightlife. Situated on the Konkan coast, it attracts many international tourists as well as Indian tourists. However, beyond the beaches and party scene lies a treasure trove of hidden gems that offer a unique and authentic experience of the state's culture, history, and natural beauty.
Goa's hidden gems are not limited to just wildlife sanctuaries and ancient temples. The state has several charming small towns and villages that give visitors a taste of the traditional lifestyle of the area. One such hidden gem is the village of Loutolim, known for its colonial-era mansions and quaint churches. The village has a rich history, and visitors can learn about its past by visiting the Ancestral Goa Museum, which showcases the state's traditional way of life.
1. Divar Island: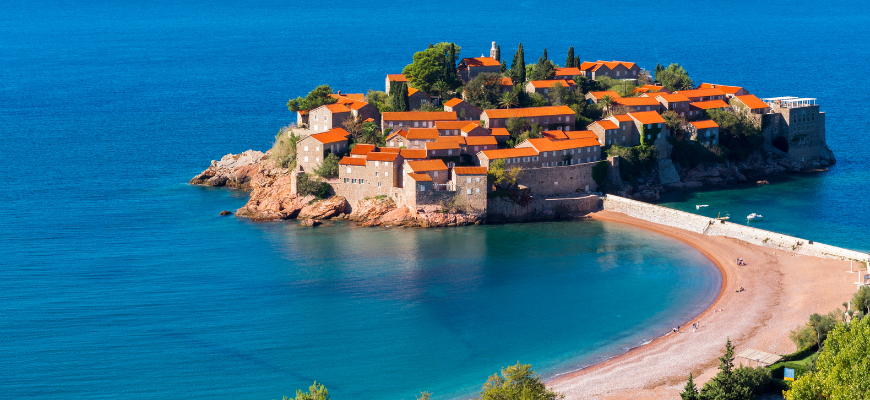 Divar Island is a hidden gem located in the Mandovi River. Just a short ferry ride away from Ribandar. The island is known for its natural beauty, heritage houses, and ancient temples. The island is home to the beautiful Our Lady of Candelaria church, which is over 400 years old.
Visitors can also explore the Saptakoteshwar Temple, which is one of the oldest temples in Goa. The island also has several scenic trails, perfect for a leisurely walk or a bike ride.
2. Chorla Ghats: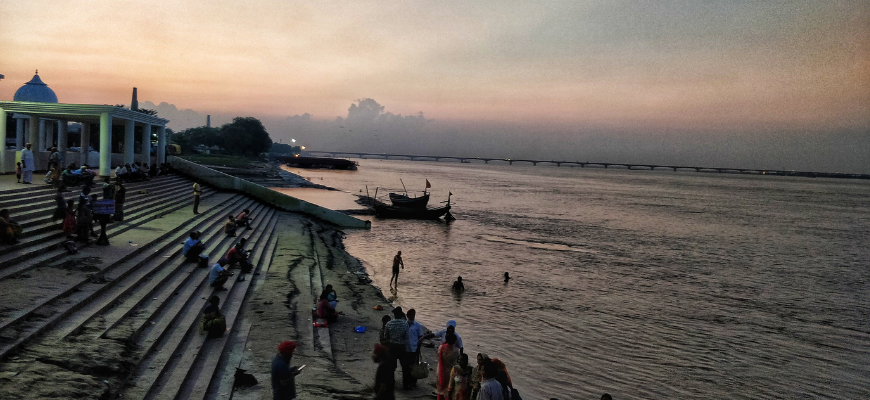 Chorla Ghats is a range of hills located on the border of Goa, Karnataka, and Maharashtra. The hills are known for their natural beauty and biodiversity. The region is home to many rare species of plants and animals.
These include the Malabar grey hornbill, the lion-tailed macaque, and the Malabar trogon. The hills also have several trekking trails that take you through dense forests and offer stunning views of the surrounding landscape.
3. Netravali Biodiversity Park:
Netravali Biodiversity Park is a hidden gem located in South Goa. This park covers 211 square kilometres. Within this area, a variety of wildlife live. These include birds, butterflies, and some of the rarest creatures like the black panther, Indian gaur, and giant squirrel.
The park also has several hiking trails, including one that leads to the beautiful Netravali waterfall.
4. Tambdi Surla Temple:
Tambdi Surla Temple is an ancient temple located in the dense forests of the Western Ghats. Constructed in the 12th century, this place of worship was created to honour the Hindu deity, Lord Shiva. The temple's architecture is a stunning example of the Kadamba-Yadava style, which is unique to Goa. Lush green forests surround the temple, and it is a peaceful and serene place to visit.
5. Terekhol Fort: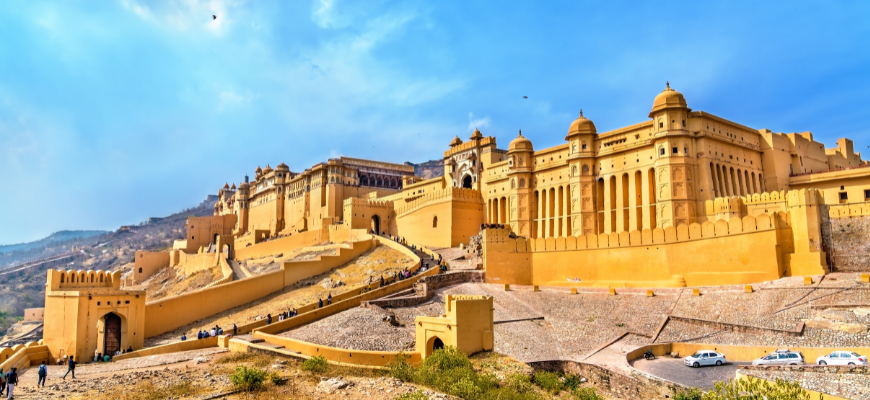 Terekhol Fort is a hidden gem located at the northernmost tip of Goa. The Portuguese built the fort in the 17th century, and it is now a luxury hotel. The fort offers stunning views of the Arabian Sea and the Terekhol River. Visitors can explore the fort's history and architecture while enjoying the stunning views.
6. Carambolim Lake:
Carambolim Lake is a hidden gem for birdwatchers in Goa. The lake is home to several species of migratory birds, such as the pintail, garganey, and shoveler, during the winter months. Visitors can take a boat ride around the lake and explore its beautiful surroundings. The lake, also being home to several species of fish, makes it a popular spot for fishing.
7. Arvalem Caves:
Arvalem Caves are a group of ancient Buddhist caves located in North Goa. The caves were built in the 6th century and are carved out of laterite rock. The remarkable and intricate design of the caves demonstrates the craftsmanship of the people who built them long ago. These caves are embraced by rich and verdant forests, creating a tranquil and calming atmosphere for visitors to enjoy.
8. Calangute Beach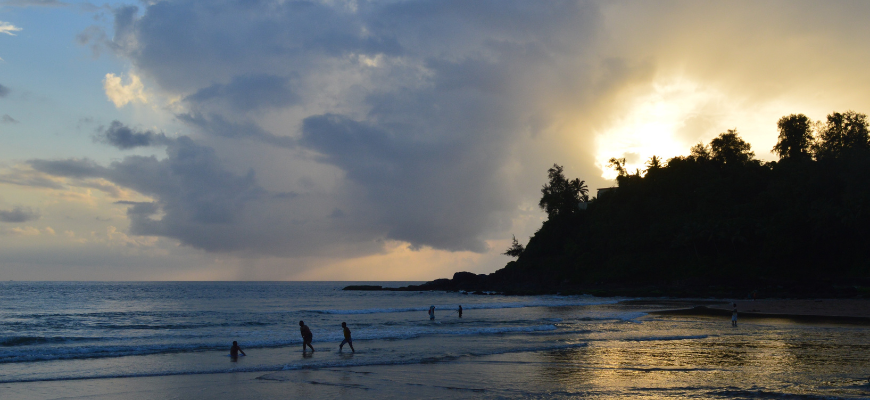 This beach is among the longest beaches in North Goa, where it stretches from Candolim to Baga. Its popularity has risen in the past few years as the "Queen of Beaches". It is a pivotal place in Goa city where tourists from all over the world come and chill.
The best time to visit it is after monsoon as you can enjoy various water sports activities here. It hosts various night parties filled with loud music and upbeat dance, letting you forget all your stress.
a. Fort Aguada
The stunning "Fortress of Tranquility", Fort Aguada is a Portuguese fort built in the 17th century facing the confluence of the Arabian Sea and Mandovi River. The main attraction of the fort is a lone four-storey lighthouse (one of its kind in the entire Asia) and a stunning view of the sunset. The fort was built in 1612 for protection from the Marathas and Dutch. The fort has once been used as a jail where a statue in front of it salutes the freedom fighters.
b. Dudhsagar falls
Known as "The Flowing Cascade of Milk", Dudhsagar falls India's tallest waterfall. Located inside the Mollem National Park. This charismatic fall is situated on the Goa-Karnataka Border, where the 310 m huge waterfall divides itself into tiers on the Mandovi river resembling a heavy rush of milk flowing down the hill.
The facility for trek lovers is also available as they can reach these falls by trekking, whereas others can avail jeep or any other private transport or can also journey by train. During monsoons, it may be possible that the waterfall is closed because of high water levels.
9. Anjuna Beach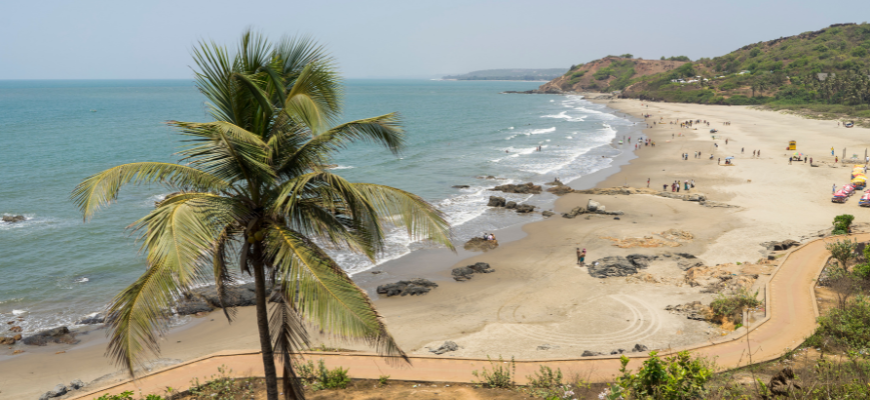 The beach is famous for its nightclubs, golden coastline, beach shacks, full-moon parties and watersports. It is located at a distance of 21 km near Panjim. It has various outlets for the hippies to swing in and also has a number of nightclubs to party at. It's a charm for partygoers and gives a fresh wave of enjoyment to them.
a. Chapora Fort
The fort is witness to an iconic shot of the Bollywood blockbuster "Dil Chahta Hai" and is claimed to rise to fame after it. The fort was built by the Portuguese in 1717. It is a scintillating escape as it offers beautiful views of the river Chapora and the sea.
Earlier, the fort was called Shahpura and was built by a Muslim ruler. Its modifications and the present structure is an art of Portuguese. There used to be two tunnels, the entry of which can still be seen and were then used as an emergency exit by the Portuguese during times of emergency.
b. Basilica of Bom Jesus Church
Known for its exemplary baroque architecture, the church is one of a kind in India. It is situated in old Goa and is about 10 km away from Panjim. It is the oldest church in Goa city and has been declared a world heritage site by UNESCO.
It is open between the timings 09:00 am – 06:30 pm from Monday to Saturday and 10:30 am – 06:30 pm on Sundays. The entry is cost-free. The church was constructed in 1594.
In conclusion, these hidden gems offer a unique and authentic experience of Goa's culture, history, and natural beauty. Whether you're interested in exploring ancient temples or trekking through dense forests, these hidden gems have something for everyone. There are numerous resorts and hotels with the best facilities for a stay in the city ranging from normal to high prices.
The city's true essence lies in its exquisite culture, pristine natural beauty and rich history. So, the next time you plan a car rental in Goa, make sure to add these hidden gems to your itinerary. Hurry up for a perfect Goa trip as it will relax your mind and you would love to enjoy it with your family and friends.