ETERNAL POWER OF RADHA KRISHNA LOVE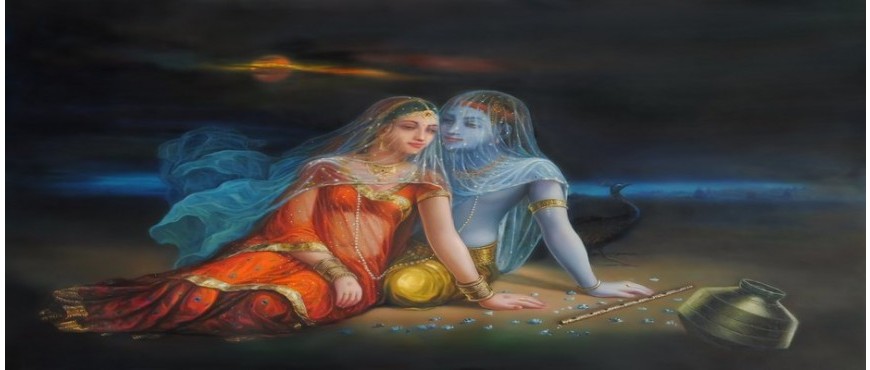 "Sadhan heen, deen mai ho Radhe tum karunamayi prem Agathe"
Shiromani Shri Radharani, the supreme power, Godhead of the deities is the sole contoller of everything in this very phenomenal universe. Radha, the epitome of prosperity, good health, beauty, wit, courage, patience and most importantly love; is the universal truth. She is the personification of what we call SHAKTI.
Godhead Radha and Lord Krishna together are known as RadhaKrishn and are the embodiment of love, compassion, sacrifice and truth. Shri Radha is the shakti of Almighty Lord Shri Krishna and resides in all spheres of life. It is said when in trouble, recite "Radha Naam" and apparently all your troubles will vanish. The power of "Radha Naam" is such that only by taking the name all your wishes are fulfilled. To get Lord Krishna's courtesy one has to adorn the name of his highness's beloved Shri Radha.
In this startling universe it is more than impossible to get Shri Radha's courtesy and the one who gets it, wins the world. All the forces in this universe alongwith the 'Tridevas' Brahma, Vishnu and Shiva are the energies of divine Shri Radha. It is in "Shri Narada Pancratra" that when goddess Parvati asks Lord Shiva about why the creator and destroyer of all in this universe a gopi? What is that which is the secret of such an effulgent hearts devotional service towards Shri Krishna? It is then Lord Shiva with all his devotion towards Shri Hari and his beloved Shri Radha recites "Radha Sahasranama", the thousand names of beautiful Shri Radharani. The truth of this universe lies in Radha Sahasranama.
Shri Radha is surrounded by the brightness of thousands of 'sharad chand' or white moon and the gleam around her is such that noone can ever see her. It is only that Shri heart of Lord Krishna which can be with Shri Radha because RadhaKrishn are eternal and unchangeable. The one who gets both of theirs kindness gets rids of all sins of this world and worldly pleasures.
Shri Radha and Shri Krishna both resides in 'Goloka' or the place of cows in this eternal universe and Vrindavan on earth. Shri Radha alongwith her sakhis involve herself in the divine dance of Shri Krishna known as 'Ras-Leela' where Kanha plays flute and Radha dances to his tunes. The view is so satisfying and divine that one who has fortune in its fate, if witnesses the divinity of lord gets over of all worldly desires.
To witness the truth of divine love of Shri RadhaKrishn one should atleast once in a lifetime visit Barsana, Vrindavan and Mathura. You can plan a trip with own vehicle or can book rented Vehicle from Rental Company like Rentrip India , BounceShare to visit the location from nearby cities like Delhi , Noida, agra and ghazaibad etc. These are the places on earth where Shri RadhaKrishn spent a part of their mortal lifetime when they took birth in last years of 'Dwaparyuga' to put an end to the sins on Brahma's creation i.e., The Earth.
Shri Radhe Shyam
HOW TO REACH MATHURA BARSANA, VRINDAVAN AND MATHURA

Nearest Aiport
1.Delhi (International And Domestic)
2.Agra (Domestic)

By Road
1.Public Transport
2.Rental Company.
You can use Rentrip services in different part of India for easy travelling. Just Book Rent and Go and make it Roadtrip
visit: www.rentrip.in