6 Mistakes Everyone Does on A First Ride to Ladakh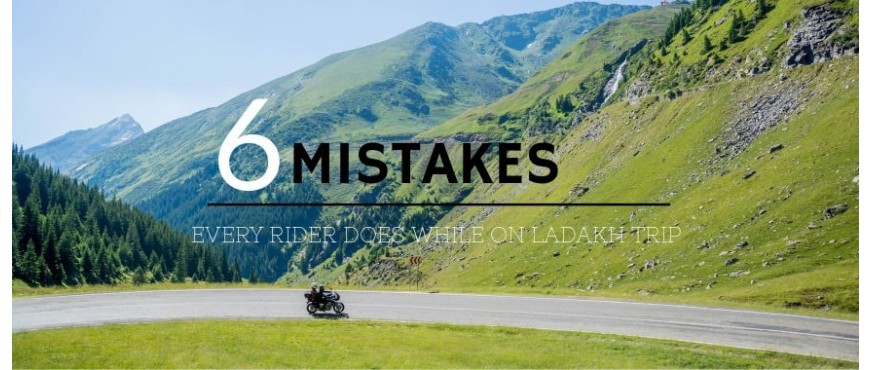 6 Mistakes Everyone Does on A First Ride to Ladakh
So you are wondering if you are also going to make these mistakes on your Ladakh Bike Trip. While planning and preparations for the adventure bike trip to Ladakh must be going on, we are going to reveal you the top 6 planning mistakes that may cost you dearly at the end.
MISTAKE 1: I WILL HIRE A BIKE ONCE I REACH MANALI
And once you reach Manali, you may not get a bike at all! Since Ladakh may be experiencing a plethora of tourists from all around the world, and you might either be missing a bike to rent or finally be paying too much.
MISTAKE 2: ALL RENTED BIKES ARE SAME ON QUALITY; I JUST NEED TO GET A CHEAPEST DEAL
And here you leave a space on the renter to give you the quality as per prices offered. This approach may leave you stranded in the Valley of Ladakh and finally forgetting about the trip and getting yourself and the bike recovered.
MISTAKE 3: I CAN BEAT THE COLD WITH ENOUGH ALCOHOL
And you may land in a condition called Acute Mountain Sickness. As you shall be on much higher ground, than you were before, your body needs acclimatization. Alcoholic drinks may negatively affect your resistance to mountain sickness. It is recommended not to consume alcohol while visiting Ladakh or take it in smaller quantities so that you always are fit to handle a sudden change in ambiance.
MISTAKE 4: MY WINTER CLOTHING AND RIDING GEARS ARE SUFFICIENT
Think again! The Ladakh region may be too much cold even during summers and your preparation may still not be sufficient. Look back to your preparation on winter clothing and riding gears. As per our experience, most of the travelers visiting Ladakh does this mistake of not having sufficient winter clothing or riding gears.
We recommend having high quality, mountain grade riding gears like helmets, boots, gloves, and jackets.
MISTAKE 5: MY BIKE IS NEW SO I DON'T NEED TO KNOW ANYTHING ABOUT TROUBLESHOOTING
Ask your motorcycle manufacturer, if they shall take a guarantee for tyre puncture or broken clutch wire or a clogged spark plug?
It is always better to have a basic understanding of your riding machine and associated basic troubleshooting. YouTube is a good source to understand the basic troubleshooting on any motorcycle. You can keep with you a puncture kit and spare clutch wires etc apart from necessary tools to take up any minor troubleshooting task yourself.
MISTAKE 6: MY RIDING ROUTE IS JUST 100 MILE. I CAN START LATE IN THE MORNING.
Maps may not be enough. Get the details about riding time from fellow travelers. In Ladakh, even a 100 km route may take 10 hrs of the ride. You must start early in the morning and should reach the destination before evening to avoid being stranded in the adverse conditions overnight.
Have a great time for your upcoming Ladakh bike trip. If you have any questions, please write in the comments and we shall be happy answering them.