LOWEST PRICE GUARANTEED

Offer you the lowest priced bike

LOW-SECURITY DEPOSITS

Our deposits are as low as Rs 0

VERIFIED DEALERS

Trusted and verified dealers

100% MONEYBACK GUARANTEE

Yes! That's a promise.
Rent
Royal Enfield Hunter 350

Bike In Delhi
Rent Royal Enfield Hunter 350 In Delhi
Search
LOWEST PRICE GUARANTEED

Offer you the lowest priced bike

LOW-SECURITY DEPOSITS

Our deposits are as low as Rs 0

VERIFIED DEALERS

Trusted and verified dealers

100% MONEYBACK GUARANTEE

Yes! That's a promise.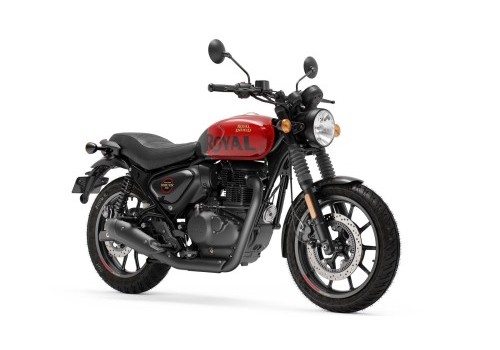 The Royal Enfield portfolio is now even enriched with the addition of the Hunter 350. It has the sound, feel, and personality you would expect from a Royal Enfield single, but the chassis design is more streamlined and seems more modern due to being lighter and more graceful.
Royal Enfield's range gets a new addition in the form of a roadster-style motorbike called the Hunter 350. This model serves as the company's unique entry point.
What are the variants of the Royal Enfield Hunter 350 in Delhi?
The Hunter 350 is available in two distinct iterations: the Retro and the Metro. Royal Enfield introduced Retro as part of a "Factory Series," but it presented Metro in not one but two distinct iterations: the "Dapper Series" and the "Rebel Series."
What is the Cost of the Royal Enfield Hunter 350 in Delhi?
Regarding its cost, you can buy the Royal Enfield Hunter 350 for a minimum of 1.49 lakhs. The Hunter 350 Retro Factory can be purchased for 1,49,900 rupees, while you can buy Hunter 350 Metro Dapper for 1,63,581 rupees on average, and the Hunter 350 Metro Rebel can is available for 1,68,239 rupees.
What are the colour options for the Royal Enfield Hunter 350 bike?
Seven colour options are available on this bike: white, ash grey, black, blue, silver, and red. In the Retro series, you can choose between black and silver colours. The Metro series allows you to choose from White, Ash, Gray, Black, Blue, and Red.
Specifications of a Royal Enfield Hunter 350 are as follows:
Engine Capacity: 349 cc
Mileage: 36.5 kmpl
Transmission: 5-Speed Manual
Kerb Weight: 177 kg
Fuel Tank Capacity: 13 litres
Seat Height: 790 mm
Displacement: 349.34 cc
Engine Type: Single cylinder, four strokes, SOHC Engine
Max Power: 20.4 PS @ 6100 rpm
Max Torque: 27 Nm @ 4000 rpm
Front Brake: Disc
Rear Brake: Disc
Body Type: Cruiser Bikes
Service Due Indicator: Yes
LED Tail Light: Yes
Speedometer: Analogue
Odometer: Digital
Tripmeter: Digital
Fuel gauge: Yes
Tachometer: Digital
Should we buy this bike or not?
When talking about the feedback from customers, they claimed that when contrasting this motorcycle with other motorcycles, the Royal Enfield Hunter 350 offers one additional feature, which is its unique styling, such as the styling cues, which include a neo-retro roadster design that is reminiscent of the Triumph Street Twin.
The fact that the seat is a single piece, the fuel tank is in the shape of a teardrop, and the headlight, tail lamp, turn signals, and mirrors all have a round shape are some of the well-known qualities that attract the majority of purchasers.
Regarding the hardware, one can draw similarities between the Meteor 350 and the Classic 350. Both of these models have 350 millimetres. As a result, the Hunter 350 will be differentiated from the other two motorcycles in its class because it will have a telescopic front fork with twin rear shocks and disc brakes on both ends of the machine.

Introducing REFER & EARN No Limit, Get Cashback on Every Friend Who Join Us.
Select Your Bike

You can search & select bike from our wide range.

Add to Cart

Easily add multiple bike in your cart or direct book from "BookNow" button.

Pick Your Bike

Find the pickup location and pick a bike.

Ride Anywhere

We do not have kms limit.
RENT HUNTER 350 IN OTHER CITIES
No Riding Limits

Odometer Won't Scare You Anymore.

Freebies

Helmets Always, Sometimes More.

Secure Payments

Our Payment Partners are Industry Leaders.

No Bullshit

A Day Rent is simply for 24 hrs, We mean it.

Verified Dealers

Every Single Dealer is Committed to Quality Service.

100% Moneyback

Not Happy With Service, Take Your Money Back.
We're here to provide helpful information when you need it most. And if you have a question, we're here to help with that too.
GENERAL ENQUIRY
info@rentrip.in
SUPPORT
support@rentrip.in
Now its easy to get two wheeler Hunter 350 for rent in Delhi or Hunter 350 bike hire in Delhi. We do provide monthly bike rental in Delhi city. One of the best, bike rentals in Delhi. We provide cheap bike rental Delhi. Scooter rental Delhi is our top priority to provide bike on rent near me (you). Find us with bike rental near me on search engines. You can hire good condition motorcycle for rent in Delhi. We are extremly proud to have a customer like you to rent bike in Delhi. User friendly website to rent bike in Delhi. High quality assurance with rent a motorbike in Delhi. We are everywhere, now rent a bike anywhere in india. We have flexible timings. You can rent Hunter 350 bike on an hourly, daily, weekly and monthly basis.