Nightlife of Capital city in Delhi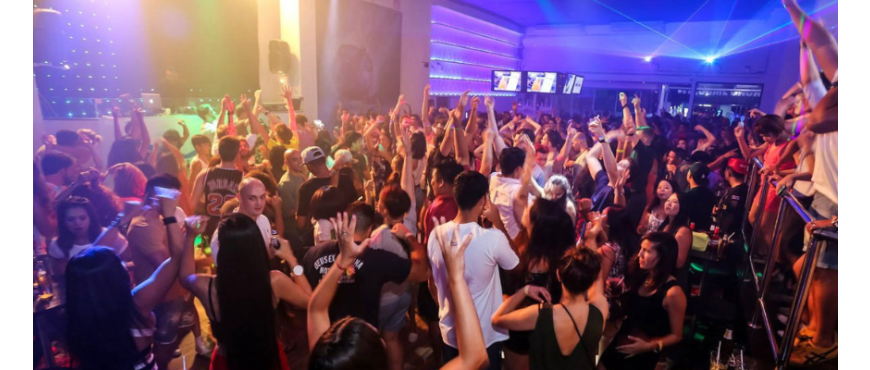 Nightlife of Capital city in Delhi
Amidst the happening days of Delhi with crowdy lanes, the nights are quiet and silent. With the rise of sun, Delhi blooms with people getting back to their normal. But what's their which attracts these busy peeps to go out at night? The scenic nightlife of the capital city is amusing and wild. It is considered the best place for nightlife lovers because of many attractive and beautiful places where night parties can be arranged. Not only night parties but one can even look out for delicious street food, it's dark secrets via night walks, night gazing, sunrise spots, ghosts walks and many more. But what we'll explore here is it's thrilling night clubs for party and music enthusiasts. Some of these famous places are Hauz Khas, Olive Bar, Little Owl Café, Skybar & Lounge, Hard Rock Café, etc.
If you are looking for a bike rental nearby, look for the nearest location, which is provided with every rental bike. With RenTrip, you can also rent from a range of Super Bikes available at premium locations in Delhi.
Be it a Bike Rental in Delhi for Manali or Ladakh, RenTrip covers you. We have been regarded as the best bike rental due to our personalized service and higher commitment levels.
We all are human beings and as we go by the human nature, enjoyment and fun in life is necessary, with peace of mind is also required. This can be achieved by many ways, some of which are meeting friends and family members, hanging out with the loved ones, chit chatting with the humans with same madness level and many more. During daytime one or another among us are busy with the daily routine but by the night everyone surely gets free. To enjoy that relaxing hour of the day, we are now going to look after some of the cheering nightlife places of Delhi where one should undoubtedly visit to have fun.
1. Sky Bar & Lounge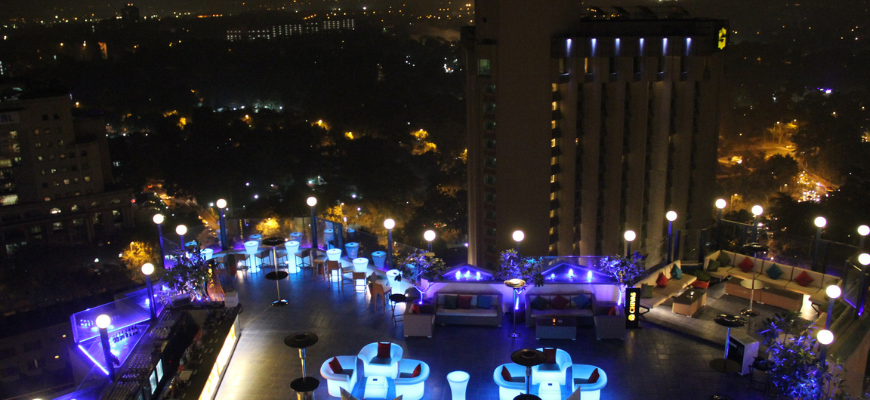 It is situated in Connaught Place Delhi. It is a very popular lounge. Most of the people come here for night parties. It offers North Indian, Indian Continental, Chinese, multi cuisines and bar lounge, etc. The interiors are blue themed waterfall at the entrance and a spacious seating zone. It has cool ambience, great drinks, music and tasty foods. It has a dance floor and live music for entertainment. All the staff members are very attentive. They are very quick to serve you. It opens from 7:00 PM to 1:00 AM on all days of week. The charge for two people is around Rs. 2800. It can vary according to situation. The full address is 22 Kasturba Gandhi Marg, Antariksh Bhavan, Connaught Place, New Delhi.
2. The Blue Bar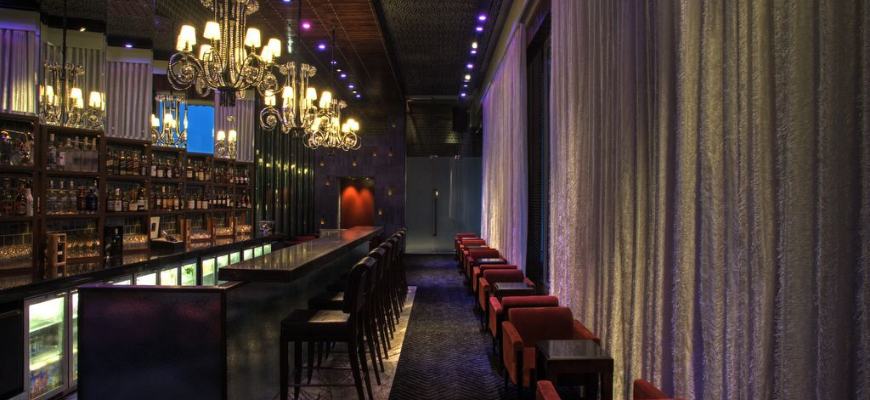 It is situated near Chanakyapuri, New Delhi. If you are planning to arrange night party with your friends, it can prove to be the best choice for you. It is one of the best bar and lounges. The Blue Bar endows acharismatic and edgy experience. It has beautiful interiors of red and black. The lighting is amazing. It opens from 12:30 PM to 12:45 AM. The average cost is Rs. 3900. The full address is - Taj Diplomatic Enclave 2, Sardar Patel Marg, New Delhi.
3. My Bar Headquarters
My Bar Headquarters is near Domino's Black N Connaught Place, New Delhi. It opens from 11 AM and closes at 12 AM at night. It is commonly visited by night party lovers. Most of the youngsters in Delhi come here to enjoy. It provides all types of food like North Indian, Italian, Chinese, Multicuisines, etc. They also offer a number of drinks amidst excellent ambience.
It has facilities like, DJ, outdoor seating, live band, electricity backup, liquor and a smoking area. The conduct of the staff here is polite and the service is also appreciable. My Bar Headquarters has one of the finest entrails. The venue is spacious, and it's multiple shades of ambience and dimness perfectly elevate the party vibes of it. The venue has various seating styles, including tall stools, high raised chairs around square tables. It is an ideal party venue for various events, like bachelorette party, corporate party etc.
4. Shiro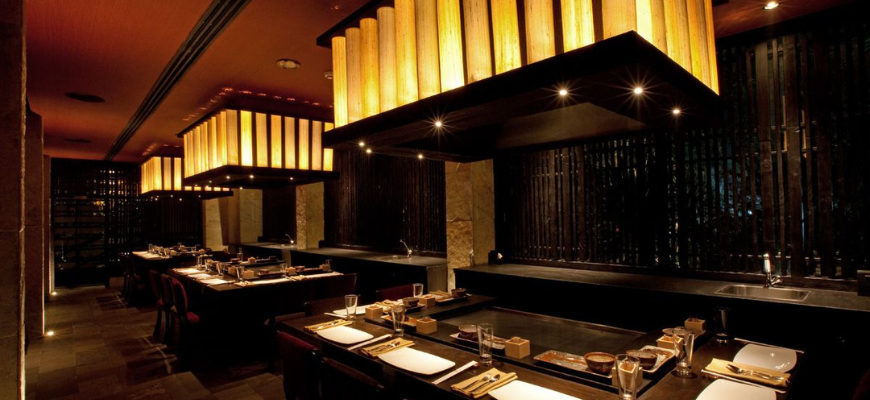 It is situated near Hotel Samrat Chanakyapuri, New Delhi. Shiro's establishment has Japanese interiors. Shiro means 'castle' in Japanese. It is a highly recommended place for night parties. It's design is built on basic palette of materials and artefacts. The lobby has 30 bases high old rustic gate and enters from a ground with a wall of wimp and lanterns. When you enter, you are welcomed by the sound of water trickling down the rain chains. It provides cheese rolls, spinach gomae, sweet chilli potatoes, tofu in mantani sauce, vegetarian Mangolian parcels, etc. The cost for 2 persons is Rs. 4000.
5. Hybrid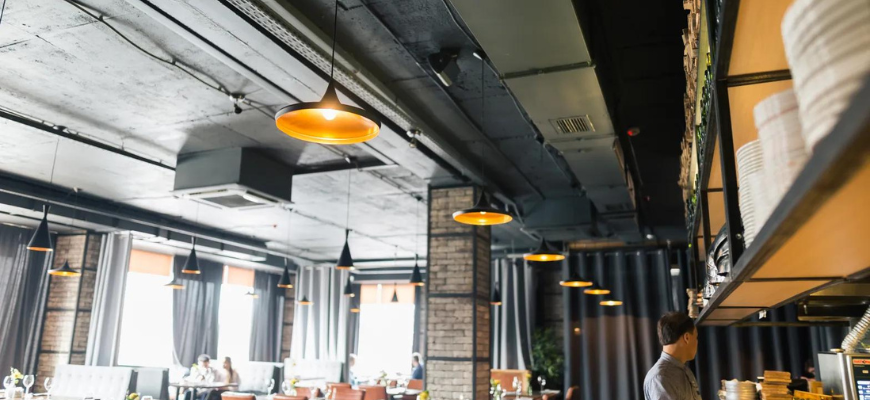 It is situated near Janapath Road, New Delhi. The Hybrid is a different type of a restaurant. It serves as a café during daytime. And in the evening, it serves as a fine dining. The main attraction and food item is pizza. They provide all types of food items. You can arrange night parties as well here. The cost of Thali is Rs. 1500 per person.
6. Social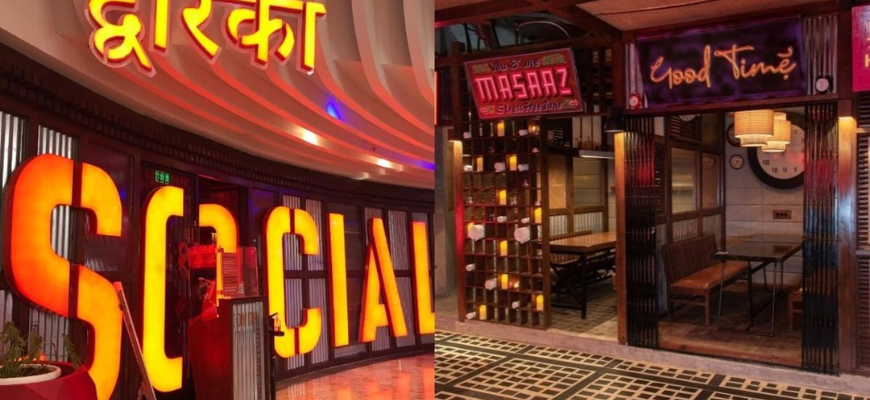 It is situated in Hauz Khas Village, New Delhi. It opens from 11:00 AM to 1:00 AM. It is preferrable for a night party. They have all the modern facilities. It has all type of savouries, like North Indian, Chinese, desserts and beverages. The cost for 2 persons is Rs. 900. The main dishes of Social are pasta and pizza.
7. Olive bar and kitchen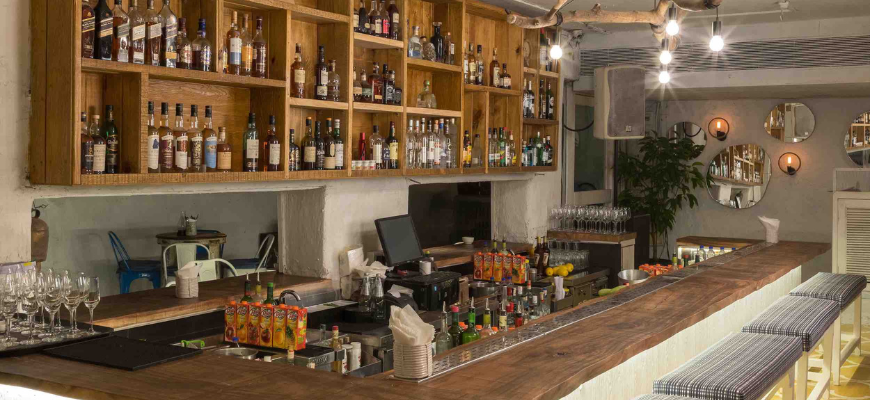 It is situated in Kalkadas Marg Mehrauli, New Delhi. It opens from 12:30 PM to 12:30 AM on all days. It is a suitable place for a night party. Here you can get Italian flavourful cuisines. It offers fine dining restaurant. You can reach here conveniently from Qutub Minar Metro Station.
8. Kitty Su Club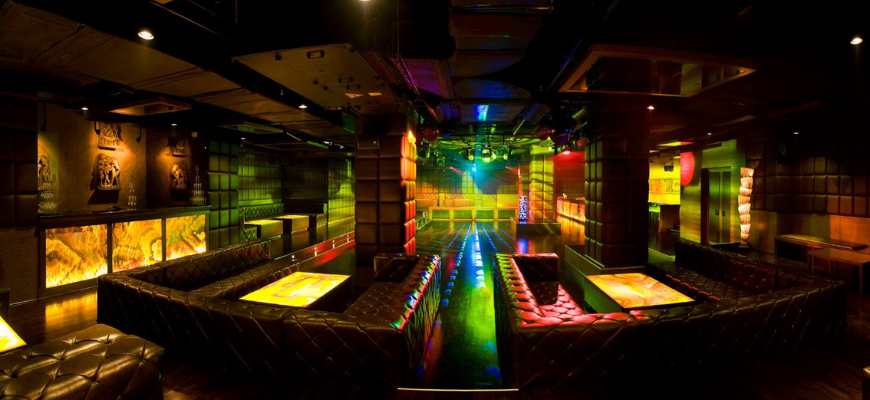 It is situated at Connaught place New Delhi. This place is famous for night parties. It has a big dance floor, music played here is amazing. You can freshen up your mood with friends by enjoying parties held here. The food is made of high quality. It is costly as well. But once you taste, you will never forget it. The cost for two is Rs. 4850.
9. TC Bar & Restaurants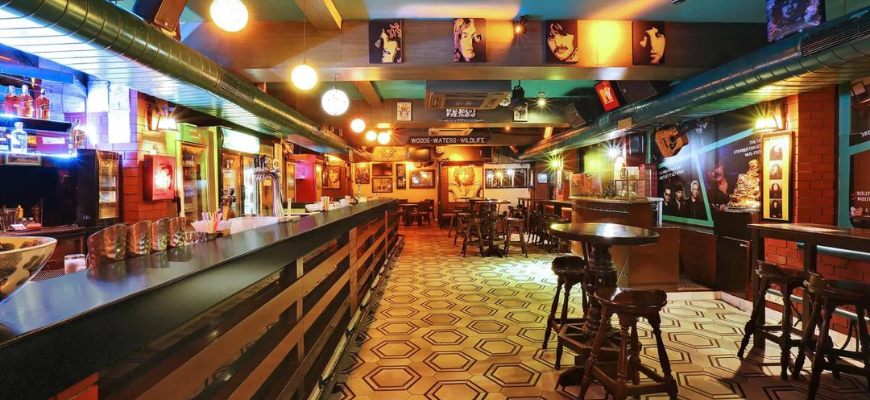 This bar is situated in Connaught place. It provides music, vibrant ambience, continental and North Indian cuisines. It is designed on rooftop The cost for two persons is Rs. 1500. It is famous for its hard rock music. It provides all types of night party facilities.
10. Little Owl Café
It is situated near sector 18 metro station, Noida, Delhi. The main attraction of Little Owl Café is hookup puffs. You can arrange night parties here. They provide live music, a big dance floor where you can dance with your friends. They have food items like sandwiches, pasta, Maggie, Paranthas and rolls.
11. Playboy club, Chanakya Puri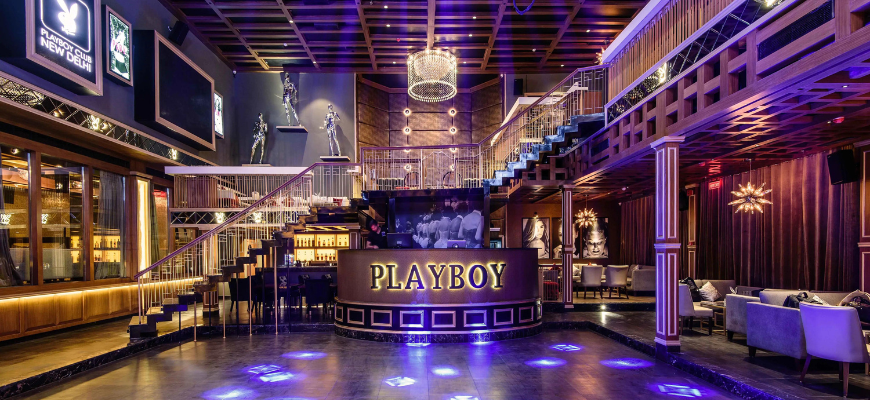 It provide you a dancefloor, VIP lounge and fire Ranger. It is mostly visited for parties. Most of enthu clubers come here like Bunny Acrobats, etc. This place has everything for required for a night party.
12. The electric room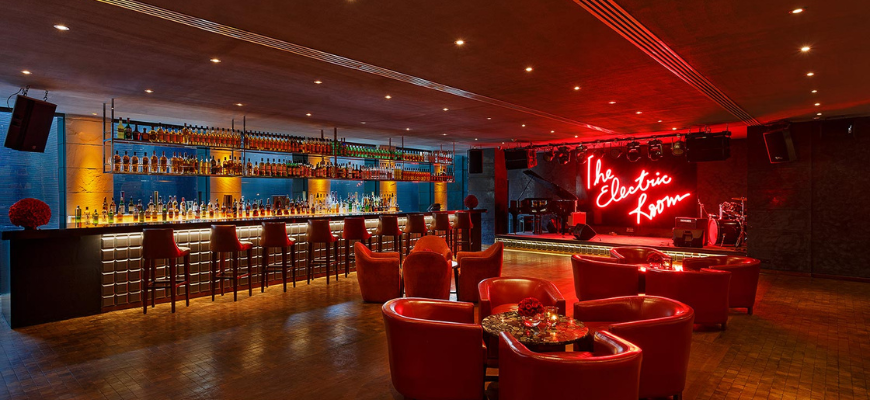 It is situated near Lodhi Road. It is a very famous party place. It offers you hard rock, hip hop and pop rock music, which would make you dance, jump and sing. The ambience is lively and happening thus making you enjoy with your loved ones.
13. Roar Hotel Eros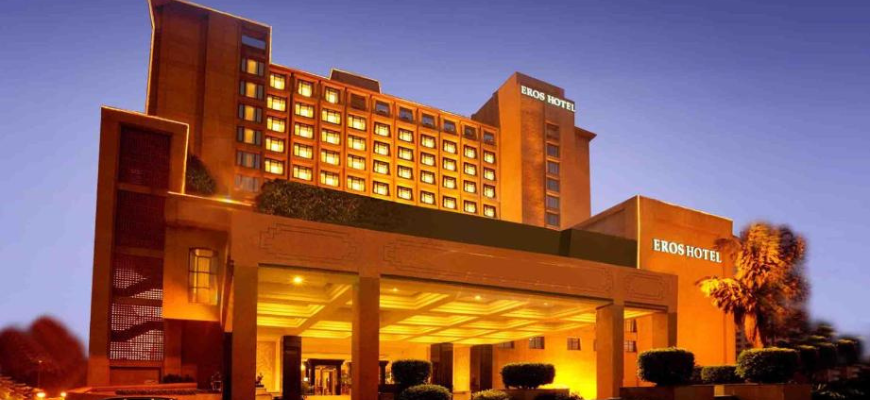 It is situated at Nehru Place, South Delhi. It provides you a floor - to - ceiling LED, which shows video effects. You can sing and dance with your pals candidly. They have hard rock, hip hop and pop rock music to make you dance wildly.
14. Key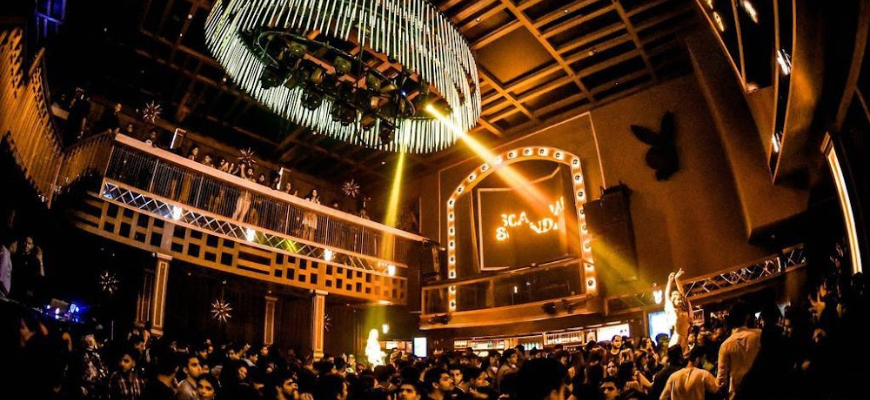 It is situated near Chanakyapuri in Delhi. It has neon lighting, big dance floors and it is one of the best party places in Delhi. You will really love this place. The Indoor design is alluring. They also have red velvet, sofas, royal curtains, etc.