Amazing Things to Do in Bhopal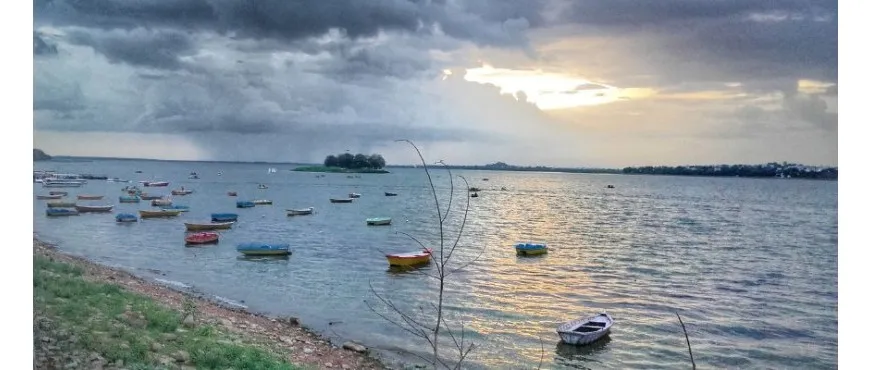 Nine Amazing Things to Do in Bhopal
Bhopal is the capital of Madhya Pradesh. Everyone who goes to Bhopal for a trip always remarks how clean and green the city of Bhopal is. Also, it consistently ranked as one of the top cities for environmental quality.
This city contains several natural and artificial Lakes. A few of them are Lower Lake, Upper Lake, Manit Lake, Motia Lake and Mullah Sarovar. Because of the plenty of Lakes, people refer to it as the City of Lakes.
This city is also well-known for its Chowk Bazar and its new market, which you can find in Bhopal's old and new districts. These districts are known as old Bhopal and new Bhopal, respectively.
A wide selection of mouthwatering foods and fashionable clothes are available here. Chowk Bazar is a good option if we are interested in inexpensive clothing or street food.
In contrast, New Market is better for us if we look for exclusive shopping centres and cafes. The city of Bhopal is also well-known for its beautiful beaded 'Batua' beadwork (A Batua is a type of pouch).
Because of its unique nature and atmosphere, this city is consistently ranked among the best travel destinations in the world. So let's get right to the activities we may participate in while in Bhopal so we can make the most of our vacation.
You can rent a two wheeler in Bhopal to roam around the city, or you can also rent a self drive car if you wish to explore with family and friends.
Enjoy a Boat Ride on Upper Lake
Bhopal is widely renowned as the City of Lakes, as we all know. It is nothing wrong to say that boating is one of the best things to do in Bhopal if the city has numerous Lakes.
Thus, Upper Lake is one of the most well-known Lakes for boating. The locals also know this Lake as Bhojtal and Bada Talab, named after the famous King Raja Bhoj. It is the country's oldest artificial Lake and is located west of Bhopal.
You shall find nearly all kinds of boats available here, from paddle boats to motor boats. There are no fixed prices; hence you can negotiate as much as you like. Thus, boat rides range from 80 to 240 rupees, depending on the boat you select.
Besides this, you can appreciate the gorgeous environment, feel the chilly water mist, and spend quality time with your loved ones. In addition, a Boat Club facilitates numerous forms of adventurous sports, such as water sports, kayaking, parasailing, and rafting.
Daily visitation hours are from 6:00 am until 7:00 pm.
Enjoy stunning views of Bhopal City by Ropeway
One of the most enjoyable activities available in Bhopal is a ride on the ropeway. You might go to Manuabhan Tekri, which the people consider one of the most beautiful hilltops in the Bhopal area.
You can see various beautiful greenery scenes and take numerous selfies here. In addition, you can enjoy delicious food while taking a ropeway tour, which is arranged above. When you reach the top, you can also visit the Jain Temple, one of the best temples in Bhopal.
The best thing is that you can easily see a bird's-eye view of Bhopal city from there, which is sure to impress you.
Enjoy Bhopal City's Delicious Cuisine
This city is known for its mouthwatering cuisine, including biryani, kebab, and dosa. However, it stands out from other towns because it imparts Bhopal's signature flavour on each dish it serves.
This city is also well-known for its delicious breakfast, which consists of puffed rice (known as Poha) and jalebi.
One of the best places people enjoy going to is the Manohar Diary which has a wide selection of candies and is well-known for its Chole Bhature and Chaat. Top N Town is a highly recommended shop if you love eating ice cream.
Another one of the most well-liked restaurants for sampling non-vegetarian options is 'Hakeem's.' They have an incredible menu of dishes that will make your mouth water. And suppose you are a fan of vegetarian cuisine. In that case, you should come to 'Bapu ki Kutiya' to indulge in the restaurant's vegetarian meals and have a good time with your family and friends.
Have some Shopping Time at DB Mall
DB Mall is one of Bhopal's main shopping centres and oldest malls. This shopping centre contains everything one may need, as well as various items and pricing. While shopping, we may tour many stores, and the mall is so well-designed that we can take stunning photographs.
In addition, there is a 'Time Zone Game Zone, one of the most fantastic things to do in this mall.
We can have an incredible time here by enjoying meals at numerous restaurants, including KFC, McDonald's, and many others.
DB Mall is the best place to come and enjoy yourself, whether you want to shop or want a new look.
Have some fun at Sair Sapata Leisure Park
Sair Sapata is essentially a park with various activities for visitors to enjoy, such as forest hiking, car dashing, zorbing, musical fountains, and many more.
This Park is one of the more fun places in Bhopal. There is a bridge under the Lake where we can take numerous photos. This point is also known as Sair Sapata's selfie point. There are multiple viewpoints from which visitors can enjoy viewing them.
Here, we can also enjoy a variety of rides for children as well as for adults. There is also a toy train in this Park where we can sit and enjoy the ride while munching on a snack.
On the other hand, some competitions and functions are going on in this Park, usually where we can go and relish the events.
The entry fee for Sair Sapata Park is just Rs 30.
Enjoy the Bhimbetka Rock Shelters
The Rock Shelters of Bhimbetka are well-known for the murals inside the rock shelter caves. The Auditorium Rock Shelter, Rock Art, Zoo Rock, and Boar Rock in Bhimbetka Cluster are the primary attractions that bring people here.
The rock paintings of the Shelters of Bhimbetka are the little cup-like depressions at the end of the Auditorium Rock Shelter that are dated to almost 100000 years ago and belong to the Stone Age.
These engravings are the oldest attempt made here that was not solely for engaging in ordinary activities for survival. This is also a UNESCO World Heritage Site.
This location is famous for clicking aesthetic photographs as they have incredible surroundings.
This location is open from 07:30 am to 5:30 pm. Winter is the most pleasant time to visit this place between October and April.
The number of people in a group and the mode of transportation they arrive on can affect the entry charge.
Take a Wildlife Safari Ride at Van Vihar National Park
Visitors to Bhopal are encouraged to stop by Van Vihar since it is a "must-see" location.
There is excellent biological diversity in this Park's flora and fauna. The infinite Lake of Bhopal is here. We may take pictures of it while appreciating the pleasant weather and vegetation surrounding it.
'Vihar Vidhiya' can be found in this area. It houses numerous photograph collections in addition to monuments depicting various animals.
To take a full tour of van vihar, we may stroll, rent a bicycle, or come in our vehicle to explore the area. We can observe white tigers, crocodiles, snakes, and many other animals.
The hours of opening for Van Vihar National Park are from 7:00 am to 7:00 pm. On Fridays, however, the Park is not open to visitors. In addition, July through September is considered the ideal time of year to pay a visit to the Van Vihar National Park. And the entrance cost at Van Vihar National Park is only 15 rupees.
If you are going to Bhopal on a trip and want to see some greenery, you must stop by this location and enjoy the place.
Have an Educational Visit at Regional Science Centre
Those who get excited about going to unfamiliar locations will find themselves at home here.
The fact that this location has such lovely architecture and is always kept in such good condition draws most of the tourist attractions among all museums in Bhopal.
You can experiment with various gadgets, samples, or projects, such as a musical tube, a perception of depth, a switch, and many others.
This place is more or less the scientific way of doing things. Everything we see might have some scientific justification, point of view or a profound way of thinking to analyze or grasp the items or models. In addition, this centre is home to an illusion location, which is an essential component of the overall experience.
This location is open from 10:30 am to 6:00 pm. In addition, there is a twenty rupee admission charge to enter here.
This list is handpicked; however, there are many more places to explore, such as Indira Gandhi Rashtriya Manav Sangyahalaya, Taj Ul Masjid, and Sanchi Stupa. So, what are you waiting for now? Take a trip to Bhopal on a shoestring budget and enjoy the journey. Also, don't forget to try everything listed above.