A Biker's Travel Guide to Bhopal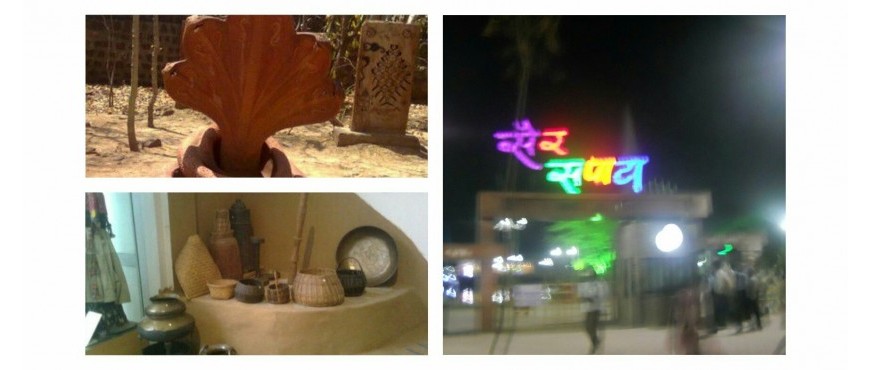 Bhopal is also called the city of Lakes. It's a place for those who love food and are curious about historic places. It's a place where you can see the Muslim and Hindu cultures grow together. It's the best place to spend quality time with friends and family.
How to Reach Bhopal
By Air
You can reach Bhopal by Air from the rest of the major Indian cities. Bhopal Airport (Raja Bhoj International airport) is located, near the Satellite suburb Bairagarh, at a distance of 15 km from the heart of the city.
By Train
You can reach by Indian Railways from all parts of the country, except the North-Eastern States. Bhopal Junction is the largest and most important railway station in the city. It is locally called the main station.
The second known railway station in the city is the Habibganj Junction. It is the most developed station in the city.
Where to stay in Bhopal
There are numerous hotels available in and around Bhopal. You can stay as per your comfort and budget. it is up to you whether you want to stay in a luxury hotel or in a budget-friendly hotel.
What to Visit in Bhopal
Upper Lake
Upper Lake is located on the western side of Bhopal. It is also known as Bhojtal. It is 31.5 km in length and 5 km in width. The total surface area of this Lake is 31 sq km. It is the major source of water for the residents of Bhopal. According to the locals, the Upper Lake is built by Parmara Raja Bhoj during his reign (1005-1055). The history behind this lake is: once king Bhoj suffered from skin disease and all Vaidyas failed to cure him. Then, one day a Saint told the king to build a tank and bath in it to cure the disease. This lake was built after merging 365 tributaries.
A Boat club is established in Bhopal, which offers various water sports facilities in the Lake. On the adjoining road nearby the Lake, different food courts offer mouth-watering street food. There is a Dargah situated in the middle of the Lake, which can be reached by boat.
Lower Lake
The lower Lake is also known as Chota Talab. This lake was built by Chote Khan, the minister of Nawab Hyatt Mohammed Khan Bahadur. The surface area of the Lake is 1.29 km sq and depth is 35 feet. The Lower Lake and the Upper Lake is separated by a bridge called Pul Pukhta. The highest level of the lower lake is just below the lowest level of the upper lake.
The lower lake does not have any fresh water source. Seepage water is received from Upper Lake and 28 drainage, because of this drainage system, the lower Lake suffers from pollution. Water from this Lake is not suitable for drinking purpose.
Van-Vihar
Van Vihar is located just next to the Upper Lake. It is declared as a National Park in 1953. It occupies an area of 4.45 sq km where varieties of the animals are kept in their natural habitat.
This National Park has easy access by road. TIP - You can even avail a bicycle on rent at the entrance of the Van Vihar. The animals such as tigers, Lion, bears, crocodiles, Snakes etc. are kept inside the closed area as per the norms of the Central Zoo Authority. Animals like sambar, Blue Bull, Black Buck etc. are allowed to roam freely.
They are fed a good diet. Here you can encounter about 200 species of birds. The Park also abode a variety of butterflies and insects.

Timings
9 AM to 6 PM (except Fridays)


Tickets-
Rs. 15/- per person (Indian)
Rs. 200/- per person (foreigner)
Rs. 40/- (Still camera)
Rs 300/- ( video camera)
Rs. 400/- (for the vehicle)
Birla Museum
This archaeological museum was started in 1971. This Museum has preserved tools, equipment, coins, manuscripts, stone sculptures of the 2nd century. Visit this Museum and take you to the Stone Age, 3000 years back. If encountering the social cultures of that period inspires you, it is definitely worth a visit.
Timings- 9 AM to 5 PM (except Monday)
Tickets-
Rs. 5/- per person (Indian)
Rs. 50/- per person (foreigner)
Shahpura Lake
This is a manmade Lake constructed during the period of 1974-1975. The surface area of the Lake is 8.3 sq km and the depth is 5.6 m. It is also known as Manisha Lake, as it is situated near Manisha market. It is the best place for nature lovers. This place is a great stress buster and the best part is to see an awesome sunset.
Regional Science Centre
Regional Science Centre is located in Shyamala Hills. It was inaugurated by Shankar Dayal Sharma, former President of India on 12 January 1995. The campus is in an area of 5 acres, which include a Science Park, a Planetarium, a dinosaur park and a small zoo.
There are facilities for special shows like 3D film show and Tara Mandal. In the science museum, most of the exhibits are interactive. Many awareness programs such as science fairs, sky observation programmes, lectures, science film shows, dramas, workshops, exhibitions and anti-superstition demonstrations are organised for visitors.
Timings –
10:30 AM to 6 PM (Except during Holi and Diwali)
Tickets -
Rs. 10/- per person (the group of students)
Rs. 20/- per person
Rs. 20/- per person (3D film show)
Rs. 10/- per person (Taramandal)
Bhimbetka Caves
This is an archaeological site that was declared as a UNESCO World Heritage Site in 2003. It is situated near Abdulla Ganj in Raisen District. These Caves also give evidence of early age. Bhimbetka is derived from the word Bhimbetka which means the sitting place of Bhima. These shelters are of stone age covered by rich forest flora and fauna.
You can encounter several rock paintings here in diverse themes such as hunting dancing horses, Elephant rides, animal fighting, declaration of bodies masking household scenes. One can also witness rituals and religious symbols pertaining to the prehistoric Era. The colours in these paintings are faded with time but still in some places you can see the vibrant coloured paintings. The colours used in these paintings are made of a combination of manganese, hematite, soft red stone, wooden coal, animal fat and extracts of leaves
.
Jama Masjid
Jama Masjid is very well known as Taj-ul-Masjid. The word Masjid means mosque and the name Taj-ul-Masjid means crown among Mosques. This Mosque was built during the reign of Mughal emperor Bahadur Shah Zafar (1844 – 1901).
Owing to the lack of funds the construction of the Mosque was stopped and again resumed in 1971 and could finally be completed in 1985 by Allama Mohammed Imran Khan famously known as Harry and Maulana Sayyad Hashmath Ali Saheb.
It is constructed in the area of 400,000 sqm and has two 18-storey high minarets and three huge domes. It has a large prayer hall with pillars and marble flooring.
Bharat Bhawan
Bharat Bhavan is located near Upper Lake. It is established by the government of Madhya Pradesh in 1982 and was inaugurated by then Prime Minister Indira Gandhi. It is a multi Arts Museum it has an art gallery, art workshop, open amphitheatre Studio, an auditorium, tribal museum and a library of Indian poetry and music.
The purpose to create this complex is to connect artists of different arts. There are different blocks, to visit, as follows:
ROOPANKAR: The Gallery of contemporary, folk, tribal and modern art gallery. It also has a workshop on ceramic art.
RANGMANDAL: It is a theatre, in which artists perform different dramas.
VAGARTH: It is a block that has a library of Indian poetry.
ANHAD: It is a library of classical and folk music. Audio and Video lessons are available here.
CHHAVI: It is the centre of classical cinema.
6. NIRALA SRIJANPEETH: It is a place for creative writing.
Sanchi Stupa
Sanchi Stupa is located at Sanchi Town in Raisen District. Located 46 kilometres from Bhopal, Sanchi Stupa is the oldest stone structure in India. Constructed in the third century BC, It is basically a simple hemispherical brick structure built over relics of Buddha also crowned by a Chhatra, symbolizing high rank and status. A pillar is also there which has an inscription of Sankha Lipi from the Gupta period.
During the Shunga period in the 2nd century BC, the Stupa was expanded with stone slabs to almost twice its original size. The gateways are covered with narrative sculptures, which shows scenes from the life of Buddha.
Sanchi has a large number of Brahmi inscriptions. Although most of them are small, they are of great historical significance. The inscriptions include scripts from Maurya, Shunga (175 BC-15 AD), Kushana (100 AD-150 AD) and Gupta (600 AD-800 AD) period.
Lakshmi Narayan Temple
Lakshmi Narayan Temple is located in the Nishant colony near New Market, Bhopal. It is well known as Birla Temple. This Temple is dedicated to Goddess Lakshmi. The Temple is situated at the highest point of Arera Hills in Bhopal.
This temple is famous for its beautiful architecture and scenic beauty. This temple gives a full glimpse of the city. The beautiful gardens and lawns are also maintained for a relaxing and peaceful evening.
Manua Bhan Ki Tekri
Manua Bhan Ki Tekri is located in Lalghati in Bhopal at the top of the hill. There you can have an aerial view of Bhopal. One can reach the hilltop either by cable car or by road. It is an entertainment as well as a pilgrimage spot.
It is also known as Mahaveer Giri, as it is a Jain pilgrimage. You can encounter Tekri Houses, an idol of Shree Man Bhadarji, a statue of Jain Saint Shree Jindutta Sureshwarji, Maharaj Shri Vijay Suriji, Gautam Buddha and Acharya Manutung. It is well known as Sadhana Sthali of the Oswal dynasty. A big fair is organised every year on the occasion of Kartik Purnima.
Timings-
6:30 am to 8:00 pm (All Days of the Week)
Moti Masjid
Moti Masjid is located at Imami Gate at Peer Gate. It was constructed by Sikander Jehan Begum in 1860, daughter of Qudisiya Begum. The Moti Masjid stands as a symbol of the history of Bhopal.
It is made of white marble with two small domes on the top. In front of the main building, there are two minarets of red colour on either side. These minarets are considered as gateways to heaven. These towers are also used to call people for Namaz (prayer).
Timings-
6:30 am- 7:00 pm
Sair Sapata
Sair Sapata is situated in Prempura, Bhopal. It is a fun entertainment complex. It is constructed by Madhya Pradesh State Tourism Development Corporation and was inaugurated by Shri Shivraj Singh Chauhan, Chief Minister of Madhya Pradesh, on 29 Sep 2011.
It has a musical fountain, an adventure zone, boating area, toy train and food zone. Just after entrance, you shall find a bridge which is a look-a-like of Lakshman Jhula in Rishikesh. The toy train offers a ride to the whole complex.
Musical Fountain is a must-see where you see water and colourful lights dancing on musical tunes. Adventure Zone offers activities like rope climbing, tyre crossing, commando net etc. The food zone offers different mouthwatering cuisines.
Timings
11:00 am to 10:00 pm (Monday to Wednesday)
0 5:00 pm to 10:00 pm (Tuesday)
Indira Gandhi Rashtriya Manav Sangrahlaya (IGRMS)
IGRMS is located in Shymala Hills, near the boat club. It is also known as the National Museum of Humankind or Museum of Man. It presents the story of the evolution of Man and Culture.
Very few Museums are like IGRMS to have depicted the evolution of Man in cultures.
Bhopal is a city that lies nearly in the centre if India. It has definitely a lot to offer a tourist. Experience Bhopal at your own time by availing best in class bike rentals in Bhopal by RenTrip.