7 Biker Getaways from Bangalore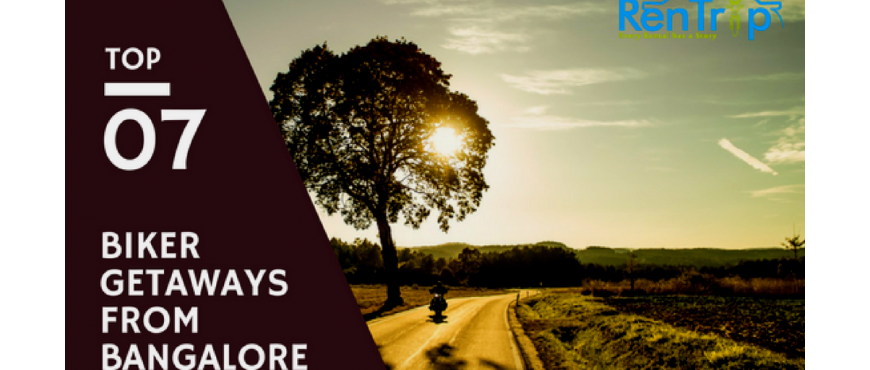 7 Biker Getaways from Bangalore
Nothing can be more awesome than exploring the outskirts of Bangalore on a bike. RenTrip offers a wide range of cruisers as well as sports motorcycles that can enhance the charm of visiting these beautiful destinations. The roads conditions around Bangalore are not bad and one can start the ride in the early morning from Bangalore.
There is a crunch of motorcycles on weekends due to the heavy rush on weekends. The better way is to reserve your bike in advance so that you have a better choice and peace of mind when you start your trip. Here we are giving the list of top biker's destinations from Bangalore.
1. MYSORE
Located around 150 Km from Bangalore, Mysore is the top biker's destination. One can rent a cruiser bike or any bike of your choice for a Mysore trip. To reach Mysore, the shortest route is through NH 275 through Metagalli. One can visit Srirangapatna Fort which is on the way to Mysore. Bangalore - Mysore trip is a two-day trip and preferred weekend destination. Things to visit in Mysore are Chamundeshwari Temple, Mysore Palace, Zoo Jaganmohan Palace, Kukkarahalli Lake, Karanji Lake, etc. You can have a night halt in Mysore and return to Bangalore on the following day.
2. COONOOR
Around 300 km from Bangalore, Coonoor is the top destination for riders who love to go on a long ride. Fill up your tanks with enough fuel, install a luggage carrier if required and remember to take your woolens and vroom. It takes around 8 to 9 hours to reach there from Bangalore comfortably. We recommend choosing a cruiser motorcycle for this ride as they are comfortable for longer rides. Coonoor is well near Ooty, on Nilgiri hills. The way to Coonoor is like Bangalore - Mysore - Coimbatore - Coonoor.
3. HAMPI
One of our favourite places in India is Hampi and is a top destination for tourists across the world. This place was included in world heritage sites by UNESCO owing to the magnanimous historical buildings that tell the story of the Vijayanagar Empire. One needs to stay here for at least 2 days to visit Hampi properly.
Places to visit in Hampi are Tungabhadra bank, Virupaksha Temple, Vittala Temple, Mahanavami Dibba, The Underground Temple, Kings Balance, etc.
To reach Hampi from Bangalore, you will need to cover a distance of about 350 km one way. Ride time is approx 7 to 9 hrs with short stops on the way. The shortest route to reach Hampi is via Bangalore - Hyderabad highway or Via NH 48 and NH 50. The road is fine to drive a motorcycle. Starting the ride early in the morning is a better option so as to reach there by noon and have rest. You can either stay in Hospet or in Hampi as per your choice. The distance between the two is just 13 km.
4. NANDI HILLS
Located about 60 km from the Bangalore, Nandi Hills is a top Weekend Getaway among Cyclists as well as Bikers.The way is via Devanahalli - Nandi Cross - Nandi Hills.
This place is famous for its historical as well as geographical importance. The dense clouds here will charm anyone and its proximity to Bangalore, make it a popular and convenient destination. It is better to leave off Bangalore early in the morning, say 4 A.M., owing to the beautiful sunrise here.
(Bikers - Good news - People in cars won't be able to see the sunrise and will be stuck in the crowd.) There are small shops on the way, so you can enjoy the food while returning from here.
5. CHUNCHI FALLS
Another day trip destination from Bangalore. Chunchi Falls is a beautiful waterfall in the Kanakapura area. If you like trekking, then this destination is for you. There is a half an hour trek before one can reach there. The distance from Bangalore is about 90 km via NH 948. Remember to carry lots of water to avoid dehydration especially in summers.
6. BHEEMESHWARI
This place is 100 km off Bangalore via NH 948 and a 3 hours trip one way. There are a plethora of adventure activities to do here other than the joy of riding the motorcycles. Trekking, fishing, water sports, bird watching, Zip Lining, and Kayaking are the common adventure activities one can enjoy here.
7. KABINI RIVER
This destination is 200 km off Bangalore via NH 275 till Mysore and then SH 33. The road is fine and it should take around 6 hrs to reach there with short stops on the way. On the banks of Kabini, there is Kabini Wildlife Sanctuary which is a good place to visit along with the river. The animals which can be seen here are Leopard and Elephants. Avoid going to this place in Monsoons due to heavy rainfall in the region.
Things to check when exploring Bangalore in and around
Carry enough fuel when you start.

Check the serviceability of the motorcycle.

Start at the right time. If you need to start early in the morning, rent your bike in the previous evening itself.

Check weather forecasts. If everything looks fine, go ahead.

Don't forget to carry your driving license and motorcycle papers.
Also, check - Reasons to Rent a Bike in Bangalore
Happy Journey!

(Updated on 16-12-2021)