12 Best Places to Visit near Hyderabad
12 Best Places to Visit near Hyderabad
The Pearl City of India, Hyderabad, has a history worth knowing, with a beautiful blend of modernity and uniqueness in the culture of the state which hypnotizes everyone who comes to witness its incredibility. The city of Nizams gives a refreshing experience to all.
The city's view is sighted in such a manner that it creates a long-lasting impact on the mind of its visitors. The old city life can be visibly seen near the area of Charminar, with bustling markets hovering around all corners. The hi-tech City Life with indulgence in cyber activities can be seen near Cyberabad, which is also known as the new Hyderabad.
Dreams need vision more than money. We offer a wide range of bikes rental in Hyderabad.
The swanky office buildings and malls are parallelly lined up alongside stately mosques and markets. Going in detail with the description of a city mentioned below are some highlights which will make you know more about the city.
Capital – Hyderabad is the capital of the South Indian State of Telangana.
Founder – Mohammed Quli Qutub Shah in the year 1591.
Language – Telugu & Urdu.
Population – 1,08,01,000
Area – 650 km sq
Chief Minister – Shri K. Chandra Shekhar Rao.
Literacy – 83.26 %
Hyderabad zip code – 500001, 500002, 500003, 500004, 500005 ---------
Culture and Traditions – Hindu festivals like – Ugadi, Shri Ram Navami, Bonalu, Holi, Deepawali etc.
Festivals – Bonalu, Godess Mahakali, Sankranti, Vijayadashmi.
Business & Trade – Rice, Pulses, Sugar etc
Elevation – 524 m (1719 ft)
Districts – Hyderabad, Thedchal-Makaj Giri
Famous for – Large Diamond, Emeralds, Natural Pearls
The highest Buddha Statue is placed in Hyderabad, where its weight is 450 tons, and it is 18m in height.
Sightseeing places – Charminar, Mecca Masjid, Golconda Fort, Qutb Shahi Tombs, Spanish Mosque, Hayat Bakshi Mosque, Birla Mandir, Saughi Temple, Chilkar Balaji Temple, Jagannath Temple, Shri Lakshminarasimha Swamy Temple.
Here are some places which are worth seeing in Hyderabad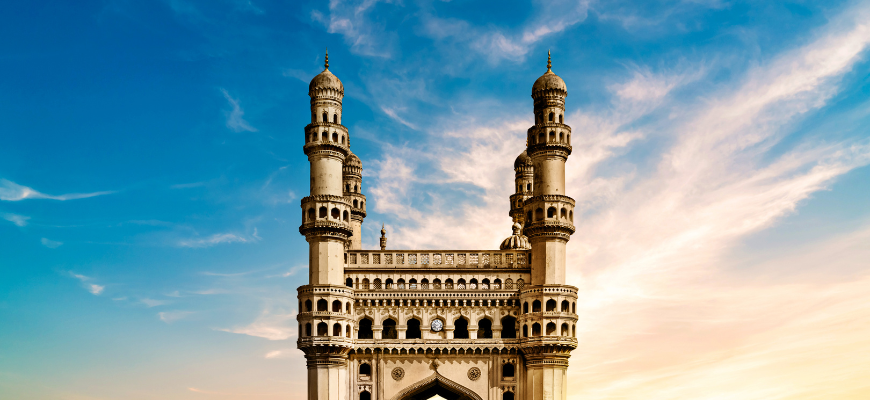 Charminar is situated in Hyderabad, Telangana. These incredibly elegant four minarets were made in 1591 by Mohammed Quli Qutb Shah. It is 56 meters (184 ft) high. It is made of granite, limestone, mortar and pulverized marble.
Its architecture is Indo – Islamic. It has four pillars which represent four caliphs. The pillars are 48.7 meters high. It is the symbol of the city of Hyderabad.
It opens in the morning at 9:30 AM and gets closes in the evening around 5:30 PM. The most suitable time to visit the monument is from October to March. If you want to reach here, the Purple Line Metro, which goes to Charminar Masjid in Shivaji Nagar, is to be boarded. The Malakpet station is the nearest.
It is one of the oldest synagogues in Hyderabad. It is 23 meters high, and its capacity has around 10,000 people. It was built by Sultan Muhammed Qutb Shah in 1614 and was finished by Aurangzeb. It has a length of 225 ft.
It was made of granite and dress stone. UNESCO announced it as a world heritage site. It was recognised as the best architectural work of that era. Each minaret is tapped by a dome.
It had an arcaded deck lining either side of the prayer hall. The courtyard of the mosque is 108 sq meters. It has a Sundial - and instrument to know the time by the movement of the sun during the day.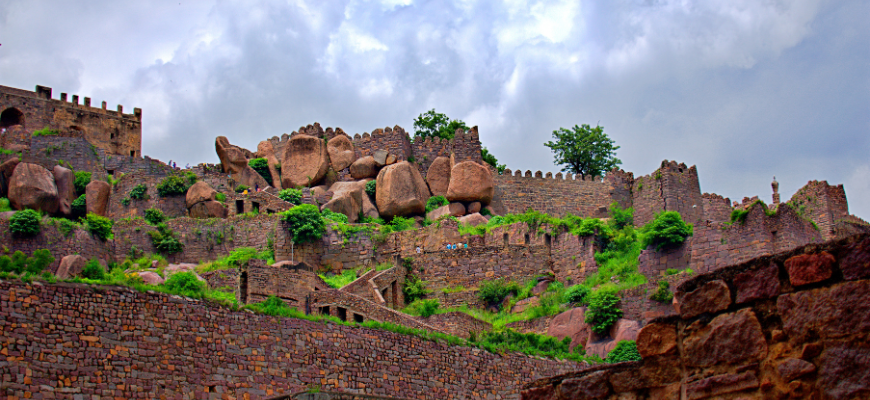 It was built by Kakatiya ruler King Pratap Rudra in the 11th century. It was a historic fortress on the western outskirts of Hyderabad, Telangana. It was also known as Mankal.
Golconda was famous for the diamonds. The famous Kohinoor and hope diamonds were placed here.
Golconda was the market city of the diamond trade, and gems were sold here. UNESCO announced it as a world heritage site.
It was the best architectural work. Golconda had four forts 10 km long and an outer wall with 87 semicircular bastions, eight gateways and four drawbridges.
It was built by the Qutub Shahis in the 16th and 17th centuries. It is situated in the Ibrahim Bagh. It is surrounded by minarets and has a magnificent tomb. It opens in the morning at 9:30 AM and closes in the evening at 4:30 PM.
The Qutb Shahi Tombs include 30 tombs, mosques and a mortuary bath. Qutb Shahi Tombs are the burial of the seven kings of the Qutb Shahi dynasty. It is famous for its architecture. It is built in Persian, Hindu and Pathani styles of architecture.
It was situated at the Pisal Banda Suburbs in Hyderabad. It was built by Nawab Taig Jung Bahadur in 1787. It was the best example of Indo – Saracemic architecture. It has mosaic tiles and craftsmanship work.
Paigah sepultures belong to the nobility of the Paigah family. It is 4 km far from Charminar.
It is situated at Begumpet in Hyderabad. It is also called as Masjid Iqbal Ud Daula or Jama Masjid.
It is built by Nawab Uiqar – Ul – Umra Iqbal – Ud – Daula. It is Spanish architecture. It was built in 1906.
The prayer hall is made of beautiful Moorish arches and calligraphy. The colour of the roof and minarets are gold. The synagogue is painted a pale mint.
Hayat Bakshi Mosque is situated in Hyathnagar in Hyderabad. It was built by Abdullah Qutb Shah in 1672. It was named after Hayat Bakshi Begum.
It was the Indo – Islamic architecture. It is one of the architectures of the craftsman skills of the Qutb Shahi period. It was made of the finest granite. The two minarets joined with five arches.
You can see the beautiful flower carvings, arches and unique designs over the ceiling of the floor. The Mosque was surrounded by a wall Sarai. It had 133 rooms. This mosque was announced as an intac heritage.
It was one of the most beautiful temples, which was built by the Birla foundation in 1966 and was completed in 1976. It was of the Dravidian Rajasthani and Utkala architectures. It was made of pure white marble.
Lord Venkateshwara's idol is placed here, which is 11 ft tall. It has curved lotus forms like an umbrella on the top. The temple has many idols like – Shiva, Shakti, Ganesh, Hanuman, Brahma, Saraswati and Lakshmi.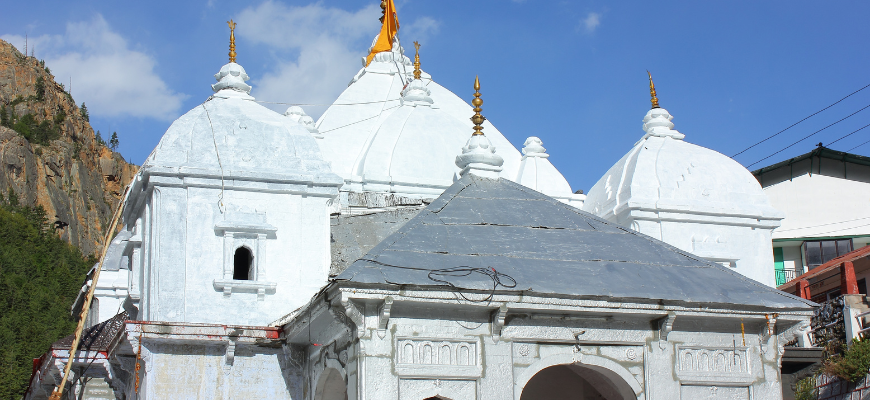 Sanghi temple was built in 1991 and was completed in 2009. It was built with the ancient architectural styles of the Cholas and Chalikey.
Lord Venkateshwara's idol is placed here. It is situated at Sanghi Nagar in Telangana. It is 25 km down from Hyderabad megacity. The temple complex is situated on the top of Paramanand Giri hills.
The idol is 9.6 ft long. The idols in the temple are Lord Shri Rama with Sita, Lakshmana and Anjaneya, Lord Shiva with Kamalambika, Goddess Padmavati, Lord Vijayaganpati, Goddess Durga, Lord Kartikeya, Lord Hanuman.
The pious shrine is managed by Mrs Anita Sanghi of the Sanghi family.
Chilkur Balaji temple is situated at Chilkur in the Hyderabad District. It is built by Akkanna and Madonna. There are some rules and regulations which you have to follow.
Shorts, mini-skirts, middies, sleeveless tops, low–waist jeans, and short-length t–shirts are not allowed. Chilkur Balaji temple is famous for Lord Balaji. Many Pilgrims come to visit here.
It is situated in Banjara Hills, Hyderabad. It is built by the Odia community of the city. The Rath Yatra festival is very famous; King Ganga Dynasty Ananta Varman Chodaganga Deva constructed it.
Khandolite stone was used to make it. It was the architecture of Pancharatha. It was 214 ft 8 inches high. The idol of Jagannath, Balabhadra, Subhadra and Sudarshana chakra are made of neem wood.
Jagannath siblings are Balabhadra and Subhadra. The temple is one of the major Hindu temples in India. In Jagannath temple, the idol of Jagannath has no hands and legs.
Lakshmi Narasimha Swamy Temple.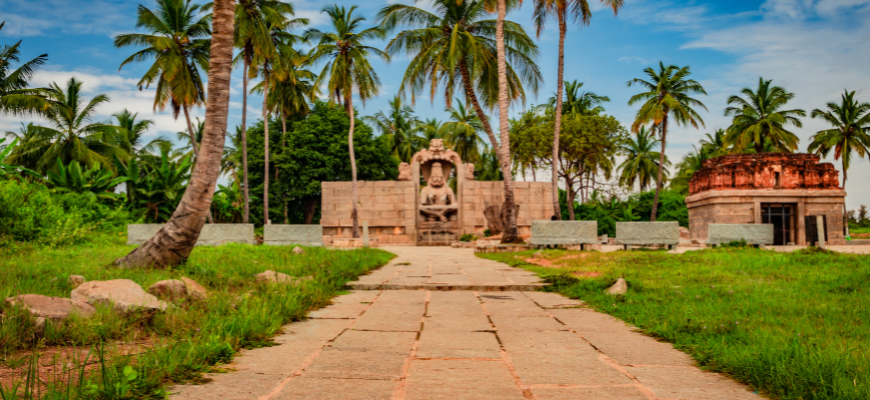 The temple is situated by the banks of Osman Sagar in Hyderabad. It is 10 kilometres from Ecil Crossroads. It is also known as Yadadri or Yadagiri Gutta temple.
It belongs to Lord Vishnu. In this temple, you can see a cave which is 12 feet high and 30 feet long.
Jwala Narasimha is in the form of a Serpent, and Yogananda Narasimha is sitting in meditation in yoga form.
Lakshmi Narasimha's idol is built of silver. On the right side of the temple, there is the Hanuman temple. It is about 55 kilometres from Uppal and 65 kilometres from Mahatma Gandhi bus station, Hyderabad. The nearest railway stations are Raigiri, which is 5 kilometres away from Bhuvanagiri.