Frequently Asked QuestionsRead All
Where the cashback shall be credited?

The cashback shall be credited to your RenTrip Wallet. You can use this promotional money to make future bookings on RenTrip.

Will I get the bike in good condition?

We have 0% quality tolerance. You have complete right to check and test drive your bike. Once you are not satisfied with the quality aspect, just tell us and we shall refund you in full, that's a promise.

How can I book my bike?

Just login to www.rentrip.in, Select the bike which you want to book and checkout. Once your payment is processed, you get the complete details of the dealer with location link and contact number. You shall also get the contact details of your dedicated trip manager at the same time. Just collect your bike and ride off. It's super easy, isn't it?

Where shall I get the bike? How shall I get the address to pick up the motorcycle?

It is not possible for us to provide a complete address with bike listing. However, on the bike search page, we have given a brief location of the bike. Once your booking is complete, you get an E-mail and SMS having the complete address and contact number of the dealer. These details are also printed on your invoice and always available on your personal dashboard.

How can I know my booking is confirmed?

After completing your booking on Rentrip you will get a message and email which includes your pick-up location and time and other details of the booking. You can also call your trip manager for any assistance 24 x 7.

What will be the documents I have to provide?

Generally, any ID proof such as Aadhaar card, Pan Card, Voter id or Passport plus a valid driving license authorizing the type of bike rented in India shall be required. We don't accept colour copies of documents in place of the original. Additional requirements if any, are given on terms on bike listing page.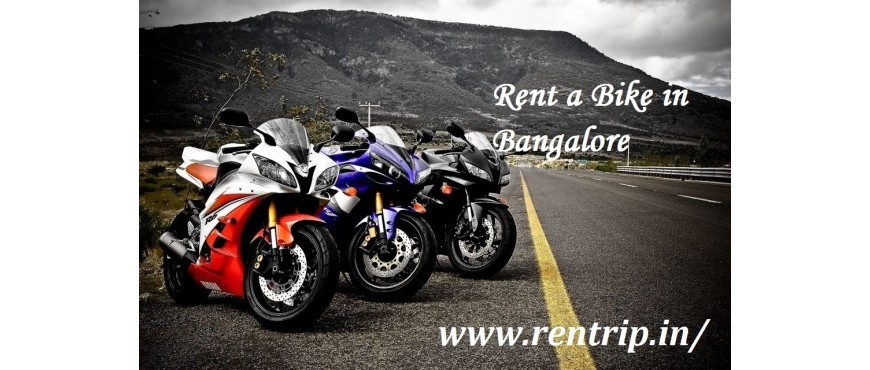 Bangalore is one of the major cities of India located on the eastern side of the country. it is also known as the city of gardens and is famous for its architectural beauty.The weather here is distinctively divided into summers and winter, with the hottest month being April and January being the coldest. Even though the seasons are distinct but they are not as harsh, it only reaches to about 35 degree Celsius in summers and drops down up to 15 degree Celsius in winters, making is one of the best weathered city in India.With the adequate bus, train and national and international airports, it is well connected city and you can choose your mode of transportation according to your wish.
But, when visiting a place as such, one wants to have his or her own vehicle. It is mainly because the city is vast and catching an auto, bus or cab all the time is rather tedious and tiresome task. But, taking your own vehicle along is not feasible and hence the tradition to
rent a bike in Bangalore
is quite famous. This way, you can visit all the important gardens, monuments, streets and temples in the city without having to spend a lot of time trying to figure out the schedule of buses. Also, the roads are very enticing and one should not let go of the chance to drive a bike on them.
It might sound like a long procedure but that is not true. You can
rent a bike in Bangalore with great ease. All you need is an identification proof, a driving license and a the deposit fee, which is minimal and you will get it back at the time of drop off. Give your timing of when you want to pick up the
two wheeler
, be it an Activa, Classic 350, Duke or FZS, all are available for you to choose from.
The wide range of bikes that you can rent in Bangalore, will ensure that you have a vehicle to roam around in, be it whatever budget you are on and you can enjoy the picturesque view and the great weather of the city with your friends.