All you need to know about Aprilia SR150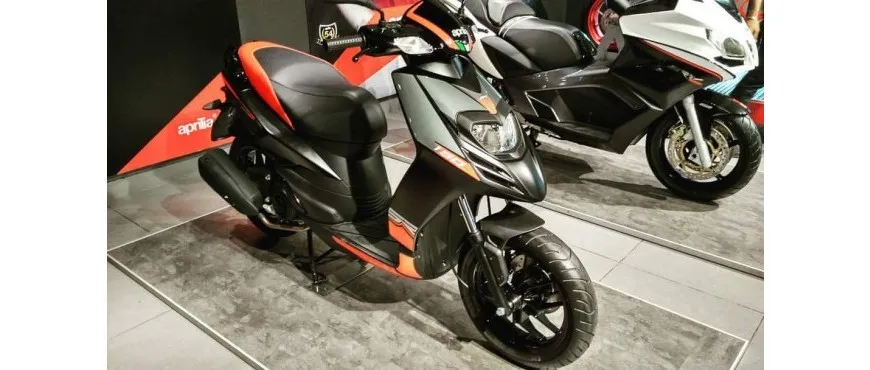 A person standing in front of this two-wheeler will hardly assume that it's a scooter. That's the style and finishing of this beast from Aprilia. Firstly shown in the Auto Expo this year, SR150 is recently launched in the Indian Market at an ex-showroom price of INR 65,000. This gorgeous scooter is not much like other scooters in India and is classified as "sports-scooter" or "sports-scooterbike" by Aprilia. We are totally agreed with the Italian giant Aprilia as this scooter can give a run for their money to other scooter brands in India.
Now coming to the specifications of SR150
Engine- SR150 is powered by an air-cooled 150cc single-cylinder engine that churns out 11.20 bhp of power @ 7,000 rpm and 11.50 Nm of torque @ 5,500 rpm. Although Aprilia SR 150 share its engine with Vespa, it seems to have less vibration. The scooter easily pushes 100 km/h which is quite more for any scooter.
Breaks, Wheels & Suspension- SR150 gets amazing 5 spoke alloy wheels which looks very stylish. Both front and rear wheels are 14 inches across, which are the largest on any scooter. The suspension of the scooter is very good as this contains Hydraulic suspension which is a shock absorber. It contains a 220-mm single disc up front and a 240-mm drum at the rear. Even without ABS the braking is excellent.
Weight & Chassis Type- Aprilia SR150 is weighted at 122 kgs. This scooter uses a tubular open frame single-cradle chassis. Seat height is measured to be 775 mm.
Fuel Efficiency & Performance- The fuel tank capacity of SR150 is 7 litres, but its average is yet to be measured. It can go up to 100 km/h.
Features- SR150 has an analogue speedometer which looks very stylish. It also has a fuel gauge and electric start. The headlamps are integrated into the cowl of the fascia, but the indicators have been positioned on the handlebar. The graphics and design are very good and they really look impressive. It does not have a side stand.
Colours- SR150 comes in two colours. One is a combination of red and black and the other one comes in red and white.
Aprilia SR150 is basically a sports scooter that targets the person aspiring to feel a sports two-wheeler but desires the efficiency and comfort of a scooter. Yes, this is the scooter that will be the chrome for commuting in India and will also give you fun and adventure while riding.