10 Must Visit Camping Sites in India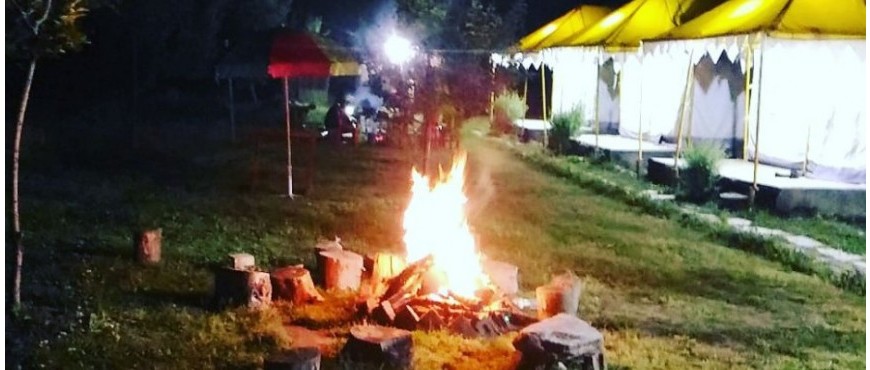 10 Must-Visit Camping Sites in India
"Cool breezy nights under a luminous star-studded sky with a bonfire in the middle dancing and singing with your loved ones, surrounded by the dazzling nature and an astonishing sunrise to birds singing around!! Sounds wonderful right?."
Time and tide wait for none and so does a man's age. The most exciting part of one's timeline is their youth age. As Joe.E.Lewis said 'You are only young once and if you work it right, once is enough'. And what is the way to make the best use of it? How about some adventure and camping? Cool breezy nights under a luminous star-studded sky with a bonfire in the middle dancing and singing with your loved ones, surrounded by the dazzling nature and an astonishing sunrise to birds singing around!! Sounds wonderful right?.so here are 10 beautiful spots from northern and southern India for perfect camping night.
1. Rishikesh
Located under the foothills of Himalaya lies the beautiful city of Rishikesh famous for its temples and adrenalin rushing adventure spots offering you a number of activities. The nearest airport is Dehradun which is around 50 Km away and Haridwar the nearest rail city which is around 25Km away, from here you can take a cab or a bus to your destination. Or even take your bike or car diving under the scenic Himalayas. Rishikesh offers quite a number of camping sites to choose from. One of them being Camp Wildex. The best time to visit can be from February to May.
2. Spiti Valley
If you want to get lost in nature then Spiti valley is the option for you. You can find some campgrounds at Giu village, Hurling or Tabo, Kaza, Chandratal and many more. Late May to October is the best time to visit here. The nearest stations are Joginder railways station and Bhuntar Airport.
3. Desert camping in Jaisalmer
Sam sand Dunes in Rajasthan are around 50m tall sand dunes located about 40Km from the city of Jaisalmer in a village named 'Sam'. You can enjoy a camel ride or a jeep safari, sipping your favourite cup of tea while watching the beautiful sunset amidst the dunes. The scene is just mesmerizing and you having a lovely stay in the luxurious camps!
4. Tso-Moriri Ladakh
It's every Biker's dream to ride along the Himalayas in Leh. Tso-Moriri camps is situate don Tsomoriri lake which is 240Km from Leh city. Forget about the stations and grab your bikes on and pitch a camp 4000m above sea level. I already fell the chills imagining this ????.
5. Solang Valley –Manali
Solang valley is the famous adventure hub of Himachal Pradesh. The valley is settled at an altitude of 8500feet and is 12kms from Manali. The perfect spot for a snow-covered vacation!
6. Coorg -Karnataka
Popularly known as 'The Scotland of India' Coorg is known for its lush green meadows and forests. The nearest airport is Mangalore or Mysore which are 160 and 132 km away respectively. It is a plethora of adventure activities and an eye-catching resemblance to the landscapes of Scotland.
7. Munnar -Idukki, Kerala
A ghat village in God's own country, with a breath-taking view of tea estates, mountain, forest, wildlife, and valley. The nearest stations are Aluva and Ernakulam railway stations. A bus or a private vehicle is a convenient means of transport to the final destination. Truly a heaven on earth.!
8. Wayanad -Kerala
Words aren't enough to describe the ethereal beauty of Wayanad. Here's an ideal spot for nature enthusiasts or you'll be one after you visit this place! tourists can take a train or flight till Kozhikode, then you can take a taxi or a bus. you have a wide option to choose from to pitch your tent.
9. Godavari River camping
In between the majestic Papi Hills flows the splendid Godavari River. One has to take a ferry ride to reach the Papi hills from Purushottamapatnam, a village 35km from Rajahmundry in Andhra Pradesh, well connected by road and train from Hyderabad. If you are searching for a weekend break and take a nap in the lap of mother nature? Well here's one for you.
10. Gandikota –Andhra Pradesh
Here's a spot from my weekend escape.' The Great Canyon of India' is well connected by road and rail from Bangalore and Vellore. It is a gorge formed by river Penna and a fort city rendered with many forts and mesmerizing Belum caves.
In India, if I keep listing camping destinations, the list might be never-ending. Uff! What a beautiful country it is!! One's daily life can be tiring and stressful but mother nature always welcomes you into her arms for comfort. Well here's a word of advice to keep her clean when you go to visit her. You know what I mean ????.