Jaipur's Gems: Prepare to be amazed by spectacular must-visit destinations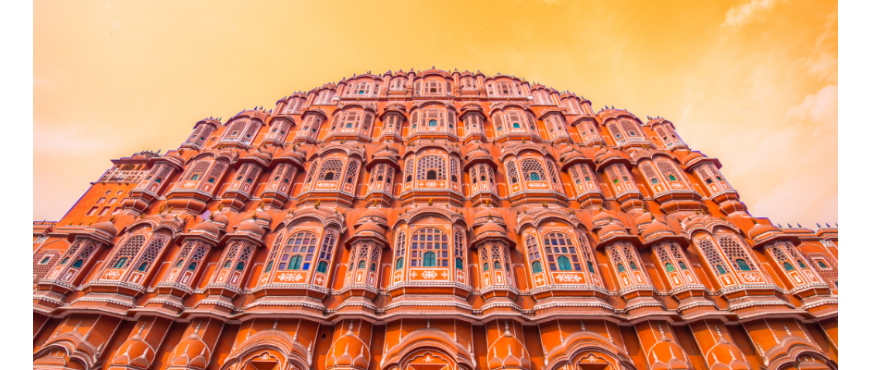 Jaipur's Gems: Prepare to be amazed by spectacular must-visit destinations
Introduction: The Majestic Pink City is the capital of the Indian state of Rajasthan. Jaipur is known as a pink city because all the colours of Jaipur's buildings are painted in pink colour. It is one of the best tourist places in the country. It has a magic that every tourist wants to visit here once in a lifetime. It has a rich culture, art and history. Every building in this city is painted by Royal Majestic Terracotta Pink.
Why is it called Pink City?
There is a story behind it. The pink colour was the symbol of hospitality in those times. In 1876, Maharaja Ram Singh welcomed Prince Albert. So he painted the entire city pink. It is said that Prince Albert named Jaipur a pink city. Jaipur is also known for its amazing forts and lakes. Many variations took place in the megacity and were innovated by Maharaja Jai Singh II.
Jaipur's spectacular must-visit destinations
If you're planning to visit Jaipur, it can be the best choice for you, as a number of attractive, mesmerizing places can be seen here. All the places are spectacular and sightseeing. You will never repent after visiting Jaipur, the Pink City of India. The main attractions of Jaipur are Jal Mahal, Amber Fort, Hawa Mahal, Jantar Mantar, Albert Hall, Rambagh Palace, Sisodia Rani Ka Bagh, Nahargarh Fort, Jaigarh Fort, Chowkidhani, etc.
Explore Jaipur's must-visit destinations.
If you are searching for a visit place in Jaipur, we will describe some of the best places for you.
Amer, which is the old capital of Kachhwahas, is situated in Hills. It is the mixed architecture of Hindus and Muslims.
Sisodia Rani Garden was built by Maharaja Sawai Jai Singh II in 1710 for his queen.
Dolls Museum is situated on Jawahar Lal Nehru Marg.
Birla Planetarium is unique, with audio-visual education about stars.
City Palace is situated in the heart of the old city. The palace is a mix of Rajput and Mughal armature.
Ishwarlat is the tower built by Maharaja Ishwari Singh. Galta is the holy place. It belongs to the Sun God.
Amber Fort – A historical Marvel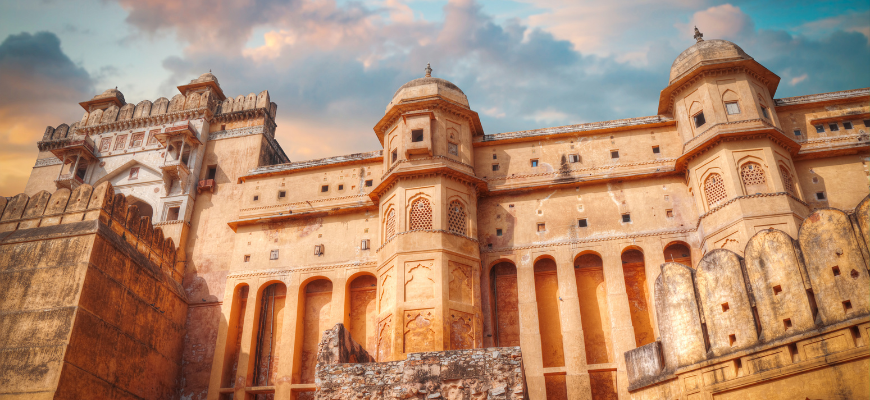 It is one of the most popular places among excursionists. It is situated in Amer, Rajasthan, India. It was built by Mansingh I in 1592. It has the architecture of Rajput and Mughal styles. It is made out of red sandstone and marble. Amer Fort is also known as the Amber Palace. The palace was the home of the Rajput Maharajas and their families.
Raja Maan Singh has 12 queens and has constructed 12 rooms for each queen. The Amber Fort has Deewane-e-Aam or Hall for the public audience, The Deewane-e-Khas or Hall for the private audience, The Sheesh Mahal, Jai Mandir and Sukh Niwas.
The main entry is Suraj Pal, which leads to the main courtyard. This is the place where armies celebrated their victory and do parades. All the activities are seen by the royal families; women walk through the latticed windows. The fort is wonderful for the majestic grandeur of its surroundings. The Solemn dignity of its red sandstone and white marble pavilion is unmatchable when reflected in the lake at the foothill, which is worth seeing.
Hawa Mahal – An Architectural Delight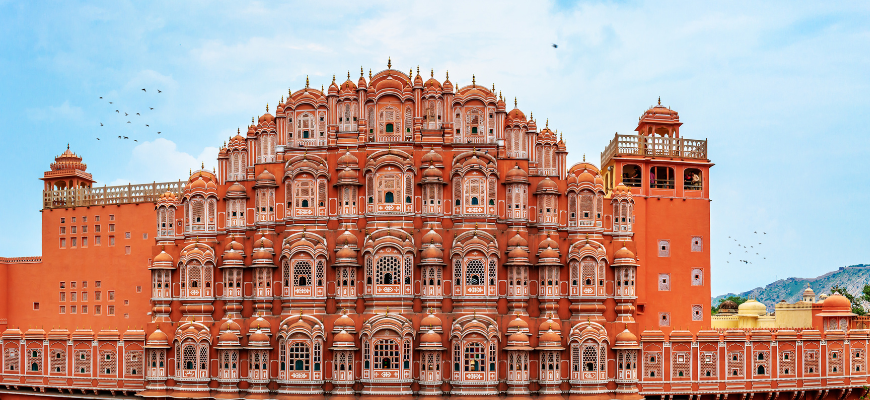 Hawa Mahal is an example of Indian architectural skill and talent for those who have the ability to think broadly. How did the architects manage all the things skillfully? In today's era, every building is made of a foundation for its strength. But at that time, how did they build a 5-storey building without a foundation?
It is leaned at an 87° angle with a pyramidal shape. It is the reason buildings have been erect for centuries. The Hawa Mahal is constructed in red sandstone. Hawa Mahal was built in 1799 by Sawai Pratap Singh and designed by Lalchand Ustad. The Hawa Mahal has 953 jharokas. The main purpose of building these jharokas was to restrict women from going out and seeing the outside activities through these. Everything could be seen through these small windows.
City palace – Royal grandeur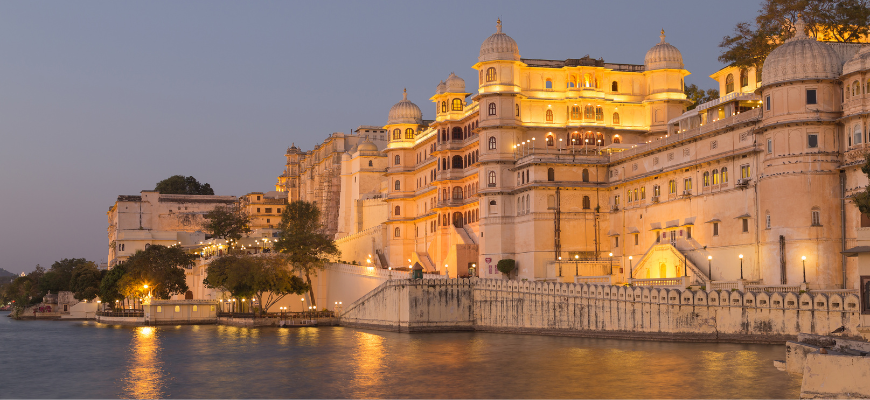 City Palace is one of the most attractive Grand Palace in Jaipur. It was erected by Maharaja Sawai Jai Singh. It is situated between the local market Badi Chopar and Chhoti Chopar in old Jaipur. The architecture of the City Palace is a combination of Rajput, Mughal and European styles. There are many places inside the City palace like - Mubarak Mahal, Chandra Mahal, Pritam Niwas Chowk, Diwan-e-Aam, Deewan-e-Khas, Maharani Palace, Bhaggi Khana, Govindji Temple, etc.
Jantar Mantar – Astronomical wonders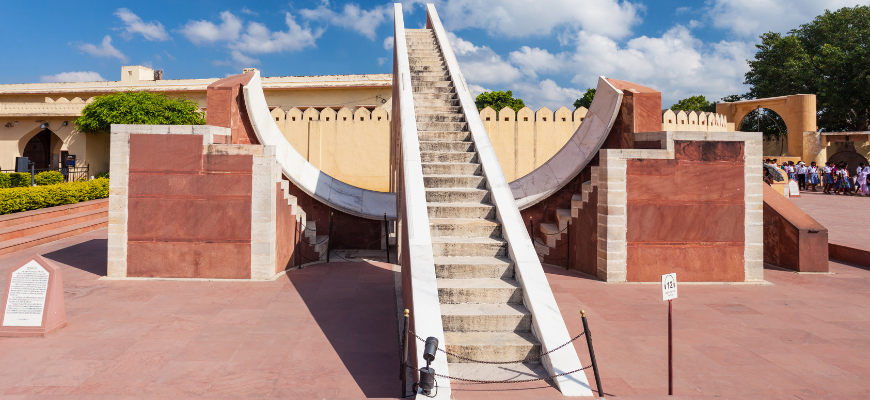 Jantar Mantar is a place where you can find 19 astronomical instruments, which is the most attractive thing to visit in Jaipur. It was built by Rajput King Sawai Jaisingh. The main attraction is the largest stone Sundial. Jantar Mantar is placed under the list of UNESCO World Heritage Sites. It is one of the world's most accurate, pre-modern lookouts. It is a wonderful place to visit in Jaipur.
Romantic escapes – Places to visit in Jaipur for couples
There are some popular places to visit in Jaipur for couples. If you are a couple and want nobody to interrupt you, Central Park is one of the best private places to visit in Jaipur. You can also visit House of People, Vazra-Lebua resort, where you can spend the most lovable time with your beloved. Alsisar Haveli is the place to visit in Jaipur for couples. It provides you with luxurious facilities like stylish rooms, furnished antiques, etc.
Evening strolls at Jal Mahal
If you visit Jal Mahal at night or evening time, you will have the best views of the palace because, at this time, you can enjoy the spot with light that reflects on the lake. It is a wonderful view, which is sightseeing. It is a historic jam, the uniqueness of which charms at night, floating on Mansagar Lake. This place is perfect for couples, too.
Sunset at Nahargarh Fort
Eagerly longing for a sunset view, you can visit Nahargarh Fort. It is where you can observe the views of the sunset. Nahargarh Fort is popular for its sunset views. There is a sunset point where you can see the sky dipped in amazing colours. The walls along the sunset point are the best views. You can go to the walls to see the sunset directly from the front.
Discover Jaipur with RenTrip - Rent a Car in Jaipur Now!
Conclusion
The visit to Jaipur can be termed lamely as a 'total paisa vasool' vacation. The beauty of Jaipur gives an unforgettable memory. It will mesmerize you forever. The architecture of Hawa Mahal, the historical marble of Amber Fort, the Royal and Grand City Palace, and the astronomical wonder of Jantar Mantar, Jalmahal, which is floating on Mansagar Lake, are all worth sightseeing.