Amazing Things to Do in Agartala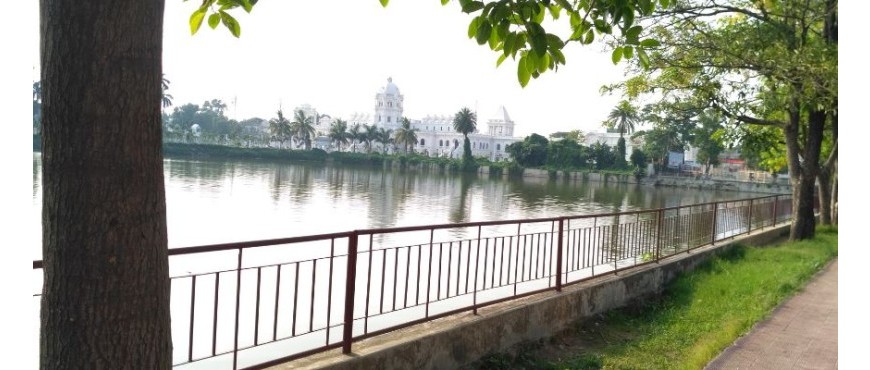 10 Amazing Things to Do in Agartala
The capital of Tripura, Agartala, is one of the best places in India that tourists frequently miss because they need to familiarize themselves with its history and culture. But now this city has a first-rate transportation system which makes this city more popular as one of the best places for couples in Agartala. Agartala is famous for its extensive cultural legacy and stunning natural beauty. Its location along the Haora River adds to its beauty and elegance.
So now, grasp your luggage and explore this stunning city, Agartala.
1. Delight in the serenity of the Buddha Temple in Venuban Vihar
Venu Van Vihar is one of Tripura's most well-known and historic Buddhist sites. It is renowned for housing metal statues of Lord Buddha and Bodhisattva, made initially in Burma. This temple is dedicated to lord Buddha and is peaceful and among the best locations if you want to spend some time in leisure.
On the day of Buddha Purnima, Venuban Vihar enthusiastically commemorates Buddha Jayanti, and visiting this temple will be one of your most memorable experiences.
The temple is open from 6:00 am until 6:00 pm.
2. Enjoy the beautiful weather in Jampui Hills
One of the unexplored places in Tripura's major tourist spot and India's most picturesque hill stations is Jampui Hills, one of Tripura's highest Peak ranges.
This hill is beautiful, surrounded by unspoiled forests, with a serene green atmosphere, lovely orchids, and good weather. In addition, there are wide varieties of orchids in the valleys, so try some Jampui Hills oranges. And one of the other best things to do here is to watch the sunset and click pictures of that fantastic scenery.
You can visit the Jampui hills between October and February. Various viewpoints in the hill range provide mesmerizing impressions throughout the area, adding charm to Tripura tourism.
3. View various animal species at Gondacherra Wildlife Sanctuary
The Gondacherra Wildlife Sanctuary is a must-see for animal and plant enthusiasts.
Here, you can explore 150 different species of flora and fauna. You can visit this Sanctuary to see migratory mammals and birds, including tigers, bison, wild horses, and many more. There is also a woodland with an artificial lake and natural botanical and zoological gardens. The clouded leopard enclosures at this Sanctuary are well-known.
You can visit nearby attractions, including Ujjayanta Palace, Neermahal, and Akhaura Checkpost. Vinayaka, Cafe Coffee Day, Restaurant Kurry Klub, and many other restaurants are available for dining. There are also many shopping centres where we can go and spend some time shopping, like the City Center, Agartala City Center, and M.L PLAZA.
4. Mesmerize the beauty of Neermahal Palace
The largest Palace on the Indian subcontinent is Neermahal Palace. We can't help but be enchanted by the view, which is made even more lovely and elegant by the nearby lakes and meadows. The weather and beautiful lake surrounding the castle are perfect spots for sitting there and taking in the splendour of the Palace for a while.
The sound and light is shown here symbolize Agartala's culture, the empire, and the kings. On that lake, you can also take a motorboat ride. The cost of the motorboat ticket is Rs 30 for each person and Rs 1000 for the whole boat.
The best time to visit Agartala and this Palace is from September to November. And the adult ticket is Rs 30, and there are extra charges for the Camera, which is Rs 50. And entry time is 9:00 am to 6:00 pm, and from October to February, the timings are 9:00 am to 5:00 pm. And 1 hour is enough to explore this Palace peacefully.
5. Offer prayer in Tripura Sundari Temple
One of Agartala's oldest temples is the Tripura Sundari Temple, popularly referred to as Matabari. This country's region is considered one of the holiest Hindu sanctuaries.
It contains a square-shaped sanctuary resembling a traditional Bengali hut and is viewed as one of the 51 Shakti Peethas. Additionally, it's thought that Sati's right foot slipped here during Lord Shiva's Nataraj Dance. Many visitors come to this location to pray here as this is one of the best temples in Agartala.
There is a lake called Kalyan Sagar on the temple's eastern side, where giant fish and tortoises coexist.
This lovely temple is open daily from 5:00 am to 9:00 pm.
6. Enjoy the Chittagong Hills' beauty of vegetation
A gorgeous turmoil of hills, valleys, and rolling ravines descended from that hill.
The best time to experience the Chittagong Hills is between three and four hours. Additionally, it is open all year long.
7. Have fun at Sepahijala Wildlife Sanctuary
One of Agartala's top sanctuaries is Sepahijala. After the construction of a zoo, deer park, and botanical garden in early 1987, this name was granted. Numerous species of birds and flowers can be found in this Sanctuary.
There are 150 different animal species there as well, which you can see in this Sanctuary. We can also find various types of lakes and sit near lakes and enjoy the greenery view.
Additionally, there is a boating area where we may go boating and enjoy ourselves with our families and friends.
The Sepahijala Wildlife Sanctuary is open daily from 8:00 am to 4:00 pm. And entrance tickets cost 10 rupees, while parking fees range from 20 to 40 rupees, depending on the mode of transportation you are coming from. There are also photography fees of 20 rs and videography fees of 400 rs.
8. Have some fun in Heritage Park
Heritage Park is one of the best parks in Agartala. And the best thing to see there is the statues simulated here, which represent the small and detailed design of the famous monument of the state and also support and enhance the heritage culture of this city.
The Park's entrance is another main attraction of this Park, which has a piece of artistry that harmonically mixes the art and culture of both tribal and non-tribal people of Tripura history to present a unique state-of-the-art structure and Agartala culture.
The garden here is also very well-manicured and sculpted by landscape designers. You can also click lots of pictures with beautiful greenery scenery and flowers. In addition, heritage benches, stone statues, monuments, earthen potteries, wood carvings, and much more beautify the Park. Because of this decoration, most visitors get attracted and visit this Park more frequently.
This Park is open from 10:00 am to 5:00 pm. And the entrance fee is only Rs 10.
This is a must-see location to come and enjoy some time in this Park with your friends and family.
9. View the Ujjayanta Palace, an architectural marvel
Ujjayanata Palace is one of the best royal locations, with Indo-Saracenic illumination and a large garden with Mughal influences. You will be amazed by this Palace's beauty as soon as you see it. Since Rabindranath Tagore frequently visited this Palace, he gave it the name "Ujjayanta," and after that, this Palace became famous.
The magnified doors, floors, and pure white colour of the Palace draw the attention of most people, which are the key attractions of this Palace. You can also take a lot of beautiful aesthetic shots here.
In Agartala, the Palace is situated on a small lake's shores and encircled by the rich vegetation of Mughal gardens. In addition to several stone sculptures, coins from the Manikya dynasty, and other antiquities, this Palace houses the State Museum, which essentially exhibits the way of life, arts, culture, tradition, and valuable crafts of populations living in northeast India.
The Palace is open from 10:00 am to 5:00 pm. On Mondays, this Palace was closed. And this Palace takes approximately one and two hours to visit this Palace thoroughly. The entry fee for this Palace is Rs 10 only.
10. View rock craving in Unakoti
A fascinating location where we may see rock-carved sculptures on the side of a steep hill is the Unakoti Heritage Site. But we must walk and climb many steps to explore this area and observe the various carvings and statues. A person needs at least an hour to see all the carvings.
This place is among the best locations for archaeological marvels. It is a well-kept secret among India's heritage sites. It will not only delight tourists but also show the timeless creations of the country's early sculptors.
According to mythology, this place is famous because Lord Shiva stopped at Unakoti for the night on his way to Kashi. Before going to bed at night, he told his friends to get up early the next day so they could travel to Kashi. Unfortunately, no one got up before dawn, which enraged Lord Shiva, who turned his friends into stones.
Agartala is one of the best cities to have a great vacation while learning about the local culture.
Remember to visit all the above places in Agartala for the best possible trip.