11 Tips For Your Next Road Trip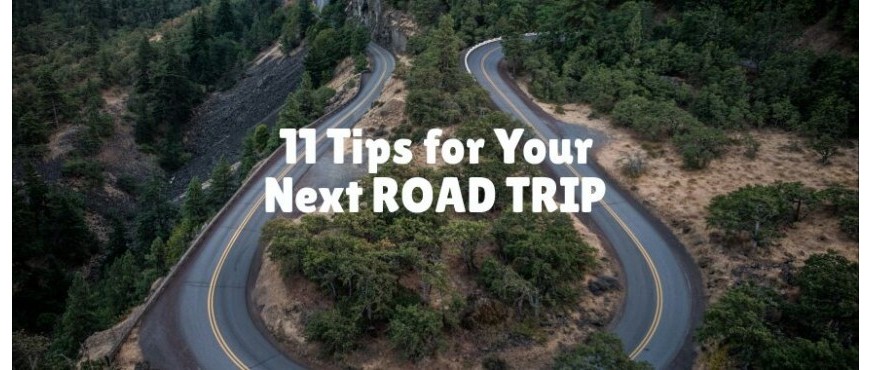 11 Tips For Your Next Road Trip
A road trip is mystical. It is a one of a kind experience and a dream for every avid traveler. With a bike, you can take off at your own convenience whenever you want. Even the next step you make will be a mystery. You go enjoying life as it comes to you. But being prepared for every possible contingency is an important thing while road tripping.
It makes a difference whether you are going solo or with your friends. You will need a variety of things, depending on your needs. Let us look at the most basic stuff you need to check before you go on the most adventurous journey of your life. And who knows, you may just get ready for your next bike trip to Leh and Ladakh!
First and foremost, decide on which motorcycle you want to ride. You might also want to check on the mileage of the motorcycle before you set out. Get a full check-up to ensure that it is in good condition to be on a long trip. A road trip is about choosing the best motorcycle because you do not want to be landing up into any trouble!
Next, calculate the amount of fuel you will need by the time to reach your destination. This is important because fuel is the most expensive thing on any road trip. Find out what mileage your motorcycle has and the total number of kilometers you will be traveling. Now multiply the number of kilometers to the mileage. This should give you the liters of fuel required. Multiply that to the average national price of fuel and you will have the amount required for fuel alone, for the entire trip.
Luggage space is one of the most problematic things when you are traveling by bike. While you are at it, stick to a 'one bag over one person' rule. The trip you are taking may throw in surprises for you along the way. So always pack stuff that is more long-lasting than comfy or easy-going. A good, hard-soled and lasting pair of shoes is a must for a road trip. For fresh clothes after a while, you can always get your clothes washed at laundries. You should never forget to pack things like torch lights, spare batteries, reflectors or flares or extra cell phone chargers. You will be camping at unfamiliar places so it is necessary to keep these with you.
Medical emergencies may arise during a road trip. You have to be prepared to deal with them in the best way you can. Having a first-aid kit is an important part. It should contain your routine medicines if any, and additional ones for allergies, colds, fevers, and similar possible occurrences. You should also pack sufficient cotton, gauzes, Band-Aid's, plasters, ointments, pain-relievers, gloves, scissors, pins, cleansing wipes and skin care creams at the least.
On a road trip, there is no guarantee you will always have fresh and portable drinking water available on roadsides. The one method to ensure this is by carrying it with you. Pack a sufficiently large can of water when you start out. This may last a day or two at maximum. Whenever you make stops at places where drinking water is available, you can refill the can and be on the move again.
On a long road trip, the routes could be mostly unfamiliar and confusing. The one thing to keep in mind is that you shouldn't always go for the shortcuts, especially during the nights. Going out of the highways or interstates and into the local roads might not be the best idea since you are a stranger to the places you travel through. There are more risk factors involved in shortcuts since your ultimate goal is the journey and not saving miles. The major roads are always safer because they are well-lit at all times with occasional police patrols and check posts where you can pause and rest. Before you set out, fix the route you want to take on the Google Maps and stick to it till the end.
Since this is a road trip, you will have to drive for long hours every day. Sound sleep is important for you to make stops at places where you can sleep comfortably. Also, stretch every time you stop. If you have more than one driver available, make a regular pattern. Decide on the number of hours each one of you will be driving and switch accordingly. This will ensure everyone gets time to rest. Pre-plan who is going to drive and the number of kilometers each one will be driving. This can help you avoid a lot of arguments later.
Some people on road trips like to stop wherever they like and spend nights at various places without planning it all out. But if you want, you can make reservations at hotels beforehand. Calculate the approximate time you will need to get to each place on the route and then fix the number of kilometers you can possibly drive each day. Set realistic goals on this one. You can thus, decide where you will be stopping for overnight stays and book hotels online. Pre-booking is pretty simple these days since many websites let you see the rooms before you book. Also, this way you can save some money.
Stock in on snacks for the long journey before you set off. Pack canned food or snacks like crackers, fries or preserved items so you can go on even if you couldn't find a proper restaurant on your way. Also, it is most likely you will be hungry at times. The snacks will always come as saviors then.
Locate gas stations route while you decide to go on the route. This will help you to prevent the vehicle from running out of fuel. Once you already know where all you can get a refill, it will be easy for you to drive on. Otherwise, through the whole trip, you will be asking locals about petrol stations or worrying about running out of fuel.
Finally and most importantly, ensure that you have all the necessary documents with you at all times. This will include your identity cards, passports if necessary, emergency contact numbers, insurance papers of the vehicle and of course driving license.