How to Rent a Bike in Ahmedabad in 2021: A Step by Step Guide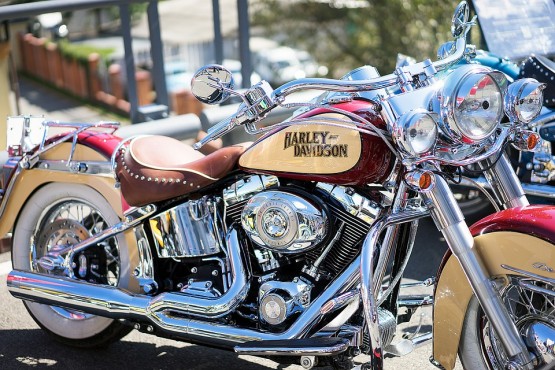 How to Rent a Bike in Ahmedabad in 2021: A Step by Step Guide
When it comes to Ahmedabad, the thing that comes first to mind is the beautiful city with wide roads and friendly people. It was never so affordable to explore Ahmedabad without cost-effective bike rental services from RenTrip.
STEP ONE:
You are first required to book the bike so that it is reserved for the date and time you wish to rent. For doing this, go to - https://www.rentrip.in/rent-bike/Ahmedabad or you can visit the rentrip homepage and select the city Ahmedabad from there.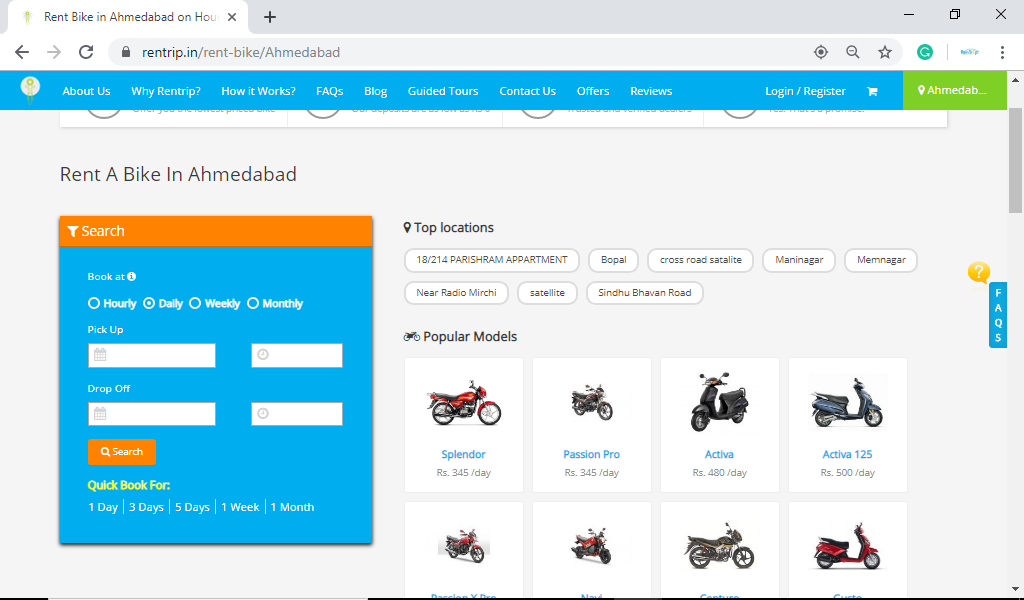 STEP TWO:
Now put your rental start and end date/ time. The search shall be made on the website and in a few seconds, you should get the list of all the available bikes for your desired duration. You are also required to choose your format of renting which can be hourly, daily, weekly or monthly. Remember, the longer the duration, the cheaper the rent.
Your search results should be somewhat like this -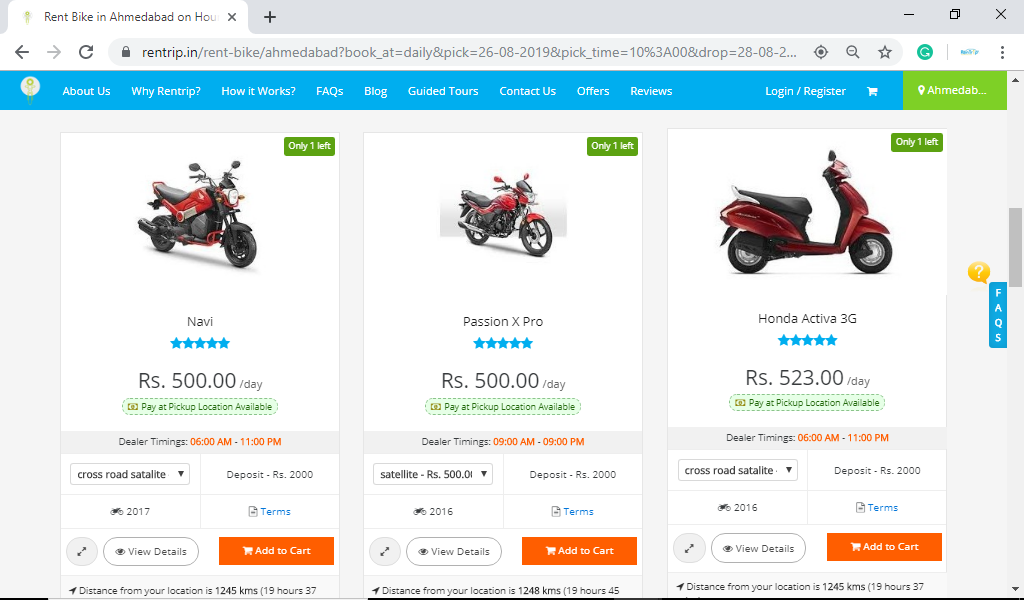 You can browse through all the available bikes and once you have selected one for your bike trip, click on the Add to Cart button. It will show you a confirmation pop-up where you can double-check the details. Once you have checked the details (location, dates, etc), click on the Book Now or Add to Cart button.
STEP THREE:
Now you shall need to make a payment and once you have finished up doing this, you shall get a booking confirmation on the website. Check your pickup address and get in touch with the dealer.
Your dealer shall be assisting you to reach the location. Once your trip is over, just hand over the bike to your dealer.
It's simple, Isn't it?
You may also ask -
Q. Which bikes can I rent in Ahmedabad?
A. You can rent a range of bikes like
Harley Davidson
Royal Enfield Classic 350
Royal Enfield Thunderbird 350
Bajaj Avenger 220 on rent, Bajaj Pulsar 150
Bajaj Pulsar 220
Yamaha FZ
Hero Honda Splendor
Honda Dio
Honda Activa
Royal Enfield Bullet
Q. Once I rent a bike, can it be delivered to my location?
A. Yes, all rented bikes in Ahmedabad can be requested for delivery charges are paid well in advance. We may deny delivery of the bikes if they are booked for immediate delivery.
Q. Do self-drive bikes are included with fuel?
A. No. Self-Drive bikes are always offered on Fuel Exclusive packages, which means the cost of the fuel shall be on you.
Other facilities we offer on bike rents in Ahmedabad
We offer free helmets with every rented Bike in Ahmedabad. You can also avail of our pan India Roadside Assistance service for every Two Wheelers on rent. Our Bikes in Ahmedabad are all new models and fit for self-drive bike rental. You can avail of our Bikes for Motorcycle Tours as well. We also organize Motorcycle Tours as per your requirements in Ahmedabad. You get complimentary fuel with every Bike rental from our pick-up location so as to reach the nearest filling station.
We offer motorbikes in India at all major locations. If you plan to visit the whole of India by Motorcycle, we can help you. The best motorbike in India for tours is Bullet. Please don't hesitate to call our support team which is available 24x7 for the bikers like you. You can also rent a bike in Vadodara on RenTrip on hourly, daily, weekly, and monthly bike rental plans.
Our bike rental plans are customer-friendly so as to make renting any two-wheelers for rent in Ahmedabad easy and affordable. We are considered the most loved Bike Rental Company in India due to our customer-friendly service and transparent policies. So the next time when you need a scooty on rent for city rides or Harley on rent for long Motorbike Tours, just log on to our website.
Click Here to book your bike in Ahmedabad now.