How To Start Your Own Bike Renting Business In India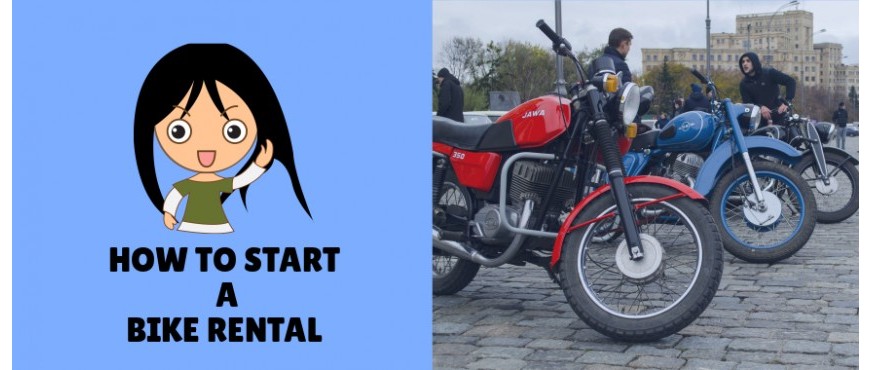 The business of renting bikes can be very rewarding if managed efficiently. Travelers and commuters are nowadays looking for an affordable and cheaper mode of commuting that does not tie them up with complex tariff plans and cost dearly at the end.
HOW TO START?
Find a place for parking bikes, office, and maintenance space. Places located near tourist gatherings usually attract more traction.
Comply with statutory and regulatory requirements. Renting bikes in India is regulated by Bike Renting Scheme 1997 and State Government Laws. If your State has not formulated specific laws, approach your RTO with the application as prescribed in Bike Renting Scheme 1997. Usually, you will need to start off with a minimum of 5 bikes and they shall need to be registered under the commercial category.
Check if your State Transport Department has any additional requirements for financial capacity, character certificate, etc.
Choose which bikes to buy. Usually, that generally depends on the kind of customers you shall be receiving. Cruiser bikes like Royal Enfield, Avenger, etc are in demand at places located at or near hill stations. For Metro commute, Activa or lower CC bikes should work well. However, there is no thumb rule. That purely works on your judgment and budget. If you still need advice, contact us and we shall help you out.
Now it's time to start promoting your business. There are traditional as well as digital channels which should work well. If you just want to focus on your business, create an account with us and we shall take care of your business. Your page on RenTrip shall have all the features, a bike renter need. From managing time slots to keeping customer's records, all can be done to your dealer's account with ease and the best thing is that it is totally free. We shall charge commissions, only when you make a sale.
Caution is the key to renting bikes. Always verify the identity and driving license of the person willing to rent a bike from you. Feel free to deny if you ascertain the person renting from you is not genuine. Install GPS in your bikes to track the speed and location of your bikes. Ask your customers to wear a helmet and follow traffic rules. Tell your customers to sign an agreement with you where you can write your terms. These terms should focus on deterring anyone from abusing the bikes. Being clear from the start will help you build up a good relationship between you and your customers.
Keep the records properly. Usually, you shall need to find a secure place where you shall be keeping your records. A good record helps in running a business trouble-free.
If you want to take advantage of RenTrip experience and expertise, Sign-Up for a Dealer Account here.