The Mystery Behind Skeleton Lake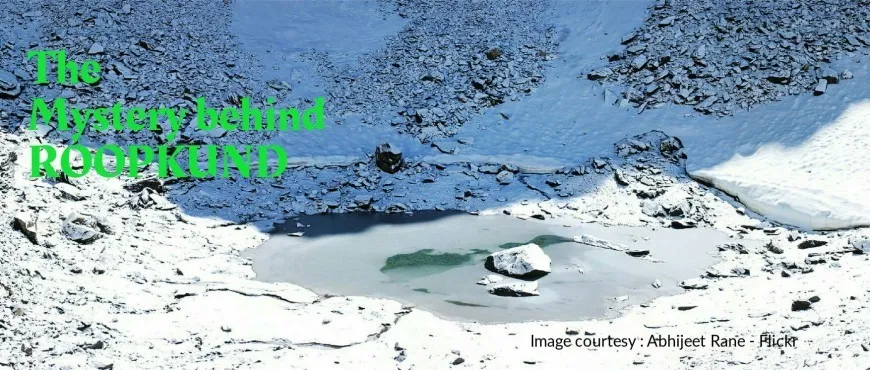 Lakes are a vivid and beautiful expression of Nature's gift to us. India is blessed of many beautiful Lakes that are wonderful. Lake of India drive the tourists across the world. They are exciting places to visit because they are different, beautiful and uncommon.
SKELETON LAKE/ ROOPKUND : MYSTERY BEHIND
This haunted Lake lies in the Indian State of Uttarakhand over the Himalayan ranges at 16500 ft height. This Lake remains frozen during most part of the year and is famously known as skeleton Lake. Human skeletons can be seen when the ice melts over the Lake. There are several stories over these skeletons. Some say that King Jasdhawal along with his Queen and subordinates was caught in the storm.
Whatever the stories may be, the mystery over this lake remains the same. Many agencies like National Geographic Channel have tried to discover the mystery of this lake. Radiocarbon dating dates these skeletons to 8th century AD. The number of skeletons is counted more than 300. The Lake is not too deep and the depth is little more than 6ft all the way. In addition to being haunted, this Lake is extremely beautiful and vivid. The trek goes all the way through snowy mountains and picturesque valley.
Feeling terribly excited? Let's see how to trek to this Lake-
The convenient way to reach the Lake is through Wan. You can start a tour trip from Delhi. From Delhi cover the route till Wan by road. It's like Delhi-Rishikesh- Lohajung- Wan. After Wan, there is no road available for Roopkund. Start trekking from Wan to Bedani Bugyal(10 Km), then to Bagwabsa(10 Km). Our destination Roopkund is just 7 Km from Bagwabsa on Trisul range. This trek offers a beautiful view of the valley of Trisul, Nanda Ghunti.
Alternatively, you can go to Kathgodam from Delhi (Kathgodam can be reached from Delhi via trains too). Then drive to Ranikhet till Wan via Garur, Gawaldam, Debal and Lohajung. You can have night stays in between at suitable places. From Wan, you can trek as stated above.
Rent a bike in Delhi or Rishikesh to have this wonderful place covered via an exciting bike trip.
Have this wonderful journey and share with us your experiences.