20 Fabulous things to Do in Andaman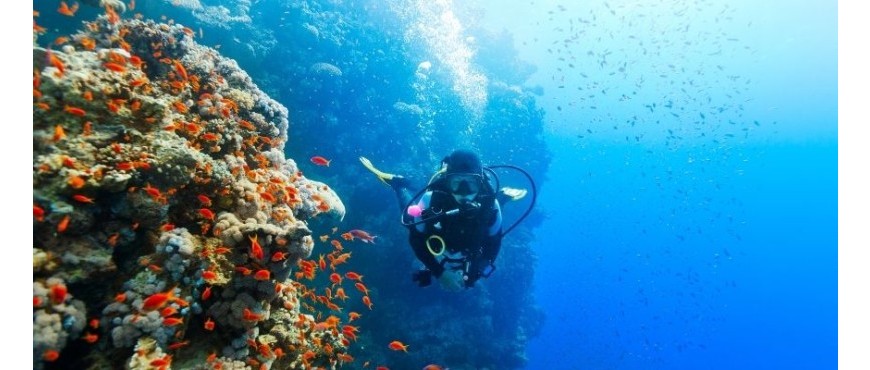 20 Fabulous Things to Do in Andaman
The Andaman Islands are currently one of the most popular tourist destinations in the world. The area is home to a wide range of plants and wildlife.
On the island, there are several attractions to choose from. They provide a wide range of activities, from water sports to air sports. One can also enjoy the nightlife in Andaman, though not as warm as in Goa.
As a result, you should create a list of things you wish to accomplish before visiting the island. As a result, we've compiled a list of the top 20 activities available on Andaman Island. They are good for anyone but are must things to do in Andaman for couples.
1. Scuba Diving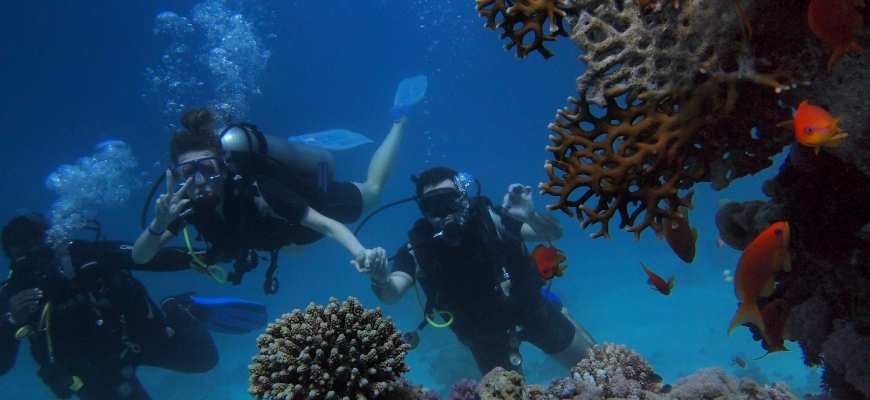 Many of you must have a bucket list of adventures that you want to do in your life. We are sure that most of you must mention Scuba Diving in your list. Well, if this is so, then Andaman is the best place for you to visit. Scuba Diving is one of the famous and adventurous activities that you can do in Andaman.
You can explore marine life and get a memorable experience. One can see the coral habitat and unexploited coral reefs. If you are visiting Andaman, then you must do Scuba Diving.
2. Visit Cellular Jail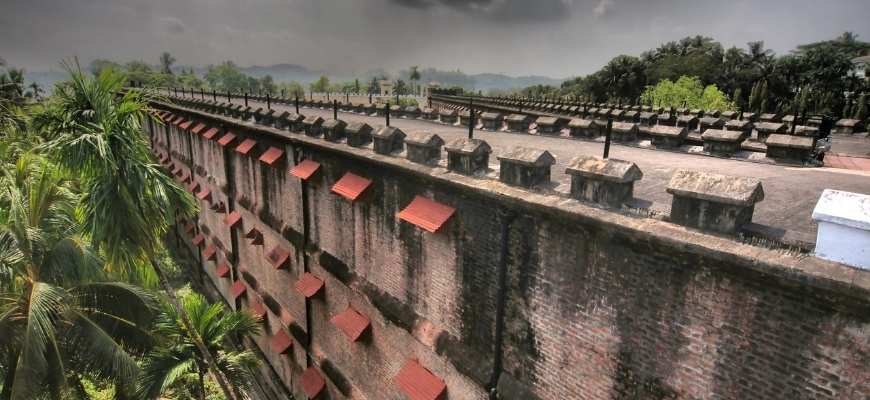 You must be thinking, why do you visit a jail? Like, what can we see there? Prisoners? Don't think too much; in cellular jail, you can see the stories of brave freedom fighters.
The place is located in Port Blair and is a must-visit place in Andaman. Cellular Jail is a national memorial in Andaman.
With various paintings, you can see the history of Cellular Jail. Also, at night enjoy the light and sound program. Do not miss this show. The program covers the entire history and events of India's independence.
3. Snorkeling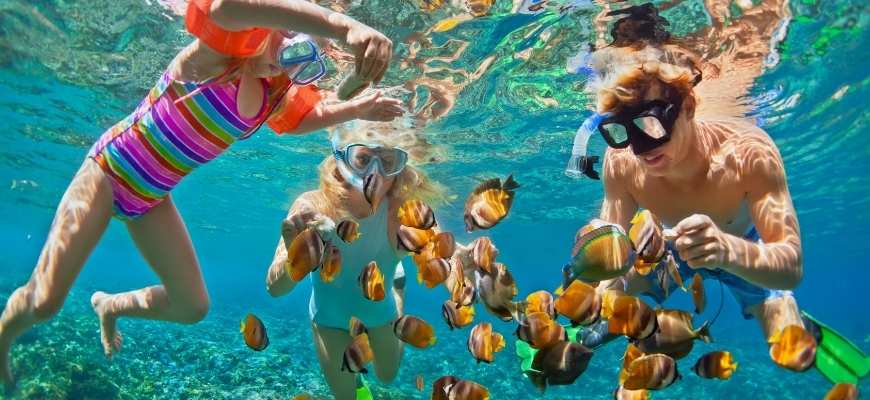 Another famous water sport in Andman is Snorkeling. You can discover the underwater world and have a face-to-face interaction with coral life. The view of colorful fishes and corals is just mesmerizing. The transparent blue water acts as a canvas for the most magnificent artwork of marine life, while the sand at the bottom acts as a backdrop.
Snorkeling in Andaman is a must-do activity; simply experience the city's aquatic splendor. Take advantage of this fantastic opportunity to record those special underwater moments.
4. Watch Sunset at Chidiya Tapu
If you are a sunset lover or you are going to Andaman for a honeymoon, you must visit Chidiya Tapu. You can have a beach walk there with your partner. The calm waves and sunset will make you feel magical.
You can experience a breathtaking view there. Spend a calm and peaceful time there. Visit to this place is one of the top things to do in Andaman for honeymooners.
5. Undersea Walking
Do you ever wish to go for a swim with the fish in the sea? It sounds insane and strange, doesn't it? However, you might have this bizarre experience in Andaman.
You may take a deep dive into the ocean to see the incredible aquatic life. With your transparent helmet, you can see the amazing undersea environment.
Take photos, enjoy the stroll, and turn it into a once-in-a-lifetime memory. Elephant Beach on Havelock Island and North Bay Beach near Port Blair Falls provide undersea walks, often known as helmet diving.
6. Trekking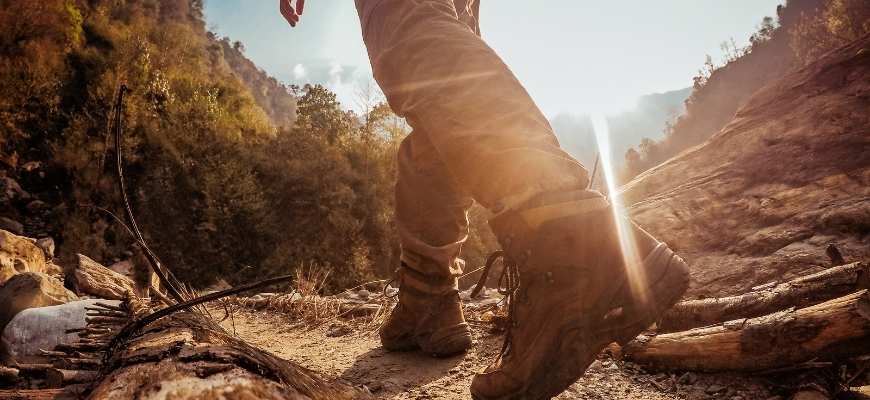 For nature lovers, Andaman offers a lot. From sea to forest, one can explore every aspect of nature in Andaman. Exploring unusual geography is a thrilling experience. Trekking in Andaman's beautiful hillocks and dense woods guarantees a close encounter with nature.
Mount Harriet to Madhuban and Diglipur's Saddle Peak are two of the top trekking destinations in Andaman. The climb provides panoramic views of the sea's dispersed islands. So, you must plan to have a trek in Andaman's forest beauty.
7. Kayaking in Mangroves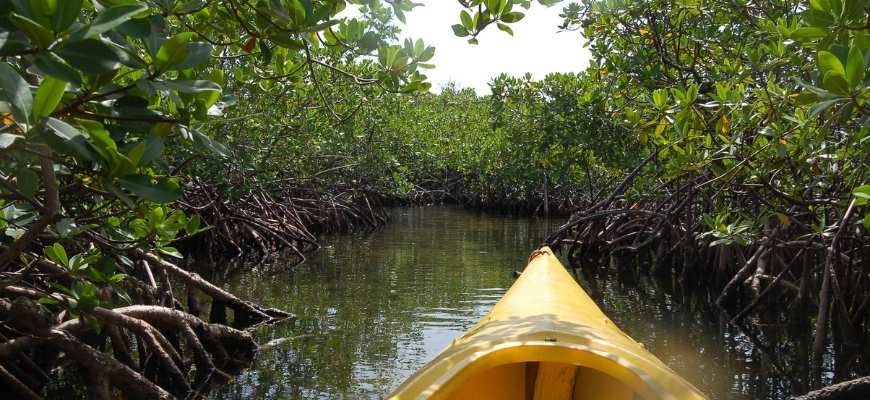 Following the underwater activities, you must also take in the picturesque splendor of the Andaman mangroves. Kayaking is available in the Andaman Islands. You'll be amazed by this one-of-a-kind mangrove tour on Havelock Island. It will bring you near to nature and lets you see Andaman Island's unusual flora and animals.
People have an opportunity to see nature in a new way, seeing its little frightening side, with the help of skilled educators. As you glide through the dense green blanket of mangroves, prepare to fall in love with kayaking.
8. Dolphin Glass Boat Ride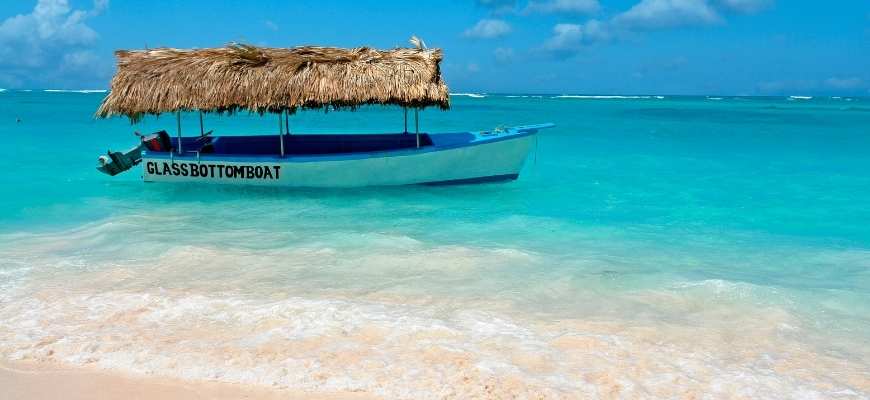 Dolphins are the cutest water animals, as you may know. Seeing dolphins will bring joy and happiness to your heart. You may see dolphins in their native environment without wading into the water in the Andaman. Yes, glass boats can view dolphins and other aquatic critters in the sea.
This is without a doubt one of the nicest things to do in the Andaman and Nicobar Islands. You may sit and enjoy a pleasant ride while seeing the diverse aquatic life via the clear shield under your feet.
9. Visit Elephant Beach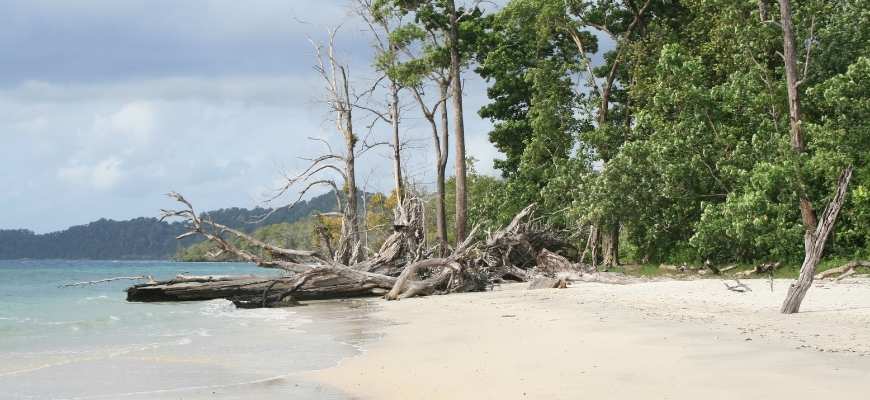 Elephant Beach is one of the places that contribute to the Andaman and Nicobar Islands' beach paradise reputation. Havelock Island's Elephant Beach is a must-see. Observing elephant behavior from such a close distance is a breathtaking sight. It is one of the most essential Andaman experiences.
You may also take a ride on an elephant and feed them. Take a boat trip to the beach, passing by the lighthouse, to make your stay even more appealing.
10. Visit Mount Harriet National Park
Mount Harriet is a national park located on the island of Andaman and Nicobar. Mount Harriet National Park is without a doubt the most gorgeous park in the area. The park is situated at the top of a hill and is surrounded by beautiful green vegetation.
This provides some breathtaking views of the brilliant blues that encircle the island. Mount Harriet's major characteristic is its biodiversity and natural vegetation, which are still unparalleled.
11. Parasailing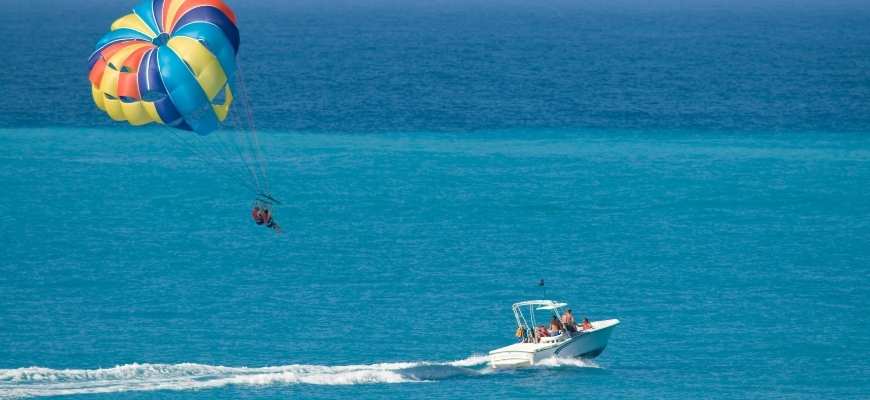 This sport is a combination of aquatic and aerial activities that will provide you with the most memorable experience of your life. You will feel like you are flying through the skies in this aquatic adventure. One side of the rope is linked to the boat while the other is tied to the parasailor and tied to a parachute soar in the sky during parasailing. This is another must-do excursion and a top water sports activity in the Andaman Islands.
12. Discover Radhanagar Beach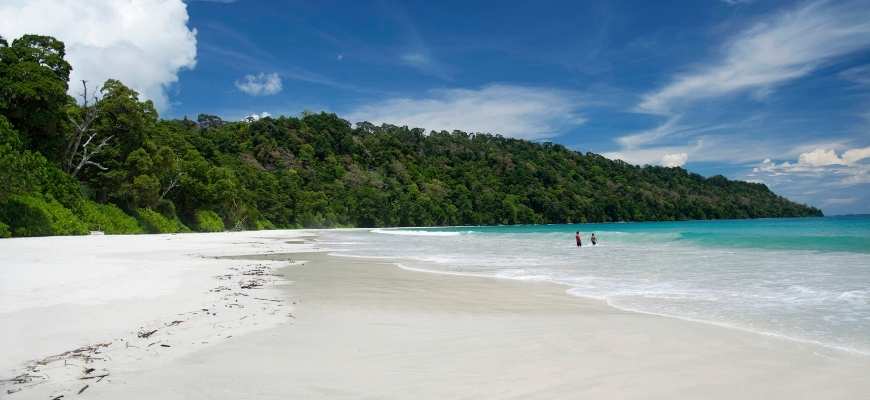 The most renowned Andaman Beach is Radhanagar Beach, which is located on the south shore of Havelock Island. It is regarded as one of Asia's most stunning beaches. There are several Radhanagar Beach activities to choose from. Sunbathing, swimming, and lazing in the sun are all available here.
The beauty and luxury offered by Radhanagar resorts are likewise well-known. This beach is a great place to unwind with your friends or family. Don't miss a chance to have candlelight dinners with your loved one on this beach.
13. Explore Tribal Culture at Anthropological Museum
If you are interested in cultural and regional art, then this place should be on your list. The museum depicts the art, lifestyle, culture, food, and other aspects of tribal people that lived here. It depicts the highlights of the Jarawas, Onges, Sentinelese, Shompens, and Nicobarese primal periods.
This museum, which is located in Port Blair's Middle Point, is a historical pleasure. Tourists may learn about the Paleolithic Islanders' style of existence.
14. Bird Watching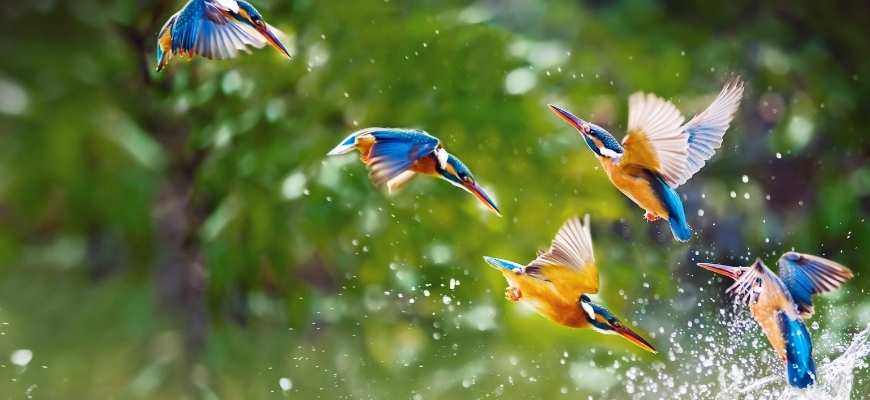 The island is home to a diverse range of vegetation and animals, including a large number of birds. Over 240 bird species may be seen on the island, which you can spot and enjoy watching. To witness these wonderful and rare bird species, travel to Chidiya tapu or a wetland near Port Blair.
15. Explore Baratang Island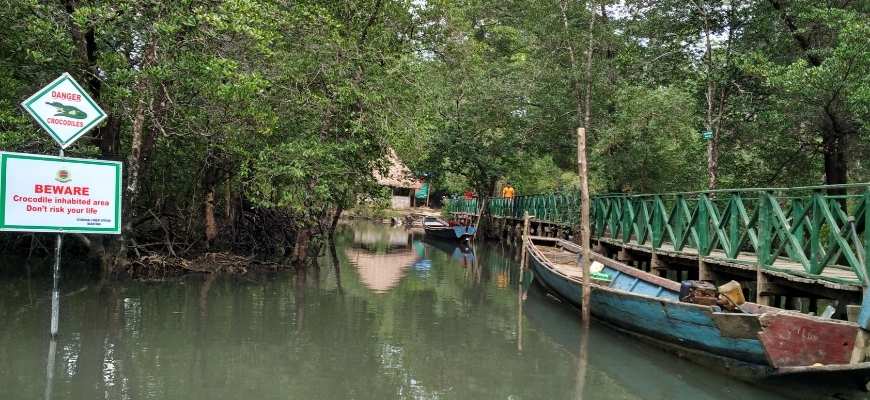 The island of Baratang is located in the Andaman Islands' North & Middle Andaman district and is rich with flora and fauna. The Limestone Caves of Baratang are among India's most unusual. Some are hung from the ceiling, while others sprout from the ground.
The shape and size of these caverns are always changing. To visit these caverns, one may have to obtain authorization from the Baratang Forest Department.
16. Visit Ross & Smith Island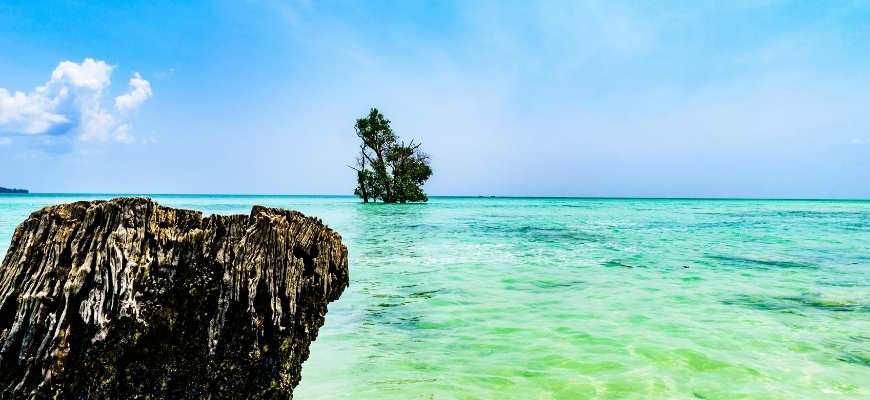 These two islands are known as twin islands because they are connected to one other. These are the twin islands off the coast of the Andaman Sea. Ross and Smith Island are unique in that they are two separate islands joined by a natural sand bridge. The water of both the islands is crystal clear.
Smith Island is ideal for beach camping and taking in the sights. Scuba diving, snorkeling, and other watersports activities are available.
17. Do Fishing / Angling
The Andaman Sea is home to hundreds of fish species. You can enjoy amazing fishing and angling opportunities. The fishing communities of the Andaman Islands adhere to a strict catch-and-release policy. This means after catching the fish, you have to release it back to the water.
This ensures the preservation of future generations of fish. Capture a kingfish Mackerel, a sailfish, or a Giant Trevally for a sense of accomplishment. This will undoubtedly be on your to-do list if you visit the Andaman Islands.
18. Go to Corbyn's Cove Beach
This is one of the best islands in Andaman if you just want to relax and swim. There are several restaurants on the island where traditional meals may be enjoyed. You may simply take in the scenery while eating delicious meals.
On this island, visitors may go for a jet ski or a boat trip. This island is just a place to relax and adore its scenic beauty.
19. Do Shopping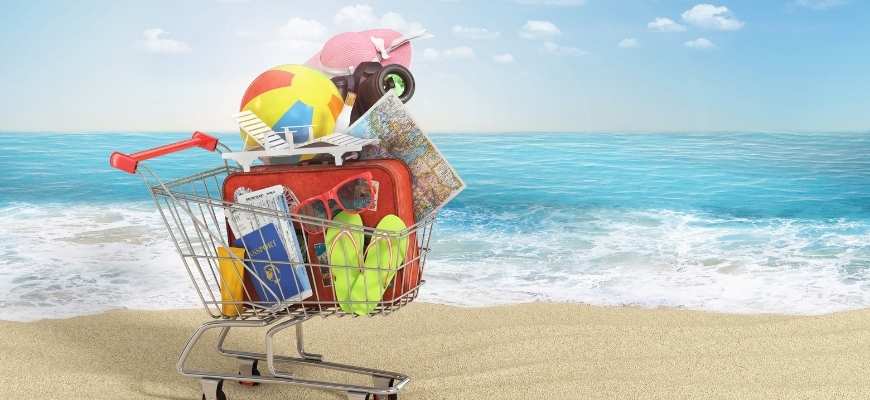 Whenever you visit a new place, you must go shopping. You can get to see the art and culture of the local artisans. One can buy souvenirs for their friends and family.
Aberdeen Bazaar is one of the famous markets where you must visit. You can find amazing artistic things at a very cheap price.
20. Witness Parrots at Parrot Island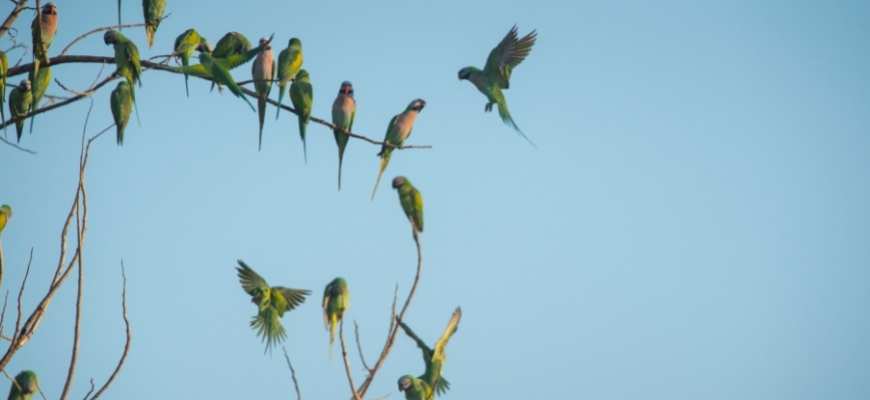 Parrot Island is home to a variety of parrot species. You can see thousands of parrots or you can say an empire of parrots on this island. This is one of the Andaman Islands' most beautiful and distinctive islands.
There are many different types of parrots to observe, and you may spend time in lush Mangrove forests. Enjoy parrot watching with the whistling of birds.
These are some top activities that you must do on your visit to Andaman Island.