10 Reasons To Rent A Bike In Mumbai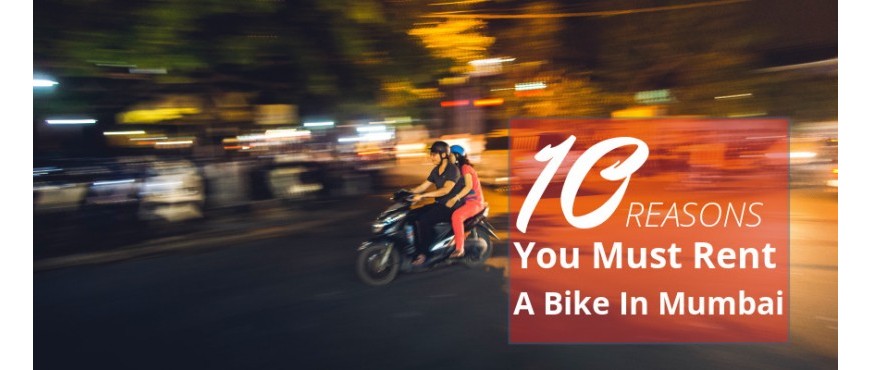 In Mumbai and want to roam around the city without having to worry about vague taxi rates? We have come up with reasons to rent a bike rather than opting for anything else. Renting a bike is a deal for tourists as well as commuters as this comes far cheaper than anything else. Here are the reasons to rent a bike in Mumbai with RenTrip.
Stop Anywhere: Take a break to taste your favourite PaniPuri or enjoy bhel on Beaches. Bikes shall do exactly the way you want. And there are No waiting charges for any break anywhere.
Beat The Heat Of Traffic: Your bikes need less space to go, so be clear of all traffic jams and save time. You already know time is money.
No Surge: Again, unlike Taxi hiring, there is No surge. Whatever the demand, we always rent bikes without any surge in price. Enjoy complete peace of mind when you rent a bike with RenTrip.
Easy Pick Up And Drop Off: With multiple locations to choose from, your bike is just very near to you. Find your favourite bike in Andheri East, Andheri West, GTB Nagar, Andheri Sakinaka, Bhandup East, Borivali West, Charni Road, Colaba, Goregaon East, Goregaon West, Grant Road East, Lower Parel, Malad West, Santacruz and many more locations.
Don't Count Kilometers: Take our bikes on rent and fill as much as you want to drive. We shall never ask you any money for any kilometer. Yes, it's the reason millions of people just like to take a two-wheeler on rent.
Its Romantic: We say Every Rental Has A Story and we mean that. So your better half must enjoy the freedom to ride rather than commuting on a boring taxi. Enjoy the rainy drive with your girlfriend on a range of bikes to rent in Mumbai.
Save Bucks On Long-Term Renting: Yes, we offer discounted prices when you need a bike on rent weekly or monthly basis. Our bike rental plans offer you the bikes on hourly, daily, weekly and monthly pricing.
Easy On Parking: You just don't have to go a long way to park your bike, unlike cars. On Mumbai roads, you can easily find a place to park your bike. Even if it is chargeable, you always pay less than cars.
Reach The Unreachable: Go with the bike where four wheels can never think of. Ride over the hills and tough terrains on powerful rented bullets or reach over to narrow streets with Honda Activa / street bikes.
Its Adventure: Opt for a long drive and feel the adventure of riding over the hills, valleys and off roads. Feel the unmatched adventure that comes out of riding a bike. So the next time don't just rent, do RenTrip.