The Ultimate Road Trip Guide to Leh Ladakh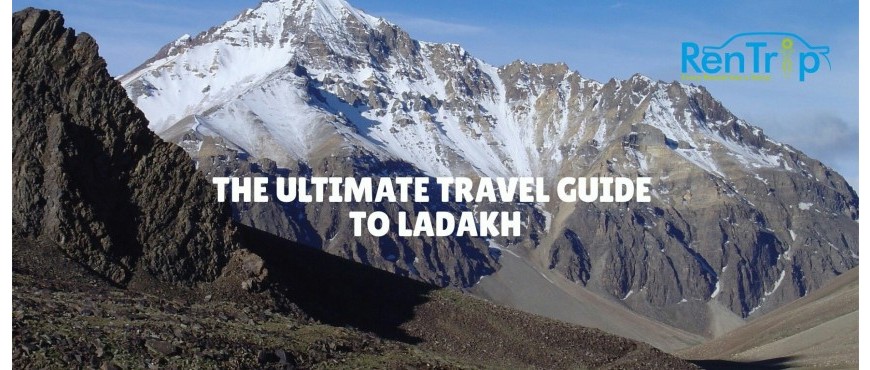 The Ultimate Road Trip Guide To Leh Ladakh
Contents:
Ladakh: An Overview
Ladakhi Culture
Festivals of Ladakh
Souvenir
How to reach
Trip Preparation
Things to carry
Where to start
Motorcycle Tours or Bike Rental
Accommodation
Points of interest in Ladakh region
Trip Itinerary Options
Petrol Pumps
Shopping Options
Precautions
FAQ
Ladakh: An Overview:
When you get out of you are bottled up day- today routine lifestyle you can able to find the route of your soul. Traveling is not just a time to spend in hotels or restaurants rather it is the way to get out of your small zone. Life is not limited in your narrow shell and if you are ready to find yourself then the world is your oyster. And you better find the pearls before it's too late. Ladakh is such a pearl stored for the nature enthusiasts like you.
Ladakh, as its name suggests, is literally "The land of High Passes" and there are sayings like "The land is so unique and the passes are so numerous only the best of your friends would visit you." The land is away from this cacophony of the materialistic world and enriched with some of the highest passes in the world that can take breaths away for any traveler while passing through them. Embedded in Buddhist Cultures and Monasteries, it is also famous for mysterious places like Magnetic Hills, Rohtang La, Baracharala Pass, Chang La etc and the valley covers most of the Northern Himalayan region. If you have a bucket list with a "Bike-it-List" then the land will surprise you with so many challenging opportunities just stored for you. This "travelgram' of the ultimate guide to Leh Ladakh will exhibit the best-handpicked travel guidance diary and steer you to know the land.
Ladakhi Culture
Before visiting the land we offer you a trip to the Ladakhi culture and heritage. Like the mysterious land, the valley also stored an extrinsic cultural history. The Ladakh's culture is weaving with the daily lifestyle and history. Ladakh is an expression in itself. It is the cradle of Buddhist Spiritualism and you shall find many monasteries which are the home for several Monks. A vast population in Ladakh is Buddhist and they have followed the Tibetan Buddhism from centuries. The ambiance inside them is just as sacred as it can be. We recommend you take some time visiting the Monasteries of Ladakh and feel the Culture and Spirituality that is just inexplicable.
Most followed religion in Ladakh region are Buddhism and Islam. The people here are originally Dards of Indo - Aryan and Tibetan ethnicity. History of Ladakh starts from Neolithic times. Many ancient writers like Ptolemy and Megasthenes have mentioned Ladakh in their writings. And it is one of the rare most places in India where you can find the traditional Tibetan culture and heritage of the Chinese Revolution.
The Status of woman in Ladakh is marginally high like the other parts of India. And both the man and woman work together to keep their household and traditional skills alive. Traditionally the weaving is the most followed industry in Ladakh and people from this valley are trained from childhood to make products like pashmina and shawls which is a specialty of the land.
Amchi medicine is the traditional medical system of Ladakh, which relies on Ayurveda and Chinese traditions of healing.
Ice Hockey is a popular sport if Ladakhi people which is played in winters. Cricket and Polo are some of another sport which has gained popularity over time.
Festivals of Ladakh
Ladakh – the wild beauty of Western Himalaya is most familiarly known as "The Small Tibet" and the land of lamas and gompas has the unique heritage, culture and the festivals which mirrored varied taste and ethnicity of the land. Despite the risky weather, drastic long distance and hazardous communication the land never fails to attract travelers from around the globe. It has the most fascinating geography and spellbinding festivals and customs from ancient times which always captivates the viewer's mind. The festival season of Ladakh is the best time to visit for any traveler since it will relinquish the total portrait of Ladakh. So we are giving a list of some of the festivals for you to know more about the culture of Ladakh.
HEMIS FESTIVAL
With a very rich culture and monastic rituals, Ladakh celebrates every festival with exuberance, gaiety, and colourful pageantry. Hemis Festival is one of the monastic festivals. It is celebrated annually on the 10th day of the Tse-Chu which is also the birth anniversary of Guru Padmasambhava, founder of Tantric Buddhism. It is basically a two-day festival held in the month of June or July and takes place at Hemis monastery. This colourful festival displays the sacred dance, drama and other rituals reflecting the cycle and stages of life. And if you want any souvenirs then you can pick the handicraft local items which are specially designed for this prestigious occasion.
Time – June
Place – Hemis Monastery
Specialty -One of the most popular festivals of Ladakh is the 'Hemis Festival' which is celebrated in the month of June for 2 days. The location of the 'Hemis' festival is the Hemis Monastery, where the Monks dance with faces clad in masks and body in long aprons.
LADAKH FESTIVAL
The Ladakh festival is an annual fiesta organized by J & K tourism department in collaboration with Ladakh Autonomous Hill Development Council from 1st to 15th September exhibiting the enriching culture and heritage of Ladakh. The main attraction of this festival is the inaugural ceremony showcasing the enthralling possessions by the various cultural groups who present their traditional attire and customs. It is a great opportunity for the tourist to view the whole Ladakhi culture under one umbrella.
Time – September
Place – Leh
Specialty - To woo tourists, Government also sponsors Ladakh festival which is held in the month of September. If you are planning your trip, we recommend that you must attend the Ladakh festival. The Ladakh Festival lasts for 2 weeks and a traveler can find enough time to join in.
SINDHU DARSHAN FESTIVAL
The Sindhu Darshan festival is a festival endeavoring the festivity of Ladakh and also a tribute to the soldiers and who sacrificed their lives in the war at Sia-chin, Kargil, and other parts. It is organized by the Ministry of Culture and Tourism promoting their cultural heritage favorable for contemplating with integrity and conventions.
Time - May to June (On full moon day)
Place – Leh
Specialty – This 3 days festival is organized to celebrate the unity and Integrity of India. Participants come from the different states of the country to pour river waters in the Indus River to symbolize the unity in diversity. Join this festival with thousands of other tourists and enjoy the confluence of the cultures with celebrations.
YURU KABGYAT FESTIVAL
Ladakh is an epitome of festivals and if you are hungry for new enthusiasm and taste in your menu than Ladakh will serve you with verities of new things just reserve for your plate! Yuru Kabgyat is a two-day festival held in the month of July in Lamayuru Monastery depicting the Buddhist beliefs and rituals. There is a story entangle to this festival depicting a journey of a spiritualism such as- once the whole valley was flooded and a holy man known as Nimagon prayed " May and Monastery be founded in this place", later on, the water drained out and a monastery called Yung Dung Gompa was found. During this time of the festival, you can also be a part by offering donations to the monastery.
Time – 2 Days in July
Place – Lamayuru Monastery
Specialty – Truth wins evil! And this is the only reason to celebrate this festival. The people of Lamayuru gather at Lamayuru Monastery to celebrate this festival in the month of July every year. Feel the rhythm of Ladakhi culture at this festival and watch some of the religious rituals and masked dance by the Monks.
LOSAR FESTIVAL
Losar festival is the celebration of the Ladakhi or Tibetan New Year. This festival is commenced in Ladakh for approximately 15 days but the first three days are much important. Many humorous events such as many dance forms and amusing battles are performed during this celebration.
Time – February – March
Place – Ladakh Region
Specialty- Losar is the New Year celebration as per Buddhist calendar. This festival is celebrated for 2 weeks, however; the first 3 days are more significant. Join this festival to see traditional dances, dramas and religious rituals across Monasteries in Ladakh.
SAKA DAWA FESTIVAL
The Saka Dawa Festival is the holiest festival of the Ladakhi culture as it is the prominent day when Sakyamuni was born. It is the day when he stepped into Buddha hood and gained Nirvana. Saka Dawa represents the 'disu month" of the Tibetan language. So, during this time many activities including the large-scale activity of 'Zuanjing' or circumambulation and it is also time when people turn their prayer wheels on the streets of Lhasa.
Time –The fourth month of Tibetan Calendar
Place – Ladakh
Specialty - The specialty of this festival is that it is the auspicious day when the three important events of Buddha's life including his birth, nirvana and par nirvana took place. So, that day the people refrain from killing, eating animals and they set them free as a sign of the holy day. other specialties like they offer sacrifices to the female deity, the prayer turning and also the boating in the pond and picnicking which will double the fun of your trip.
DEKSIT GUSTOR FESTIVAL
Another auspicious festival of the land is Deksit Gustor Festival which is celebrated in the Diksit Monastery i.e. the largest and the oldest surviving monastery of Nubra Valley. The festival ushers light and colour to the monastery as it is celebrated for two long days it also brings life to the people of Ladakh. Like other festivals of Ladakh this one also vivid and picturesque with highly colourful details conveying traditional mediums. You can be a part of the highly colourful and detailed dance performances by the Lamas which is called "Chaam Dance" and can witness the burning of the effigy of the evils. You will just gonna love their enthusiasm and livelihood.
Time – The festival takes place for two days in the month of October.
Place –Leh -Ladakh
Specialty - The specialty of this festival is the celebration of the good over the evil power. The burning of the effigy originally signifies the burning of the evil forces. The mask dance accompanied by traditional music is also a charm of the two days fiesta.
SPITUK GUSTOR FESTIVAL
If you are planning to go to Ladakh in the winter season than you must see this colourful extravaganza of Ladakhi culture. Since winter is a little bit extreme and icy in this region and sometimes it drops down to double-digit minus, so this festival will give this icy weather a warm zeal. Gustor means the "Sacrifice of the 29th day" and it is a traditional ritual of the monasteries of the reformist Geluk-pa order of Tibetan Buddhism and it is celebrated in the Spetuk monastery.
Time – 2days in January
Place –Ladakh
Specialty -This festival worships the triumph of good over evil and the Cham is the highlight of this festival. Also, during this festival monk from the different region of the globe comes and congregate at the monastery. Moreover, people come to this sacred festival to get blessings and wishes for the future.
STONGDAY GUSTOR FESTIVAL
The land is not only a valley of the passes but also it is the heart of festivals, cultural rituals, and colourful extravaganza. The festival is celebrated for centuries with great prompt and show. It is a religious ceremony, and people are enthusiastic about this auspicious occasion which is observed throughout the whole Zanskar region.
Time – In the month of June
Place –Zanskar
Specialty - The specialty of this festival is the religious views and performance of the monks with lively and fascinating Chaam dances with the strikingly big mask, and colourful robs. You can be a part of this festivity by joining this auspicious celebration.
KARSHA FESTIVAL
Like other festivals, it is also an auspicious occasion for the people of the land of beauty and culture. You will be enthralled by the festivity of this land. Karsha Festival is celebrated at Karsha Monastery located on the slopes of Zanskar Mountains commemorating in the month of January. The monks perform the ritual dance with exotic colour and vigor.
Time – in the month of January
Place – Karsha Monastery in Ladakh.
Specialty - The specialty of this festival is the Black Hat Dance and other mask dance performed by the monks. This festival also signifies the power of good over evil.
FHYANG TSEDUP FESTIVAL
Fhyang Tsedup festival is among the special carnival which is celebrated with great prompt and show with the motto of the reign of good over evil. The festival is celebrated in Phyang Monastery in Ladakh where the lamas took part with vibrant and gigantic attires performing the ritual dance and drama. Originally it is dedicated to JIgten Gombo. If you are planning your trip in July then don't miss the chance to be a part of this lively festival.
Time – In the month of July
Place – Phyang Monastery
Specialty -The specialty of this picturesque occasion is, of course, the vivid and colourful carnival. And those masks always attract the tourist for its vivid and detailed designs. The monks wear silk costumes and perform their ritual dance Chaam and worship their deity. You will surely gonna love this festival.
POLO FESTIVAL
The culture of Ladakh is unique and you will witness a verity of music dance forms during the time of festivals. One of the festivals is the Polo Festival. This is a festival showcasing the Ladakhi heritage game accompanied with music and dance.
Time- Mid July
Place – Shagaran
Specialty – The specialty of this festival is the heritage game since it is played differently from the kind of Polo played in the other parts of the World.
THIKSAY GUSTOR FESTIVAL
This festival is a two-day long traditional festival where they present their Ladakhi Buddhist culture. The festival is celebrated in various monasteries including Thiksey, Spituk, Karsha Nanzkar. After the conclusion of the festival, there is a distribution of sacrificial cake known as Torma.
Time – October
Place – Thiksey
Specialty – The specialty of this festival is to celebrate the victory of good over evil.
STOK GURU TSECHU FESTIVAL
It is the main festival of Stock Monastery. It is celebrated in the ninth and tenth day of the first month of Tibetan calendar. Not only the monasteries but also the common people also offer prayers and celebrate it with dance, music and local food.
Time – February
Place –Ladakh
Specialty - The specialty is that it is the day of spiritual gathering and meeting spiritual masters.
CHEMDAY WANGCHOK FESTIVAL
This festival is celebrated to proclaim in the glory of the Buddhist guru Lama Taksang Repa in Ladakh. It is performed in Chemdrey Monastery on the 28th and 29th day of the ninth month of Tibetan calendar. The festival is celebrated with great pomp and show.
Time –November
Place –Ladakh
Specialty- The specialty of this festival is the special Mandal Puja and signature mask dance performs by the monks. The festival worships the power of good over evil.
GALDAN NAMCHOT FESTIVAL
This special festival is celebrated for commemorating the birthday of Tsongkhapa, a Tibetan scholar, and saint. During this festival, all monasteries and residential buildings are lit up as a symbol of the power of good. And also, the people prepared all kind of traditional dishes and visit their loved ones and eat meals together.
Time –December
Place –Ladakh
Specialty - The specialty of this festival is the celebration of love and respect between the people of this valley.
DOSMOCHE FESTIVAL
If you are planning to go to Ladakh then you must attend this festival. It is one of the most joyous festivals of Leh. The festival is celebrated with the popular dance, drama, and music at the Old Chapel below Palace.
Time – Between November and March
Place –Leh
Specialty – The specialty of this festival is the celebration of good and eradication of evil.
YARGON TUNGSHAK FESTIVAL
This is also a festival of dance, drama, and music. The people celebrated this occasion with traditional food and dance called Cham dance where performers dressed up in multi-colored attire and big mask.
Time –February
Place –Ladakh
Specialty - The mask dance and the Sanskrit and Tibetan chants performed by the monks are the specialties of this festival.
MATHO NAGRANG FESTIVAL
This festival is celebrated at Matho Monastery, which is the only monastery belonging to the Sakya School of Buddhism. The monks perform mask dance and traditional music and drama depicting the various forms of God and Goddess.
Time –February
Place –Ladakh
Specialty – The specialty of this festival is that after full month meditation in complete isolation the mask dancers finally appears and they predicted the future. Locals come to seek their advice in the festival.
Souvenirs of Ladakh
And how can you forget the souvenirs! These are the evidence of your colourful journey and of course, the little things you buy during the journey will always remind you when you see them later. These are not just mere things, they are the memory you recollect. Additionally, buying the souvenirs needs a little bit of research so we are offering you a little extra help in this case.
You can enjoy surfing in the local bazaars of Leh Ladakh. The handicrafts presented here are totally amazing. The popular items are the hand woven Pashmina shawls, stoles and the vivid decorative Pashmina garments and the locally woven gloves, socks, caps, sweaters and the list go on. If you like jewelry (if you are a woman it is definitely yes, right?) than the local Tibetan Jewelry, the silver jewelry, and the traditional Ladakhi jewelry are must be in your checklist. Other things you can buy as the souvenir are the handicraft prayer wheels, Buddhist masks and Thangka paintings which are specifically designed in Ladakh. You can purchase also the hand-woven rugs, carpets which are always available for the tourists all over the year. Thinking out of the box!!! So, if you want something more Ladakhi than the apricots may be a fresh, delicious gift for your dear one. These are just some of the suggestions if you need during the visit. You can add many more to this list.
Ladakhi Food
The Ladakhi food is a pleasure in itself. The food is prepared in a traditional manner so there is always a flavor twist as well as the qualitative ability of the food to instill energy in the cold and high atmosphere. We pick some of the delicious food from Ladakhi cuisine:
GUR-GUR CHA
The butter tea of Ladakh has got its name behind the sound it produces when taken. It looks a little bit of pinkish with a special flavor of butter and it is deliciously made with salt as the butter helps in the cold weather and salt help to stay away from altitude sickness. But for this yummy tea, you have to visit any local Ladakhi home since it is a homemade tea and not available in restaurants. Don't forget to try this heavenly taste.
CHUPRI
Chupri is actually the Cheese from Yak's milk. You are probably thinking about riding on Yaks and you will be amazed to know that their cheese is also delicious. And you must try once during the visit. Chupri is available in three flavors- sweet, salty and plain. You can pick any one of your taste and choice.
TIGMO
Tigmo is a local food here in Leh. You can't miss this one. It is pronounced as 'Teemo'. Tigmo is basically fermented and steamed bread with veg and non-veg stew. And definitely, you will gonna repeat this item for sure.
MOMOS
And of course, how can you forget momos. It is definitely a crime, right! Momos of this pace is just incredible. People of all ages like momos and why not, it is oil-free and healthy. Once you try the Ladakhi momos you would never go for any other place. The recipe of the Ladakhi special momos are same but here they spiced it with a little bit of extra twist of local ingredients.
THUKPA
Thukpa is the most consumed food of Ladakh can be said their comfort food. It is basically a clear boiled soup with lots of vegetables and small pieces of chicken, mutton or pork flavored with specially made Ladakhi chutney. And if you want to add more goodness then you can team it up with "Khambir", a locally baked bread and when this combo goes together with it just melts in your mouth, pure heaven! One more reason to try this is that Thukpa carries the Tibetan culture and purity.
How to Reach Ladakh
Traveling to Ladakh by bike is something that an adventure enthusiast will go for. Ladakh is definitely in your bike-it-list if you like to go through the passes. The whole trip is with "the open road, healthy, free" and you will feel like the world is unfolding before you. It is thrilling and every minute you will feel the magic of the road. Basically, there are two different roads that will lead you to Ladakh. One is from Srinagar and another one is from Manali.
Route 1: Srinagar-Leh highway
This route is less traveled but it is the lifeline connecting Leh Ladakh with the other parts of India. The road is about 434 KM long with the mesmerizing beauty of Kashmir. And not only this exotic view but you can also see the importance of this Srinagar-Leh Highway or popularly known as National Highway-1D since it is close to LOC and you will view the heavy presence of army through this trip.
Route 2: Srinagar-Sonmarg- Zozi La- Drass- Kargil-Mulbek-Lamayaru-Saspol-Leh
Route 2: Manali-Leh highway road trip is the most celebrated trip you will ever have. Riding through the traverse land with the captivating natural beauty in front of your eyes is something you must need. Not only the destination but road itself is alluring with the incandescent beauty of the snow-capped mountains, remotest valleys and of course the chilly mountain breeze. It is about 473 KM long from Manali to Leh.
Route 3:
Manali-Rohtang-Gramphu-Kokhsar-Keylong-Jispa-Darcha-Zingzingbar-Baralacha La- Bharatpur-Sarchu-Gata Loos- Nakee La- Lachulung La- Pang- Tanaglang La- Gya- Upshi-Karu-Leh
Trip Preparation
For a better experience, you always need a checklist and first and foremost it makes difference if you want to go solo or twinning with your buddies. Let us look at the most basic stuff you will gonna need your trip to Leh-Ladakh:
In the first place, you decide on what vehicle you want-bike or cars and how can you get it there. Secondly, check the mileage and other stuff before you go. Also, confirm whether it is in good condition or not and how much fuel you need for the whole trip.
Secondly and most importantly calculate the budget and how much money you will gonna need for the whole trip, for food and other travel expenses including hotel bill etc.
The next is what you will pack and what not. Before packing keep in your mind that you have to travel in high passes so, you only need the most important things and definitely not the fancy clothes and other items. Make it simple and easy. Not clumsy. Pack comfy cloths-jackets, sweater, shocks etc, a pair of comfortable shoe, medicines in case you need any other small things such torch, spare batteries, some dry fruits, drinking water, cream and lotion for skin, canned foods etc.
Finally and most importantly ensure that you have all the documents you will gonna need for the whole road trip. And collect all the emergency numbers which can help through the whole trip.
Things to Carry while Visiting Ladakh
Documents and IDs
Driving License
Original Registration Certificate
Motorcycle Insurance original and photocopy
PUC Certificate
Medical Insurance
Adhar card/Voter ID Card
List of important contacts
Map and itinerary
Passport size photographs
Riding Gears
Helmet
Riding Jacket
Riding Pant
Riding Shoes/Army boots
Riding Gloves
Riding Goggles (UV/Polarized)
Gum Boots
Motorcycle Spare Parts
Toolkit
Spare motorcycle key
Chain Locks
Spare Sparkplug
Clutch and Accelerator wire
Tubeless puncture repair kit for tubeless tyres
Rear tire tube and tire irons and valve key
Foot/electric pump
Engine oil
Front brake lever and Clutch Lever
Headlight Bulb


Electronic Gadgets
Cell phone with charger
Camera kit (with lenses) with spare batteries & charger
Camcorder with charger
Tripod and/or Shoulder pod
Microfiber cloth and cleaning kit for cameras
Enough memory cards for the trip
Powerbank
Extention box
Torch
First Aid Kit
Cotton wool
Scissor
Bandage Gauze
Diamox Tab 10(Acetazolamide) - Useful as a prophylactic for acute mountain sickness (AMS) and as an aid to acclimatization
ORS
Glucon D
Dettol
Band-Aid Washproof
Pain Spray/ Iodex
Betadine
Medicines: Digene, Vicks action 500, D cold, Crocin Pain Relief, Voveran SR 100mg – Relief from severe pain and Entroquinol – Relief from Loose motion
Toiletries
Toothpaste (small tube)
Tooth Brush
Liquid Soap or Paper Soap
Shampoo sachets
Face Wash
Cold Cream
Sunscreen Lotion SPF30 or higher
Shaving kit
Roll-on Deo or Spray
Washing Detergent soap or powder (small sachet)
Hair Oil
Articles of Clothing
Thermal Inner wear (2 sets)
20 Degree Gloves
4-5 pair of underwear
4-5 Shirts orT-shirts
7-8 pairs of woolen socks
2 Pair jeans at least
2-3 Handkerchief
Raincoat and a warm jacket
Food
Maggie, cookies, cakes, juices, Chocolates, tinned food and Dry fruits.
Camping Gears
Tent
Sleeping bag/ Warm Blanket
Sleeping matress
Bags and Others
Saddle Bag/ Big Rucksack Bag
Tank Bag
Tarpouline to cover your luggage or bike from Rain
2 Jerry Cans of 5 lt to carry extra fuel
Spare Key
Carry enough money for the entire trip
MTNL or BSNL Post-Paid Connection with roaming is best for ladakh
Bungee and Rubber Bands
Safety pins
Needle and Thread for unwanted tear off (collected)
How to Start the Road Trip for Leh - Ladakh
There are four main routes available through the valley.
From Delhi to Chandigarh-Manali-Leh
From Srinagar to Kargil-Leh
From Chandigarh to Manali-Leh
From Jammu to Kargil-Leh
MOTORCYCLE TOURS AND BIKE RENTALS
Motorcycle tour: Following are the routes to be taken during the tours to Leh-Ladakh bike trip:
Delhi-Amritsar-Panipat-Ambala-Kullu-Manali-Leh
Manali- Rohtag Pass-Tandi-Jispa-Sarchu-Lanchulung La-Upshi-Karu-Leh
Chandigarh- Srinagar-Manali- Rohtag Pass-Tandi-Jispa-Sarchu-Lanchulung La-Upshi-Karu-Leh
You can rent bikes from Delhi, Manali or Chandigarh at very resonable prices or you can opt for guided motorcycle tours with full support
Motorcycle Routes:
Manali
Delhi
Chandigarh
Srinagar
Amritsar
Accommodation in Ladakh
Depending on the routs you take the accommodation will also be different. Since you are on a bike trip that's why you must know the basic accommodation through both of the routes.
If you take the Srinagar-Leh highway you will find several places to see which are lie along this route. Since, Srinagar is a center of tourist attraction for its beauty and serenity you will find many hotels, lodges according to your budget. If you want to try some exotic experience then you can go for the houseboats, they are just amazing and you will never regret, guaranteed. In Sonmarg and Drass also, you will certainly find nice hotels and lodges within a very reasonable price. So, in this whole route to Leh, you will find quite a fine accommodation options in your plate.
As for another route Manali-Leh, you will find several nice hotels along the route. But once you cross Jispa or closer to Leh you may not find any hotels. So, you can try the other options i.e. the campsites. These are locating along the whole route to Leh. Food is not fancy like the hotels but satisfactory as compared to the accessibility in such altitudes.
TRIP ITINERARY OPTIONS:
Highlights of Tour:
Explore through the route- either from Srinagar or Manali
Acclimatization and shopping
Leh palace and Gurudwara Pathar Sahib
Visit the Monasteries
Explore Pangong Lake and also camping near side
Riding to Nubra Valley via Khardungla
Enjoy water rafting
Enjoy Camel Safari at Sand dunes
Enjoy local food and local festivals if possible
Mountain Biking
Petrol Pumps in Ladakh
Before traveling to Leh-Ladakh you should know all the concerning points and the availability of the petrol pumps near the highway is one of them.
Manali-Leh Highway
Manali-Leh Highway is one of the challenging routes for the bike riders. But for a smoother ride, one should be aware of the fuel and its availability through the whole trip. Fuel is available in the nearby villages but you should carry extra fuel in the journey since the quality of the other is not guaranteed.
Petrol Pumps in Manali
You can fill fuel in Manali since the city has a couple of petrol pumps and for safety take a reserve of a few liters.
Petrol Pumps in Tandi
The next is Tandi and it is 110 km from Manali. You must full your tank since you will never find a single station for the next 345 km.
Karu Petrol Pump
Then after covering a distance of about 345 km there you find the Keru Petrol Pump. It is about 30 km away from Leh
Leh Petrol Pump
There are two petrol pumps in the city. And another one is near the Leh Airport which approximately 25 km from Leh.
Again Shrinagar-Leh highway is also challenging for the riders as well. But you will find petrol pumps nearly about major places and you never really go too great a distance without a petrol pump. And you can easily reach Leh without carrying any spare.
Nagbal Petrol Pump
The first petrol pump you will find is HP petrol pump in Nagbal.
Gandarbal Petrol Pump
The next is at Gandarbal. There are actually two petrol pumps in Gandarbal. It is about 50 km away from Srinagar.
Kargil Petrol Pump
Just about 183 km from Gandarbal you will find another HP Petrol Pump at Kargil.
Khalsi Petrol Pump
Then you find the next Petrol Pump at Khalsi. It is about 122 km away from Kargil and 96 km from Leh.
Apart from these four places you will also find fuel in Sonmarg, Drass, and Lamayuru but at a higher rate.
Petrol pumps in Leh
You will definitely find a petrol pump in Leh. There are petrol pumps in Karu, Diskit and one in Hanle but it is not officially open for public, need to request them if available.
Petrol pumps in Nubra Valley
As mentioned earlier there is a hand operated Petrol Pump in Diskit and it is the only Petrol Pump in Nubra Valley. You will find petrol in black in nearby villages but there is no petrol pump in Hunder, Panamik, Turtuk.
Petrol Pumps near Pangong Lake
You may not find any petrol pump near Pangong Lake. But there is one in Keru at about 190 km away.
Petrol Pump on Shyok Road
If you are riding from Nubra to Pangong you will never find any Petrol Pump in nearby villages. Also, you may not get fuel in black also. So, you have to buy it from Diskit Petrol Pump.
Petrol Pump on Chushue Route
The only option is the Padma Homestay at Hanle. Then also, you will get in black at other places like Loma, Nyoma, Mahe, Karzok in tourist season.
Petrol Pump on Zanskar Valley
You will find a hand operated petrol pump in Zanskar region. And some shops also sell it in black. But if you carry extra fuel from Kargil then it will be helpful for you.
General Precautions While Traveling to Ladakh
Ladakh is one the most exotic places of India. Locating in the southwest part of the country, it is the highest altitude plateau. The valley has spectacularly jagged and arid mountains, Buddhist Monasteries and stupas, magical lakes, uncomplicated lifestyle and what not. This land of contrast or can be said "cold desert" stored challenges for the travelers. So for a better experience, you must be preparing for the trip:
Tip1: Acclimatize
If anyone rides to a higher altitude directly, then sickness during Ladakh trip is common. Scarcity of Oxygen at a great height is the cause of Acute Mountain Sickness in Ladakh. So, when you make the journey stop over some points for a day to acclimatize.
Tip 2: Best time to visit
The valley is opened to tourist from the March. Since the weather is cold in comparison to the other parts of India so if you are riding than you must pick the best time and way. Also, in some parts, landslides also take places you must be very careful during the trip.
Tip 3: Clothing and Accessories
The valley is cold and challenging so you must carry woolen garments for the trip. Also, if you are riding than pick only the important one. Don't take any fancy clothes since it will only clutter your luggage.
Tip 4: Health Checkup
Before going on a bike trip to Ladakh get a whole body check up to make sure you have no serious health issues.
Tip 5: Drink water
Most important thing is staying hydrated. This is the valley of passes and high altitude so compete with the atmosphere you must take care of your health. Drink water and fruit juice.
Tip 6: Avoid
Avoid overeating, alcohol and overexertion. You want to try the Ladakhi cuisine but too much of it is not good for you since it is new for your digestive system. And most importantly don't drink alcohol. Also, don't spend much time at high altitude passes.
Tip 7: Behave properly
The valley is away from the materialistic noises and here, the people also maintain it with their calm manner. So, during your whole trip try not to pollute the environment, avoid noise pollution and also most importantly behave properly with the local people.