Best Time for Leh Ladakh Road Trip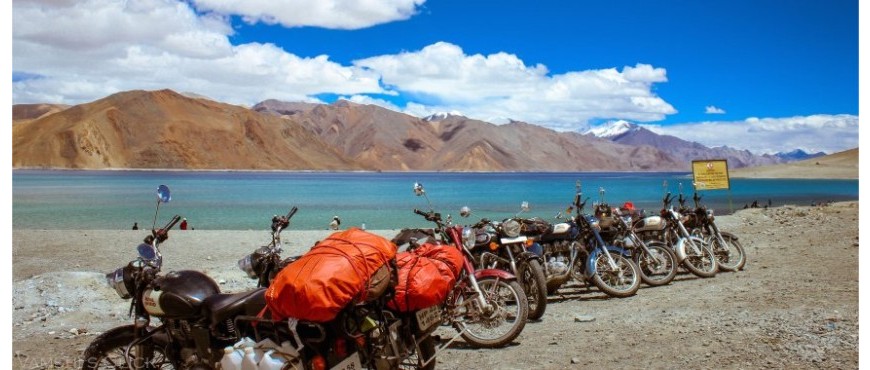 Well, it depends solely on you. Since it is one of the most unfathomed and exotic regions of the Tibetan plateau so people from different genres visit in varied time zones like family holidays, trips with friends, or short tours and the best is to ride through the valley, so the best time for Leh Ladakh Road Trip is also different for everyone.
If you prefer riding through the valley than it is a beautiful exploration with wind and breeze in your face and exotic views in your eyesight. Ladakh can be visited throughout the year, but you need to find out what time is best for you. We are giving here all the details that shall be helpful to time your visit to Ladakh.
For Extreme Adventurers
If you really want to trek over the frozen Zanksar river, your time should be January to March. This trek is also famous as 'Chadar Trek'. Ladakh experience extreme cold during this time and Lakes of Ladakh are completely frozen, enabling tourists to easily walk over them.
The only accessibility option to Ladakh during this time is by Air and you shall need to land over the Leh Airport. Although, both the connecting highways to Ladakh are closed this time, you can travel by road via Khardungla Pass to reach Nubra Valley for Chadar Trek and also Pangong Tso.
During November to January, see the Lakes of Ladakh changing colours over different times of the day!
Caution: Don't try to walk over sub frozen Lake from November to Mid January.
For Adventurers and Bikers
And of course, the best way to explore this mesmerizing beauty is by riding through the challenging passes and we know many of you take riding as an enormous sense of freedom and believe us, you will just gonna love to blow with the cool Ladakhi wind. You know right! there is little that can beat the beautiful simplicity of a bike ride. So for the adventurous you out there, the best season to visit Ladakh for moderate adventurers is from June to September when Manali to Leh and Srinagar to Leh highways are completely open. The ice has been melted on most of the regions this time and Ladakh is most vibrant this time.
Though Srinagar to Leh highway opens earlier than Manali – Leh one, the best time to travel starts from June only. You can freely plan your trip up to September as the weather is more stable and shops, restaurants, camps, and hotels remain open during this time. This time is also perfectly suitable for a family trip (Of course kids need to be taken care of).
Have questions? Please write them in the comment box below and we shall be happy to answer them.