Shopping Cart
Oops! Your cart is empty.
Frequently Asked QuestionsRead All
Where the cashback shall be credited?

The cashback shall be credited to your RenTrip Wallet. You can use this promotional money to make future bookings on RenTrip.

Will I get the bike in good condition?

Yes you will get the bike in a very good condition. Our bikes get serviced after every trip and faulty parts are changed regularly. We fully check our machines before giving them to you so you can have an awesome time driving.

How can I book my bike?

Just login to www.rentrip.in, choose the place where you want your bike, select your favourite bike and book the best price for your bike. Here you go buddies; it's not that difficult right.

Where shall I get the bike? How shall I get the address to pick up the motorcycle?

It is not possible for us to provide the complete address with bike listing. However, on the bike search page, we have given a brief location of the bike. Once your booking is complete, you get an E-mail and SMS having the complete address and contact number of the dealer. These details are also printed on your invoice and always available on your personal dashboard.

How can I know my booking is confirmed?

After completing your booking on Rentrip you will get a message and email which includes your pick-up location and time and other details of the booking.

What will be the documents I have to provide?

Generally, any ID proof such as Aadhaar card, Pan Card, Voter id or Passport plus a valid driving license authorizing the type of bike rented in India shall be required. We don't accept colour copies of documents in place of the original. Additional requirements if any, are given on terms on bike listing page.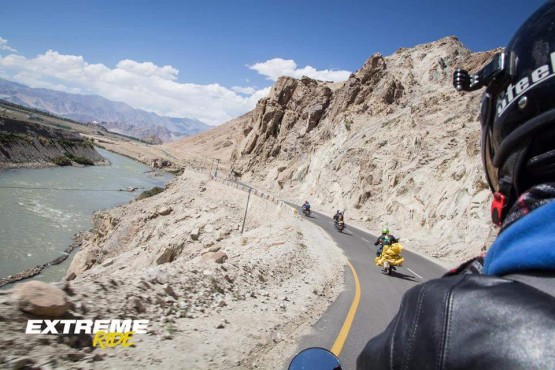 Shailza Singh/ Image by Vivek Chaudhary
Hey guys!!! Topic sounds interesting right? We all have some kind of vehicle with us. May it be a car or a bike. The difference is that a four wheeler is basically bought for a high status and some comfort. But currently two wheelers are the trend. Specially for the youths. Middle class and small families also prefer bikes. But the main reason behind owning or renting a bike is the adventure and excitement one get. You can view the world from a different angle if you are on a bike. It gives you passion and urge to travel more and more. A passionate biker can never get tired of riding. It's like a meditation. Even the songs are also changed from "aaja meri gadi mai baithja" to "dhoom machale".
These are the 9 ways Two wheelers are more useful, adventurous and exciting than Four wheelers:-
You can enjoy scenic beauty- when you ride two wheelers, you have the complete freedom to see and enjoy the scenic beauty rather than driving a four Wheeler from inside a closed cabin. On a two wheeler you have a full view through your helmet. It also helps you to identify what is actually happening around you.
No toll tax- Yeah!! What's more amazing than saving some bucks while passing through the tolls. You can just go from a different lane which is specially made for the two wheelers. There is no toll tax charged for it.
More Affordable- Surely a bike is more affordable than a car both whether it's owning or renting. The bike always cost you less. You have an amazing mileage and the cost of fuel is less. So, basically you can save your money while riding on a two wheeler.
More Adventurous- Riding a bike on the mountain trails or zooming it on a highway, it is always more adventurous than a car. The curves you take on mountains while having amazing view is extra ordinary. Surely it contains some risk, but there is no adventure if there is no risk. But remember to wear all you biking gears before having an amazing ride.
Less space for parking- There is always a parking space for a two wheeler. You can park it anywhere. You don't need a large space for parking a two wheeler. This is the reason why you can always depend on your two wheeler when you are going out.
A vehicle for every road- May it be any road, a mountain trail or a city road full of traffic, a bike can go anywhere. It is a vehicle for every road. You can surely trust your two wheeler before testing them on any roads.
Saves traffic time- We all go through traffic everyday in our lives. Due to heavy traffic, we often gets late for our work. At this time you can be totally dependent on your two wheeler. It will definitely save you a lot of time. The best thing is you can take it even from a small gap. It's way better then cars in traffic.
Stress Buster- A ride on a two wheeler after having a busy or stressful time works as a stress buster. You can just move out your bike and can go on an amazing ride. It will always make you feel great.
So guys, next time take out your two wheelers on rent from our garages and go on an amazing ride. You will be very refreshed and charged up after the ride and it will save you a lot of time.