7 Places you should never miss in Shillong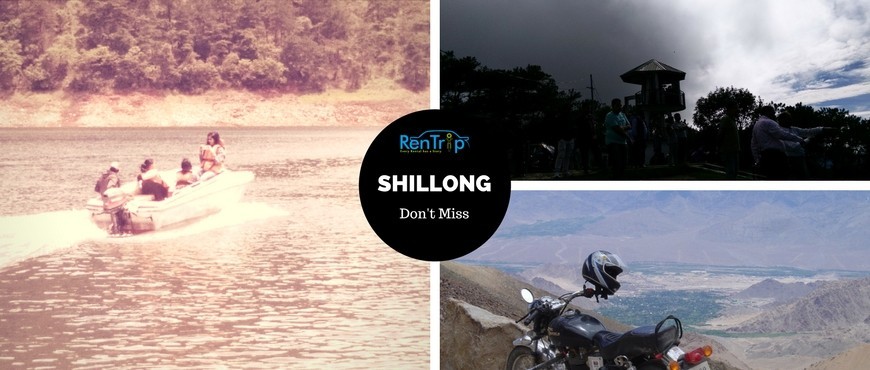 7 Places you should never miss in Shillong-
Visiting North East India is the dream every rider want to live and Shillong is the destination that one can never afford to miss during the visit of North East India. Situated amidst Khasi Hills, Shillong is one of the most beautiful spots that possess almost all the gifts nature can give. The charms of waterfalls, flora, and fauna are uncomparable thus rightly called as the "Scotland of the North East".
Though there are almost 20+ places that one can visit in Shillong, we didn't find all of them worth the precious time of a rider. Keeping in view, we have compiled a list of 7 places that shouldn't be amiss if one gets a chance to visit North East.
Elephant Falls - We find Elephant falls the best place to visit in Shillong. This waterfall is made on rocks that were in the shape of an Elephant, thus got the name after Elephant. However, in an earthquake, the rocks disintegrated so one will not be able to see the rocks in that shape. However, the beauty of the fall remains intact. This is the only fall in Shillong which can be felt in close proximity. Caution: There are stairs that are slippery so one needs to be careful while going down to the fall.

Sweets Falls - This waterfall is marvelous to view but takes some time to reach as on some distance from Shillong city. Most of the taxi drivers do not take the tourists to this place whose timelines of the visit are short. One need to plan a full day trek if one wants to reach in the proximity of this fall. The fall is bigger the Elephant Falls and the sound of falling waters can be heard from the distance of even 2 Km. Caution: The landing road to the viewpoint is steep, so be well prepared to drive in one single shot.

Don Bosco Museum - This museum is maintained by Don Bosco Society and is the heritage site one must visit in Shillong. If you want to have a feel of original Khasi culture, you should definitely keep Don Bosco Museum in your plan.

Wards Lake - This lake is semi-artificial but nice to have some past time. There is a small entry fee to visit the place, but for having a boat ride one need to purchase another ticket. The flocks of birds are nice to watch on the lake. The Ward's Lake is also a regular place for local morning joggers owing to its lush green grounds.

Air Force Museum - Situated very near to Elephant Falls, Air Force Museum is one of the must visits if one is interested to have some insights in the history of Indian Air Force. The entry to the museum is restricted, so one may need to prove your identity at the entry point.

Shillong Peak - This is the highest point of Shillong. There are two towers from which one may view complete Shillong which is misty many times.

Umiam Water Sports Complex - This place is on Guwahati - Shillong road, 10 KM short of Shillong city. This complex is built on the banks of famous Umiam Lake which is impossible to get unnoticed while riding to Shillong. The complex has boating facilities on the Lake. One can also enjoy Jet Ski ride over the Lake. The meadows are a perfect place for a picnic and past time.
Places Not to Visit In Shillong-
Spread Eagle Falls - We don't recommend visiting this place as we no such falls exist. We wasted our time finding out this fall but got to know from locals that this fall does not exist now. The only thing one may find at this place is open sewage which falls from some height.
And Yes! Don't forget to rent bikes from RenTrip. We are here with a range of bikes to make your trips smoother and hassle-free with cost-effective bike renting in entire North East India. Just give a call to us and we will be with your bike at your desired time and date.