28 Places to Visit in and Around Hampi | Hampi Travel Guide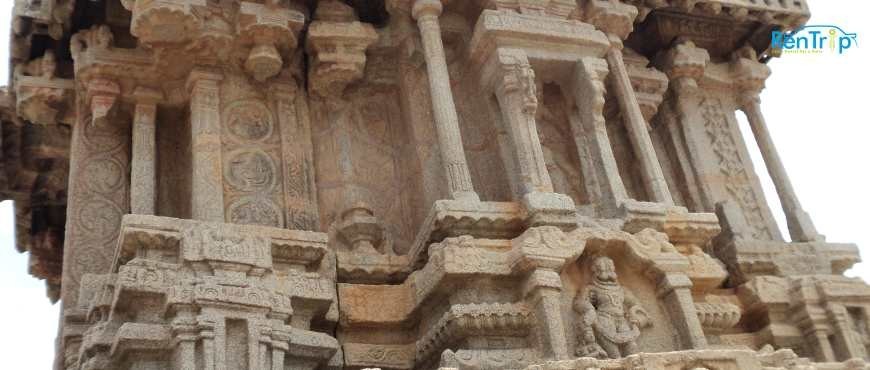 Why visit Hampi
This is one of the most scenic and beautiful sites in India and also in the world. Whether you are a die-hard traveler or just traveling to change your mood, Hampi has the caliber to satisfy you. Hampi is a place in UNESCO World Heritage Sites and every year thousands of Indian and foreign tourist visit this place to encounter the grandeur and charm of the heritage of India. If you looking for a change in ambiance, Hampi is your paradise.
From the point of view of natural beauty as well as artificial splendor, Hampi is enriched with all. This place lies on the bank of river Tungabhadra that flows just behind Virupaaksha Temple. Here you find several ruins of Vijayanagar period.
How to Reach Hampi
The nearest Railway Station is Hospet and the nearest airport is Belgaum (259 km). Also, there are plenty of buses available from all nearest tourist centers. Since amenities are better at Hospet, you are advised to make Hospet your base. From here plenty of bus and taxi services are available to Hampi which is only 13 km away. Alternatively, you can stay at Hampi too. Here you can find rooms at cheaper rates. Lodges are also available on the other side of Tungabhadra River which is having a better outside view, but to come to Hampi you have to depend on the boats.
At Hampi and Kamalapur, Bikes and Mopeds are available on Rent a day basis, so if they suit you they may be a better choice. Don't forget to bargain as you may get them for a good price. The nearest fuel filling station is at Kamalapur only so have sufficient fuel in your bike. Running out of fuel is surely a thing you would not like.
Places to Visit in and Around Hampi
1. Virupaksha / Pampapati Temple-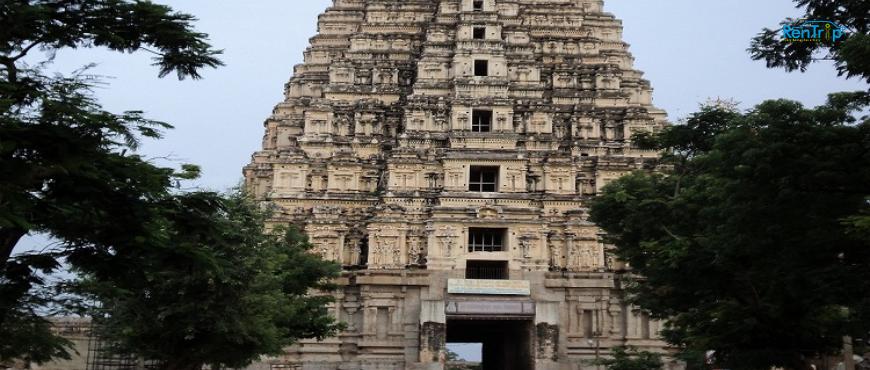 This is one of the most remarkable buildings of Hampi, located on foot of Hemakunta Hill on southern side on the bank of Tungabhadra River. It was built from 7th century AD till the reign of Krishnadevaraya.
The main temple consists of an open pillared hall, a Mukta Mandapa called Ranga Mandapam, a pillared hall, three antechambers and a Sanctum. The Ranga Mandapam consists of 38 pillars all decorated with beautiful sculptures. This is also called as Pampapati (Siva) Temple.
2. Vittal Temple-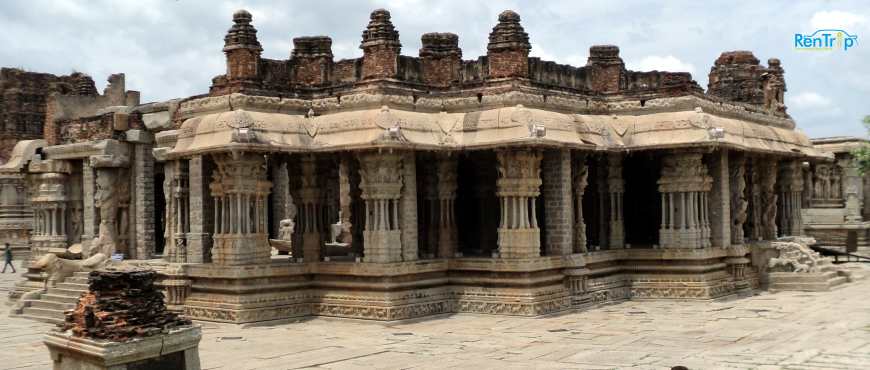 You will need to buy a ticket to visit this site. This is also one of the most remarkable buildings on Hampi. This site consist of a Mandap called as Sangeet Mandapam, a Stone chariot, and other Mandapam.
The remarkable wonder at this place is Sangeet mandapam where pillars sound in musical tone when hit( Sa, Re, Ga ......). Kindly do not hit when you visit as it hurts the Ancient Building already hurt by the Time.
3. The underground temple-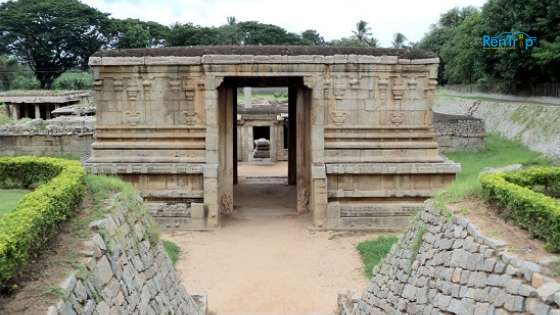 Another remarkable building! As the name suggests, this Temple is below the surface. The roof of this building is at the level of the ground. Some parts of this Temple are perennially under water. This Temple is dedicated to Lord Siva.
4. The Tungabhadra bank-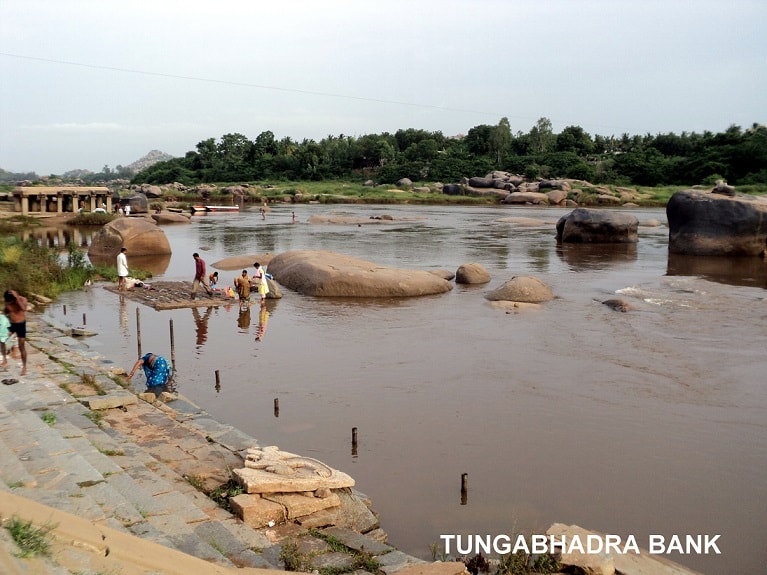 A very good place to sit back and relax after a full day of sightseeing. Boats are available at cheap rates here so you can enjoy boating too. The nice place to sit is behind Virupaksha Temple. Beware! The River is full of Crocodiles so don't try to swim here also the flow of water is violent, thus swimming not recommended.
5. King's Palace-
This structure was destroyed in 1565 war as the debris includes a large quantity of wood ash revealing that the structure was burnt. You will find this structure in Royal Enclosure which is between Hazara Rama Temple and Mahanavami Dibba.
6. Statues of Lord Ganesha-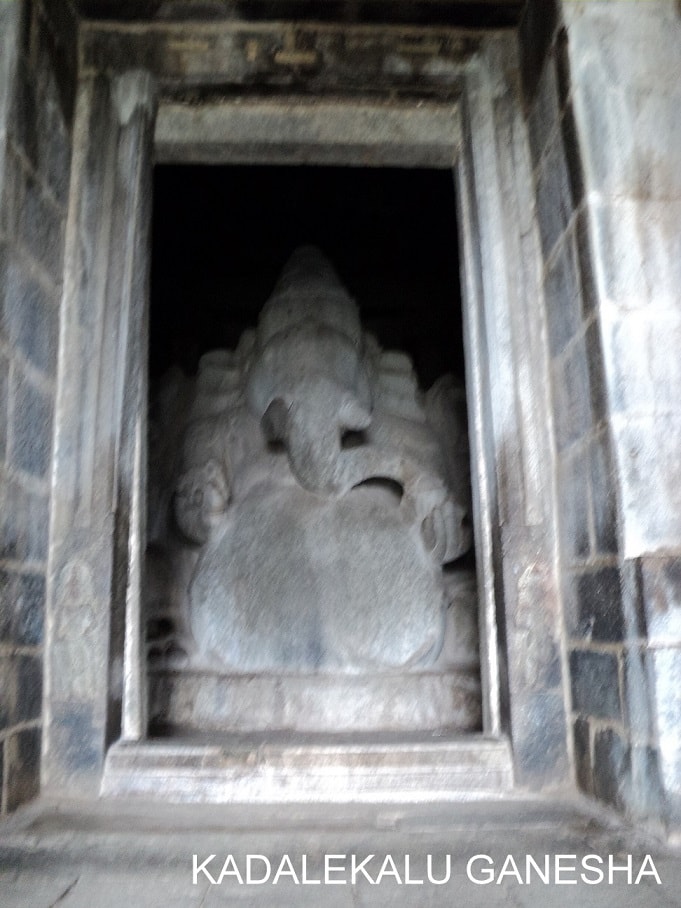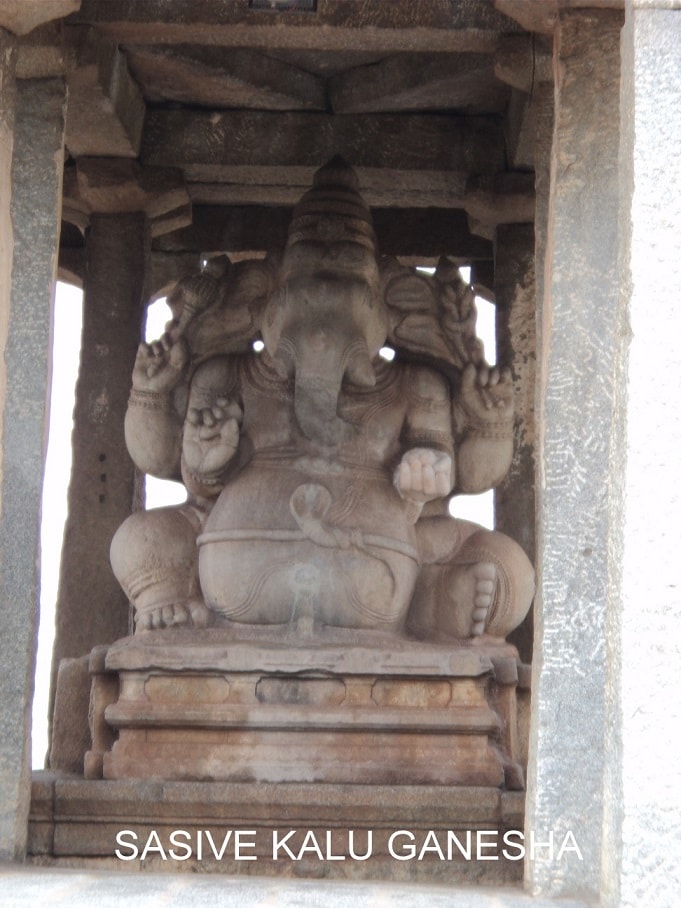 There are two statues of Lord Ganesha here. The first is Sasive Kalu Ganesha and the second being Kadale Kalu Ganesha. Meanings of them is Mustard seed Ganesha and Gram seed Ganesha respectively. The height of the first is 2.5 meters and the later is almost 4.5 meters. Have a look at the images.
7. Bhuvaneshwari Temple-
This is the shrine dedicated to Goddess Bhuvaneshwari. This Temple consists of a beautiful doorway and carved pillars of the Chalukyan period. This Temple belongs to 12th - 13th century AD prior to Vijaynagar period.
8. Temples on the Hemakunta Hill-
This Hill lies on the right side of the Virupaksha Temple. According to mythology, Lord Siva burnt Kama (the God of Lust) at this Hill. There are numerous Temples at this Hill.
9. Kodanda Rama Temple-
A small path from Virupaksa Bazaar leading northern side by the side of river bank leads you to Kodanda Rama Temple, which consists of tall figures of Lord Rama, Sita and Lakshmana approx 15 ft in height. A nearby Temple called Sudarshana Temple with a Deity with 16 hands.
10. Achyutaraya Temple-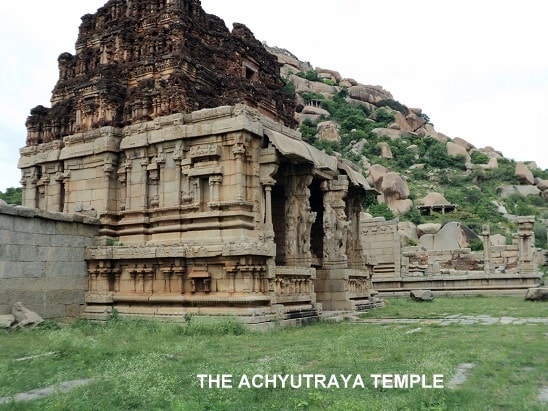 It was built by the king Achyutraya in 1539. It has various verandahs and Mandapas. The Verandah is decorated with carved pillars also carving of gateways is also worth seeing.
11. Matanga Hill-
The real award of climbing this hill comes when you see the city from the peak. The city and the river city can be seen from the top of this hill. At the peak, there is a Vishnu Temple and other small temples. A very very beautiful view. Recommended!
12. Balakrishna Temple-
This Temple was built by Krishnadevaraya in commemoration of a victory over a Gajapati ruler of Orissa. An inscription to commemorate this victory is found at the front of the Temple dated 1515.
13. Narasimha Statue-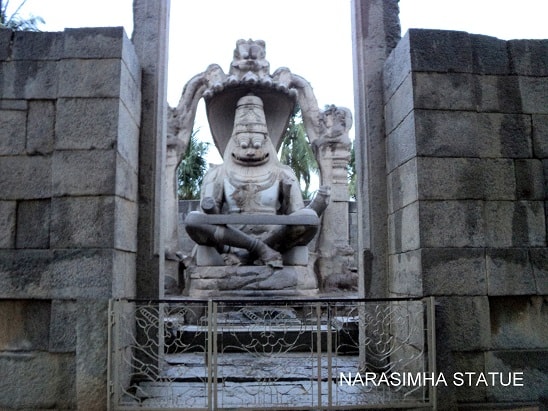 This huge monolithic statue of Narasimha is standing 6.7 meters tall in height in a walled enclosure. It was built in 1528 AD in the reign of Krishnadevaraya.
14. Sister stones-
On the way from Narasimha statue towards underground Temple, there are two stones that are leaned on each other, That's why they are called sister stones.
15. Zenana Enclosure-
Zenana Enclosure means ladies quarters. This consist of Queen's Palace, Lotus Mahal, a water pavilion and quarters for ladies attendants. This area was surrounded by a high wall and three watchtowers.
16. Elephant Stables-
Outside of Zenana Enclosure, there is a structure call Elephant Stables. This has 11 rooms which were used to keep elephants inside. 10 rooms out of this, have a dome type of structure that are different in shapes. Elephants were tied with chains.
17. Guard'sQuarters-
It lies adjacent to Elephant Stables. Inside the building is a courtyard with pillared verandah.
18. Hazara Rama Temple-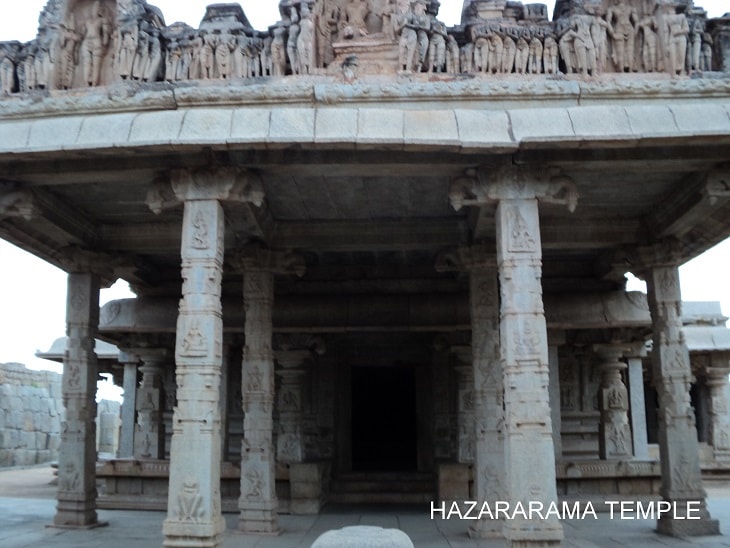 This Temple is devoted to Lord Rama as the name also suggests. It consists of a Sanctum, Mandapam, and a pillared hall. The pillars are carved to tell the story of the Ramayana. Life of Lord Rama and Victory of Good over Evil is the main theme on these pillars.
19. Royal Enclosure-
This is the area between Mahanavmi Dibba and Hazara Rama Temple. Here can be found the ruins of King's Palace, Durbar Hall, Stepped Tank, drains, the Mint and underground chamber.
20. Dasara platform/ Mahanavmi Dibba-
This platform was used to celebrate the nine-day festival of Navaratri till Dasara. The ruins of Mahanavmi Dibba tells the story of prosperity and grandeur of Vijayanagar.
21. Stepped Tank-
Inside the Royal Enclosure, a tank like structure is called the stepped tank. It has steps at all the square sides to alight inside the tank. It was used for royal and religious purposes
22. Water Channels-
There was a huge tank at Kamalapur from where stone channels fed the water to the Royal Enclosure and other parts of the city. There is a beautiful arrangement of water supply system at Royal Enclosure. A number of tanks including stepped tank were filled with these water channels. There is also a standby system of water supply if the water supply from Kamalapur stops. The standby supply sourced the water from a well.
23. Yantroddaraka Anjaneya Temple-
Behind Kodandarama Temple, the steps go to Yantroddaraka Anjaneya Temple. This Temple is devoted to Lord Anjaneya.
24. King's Balance-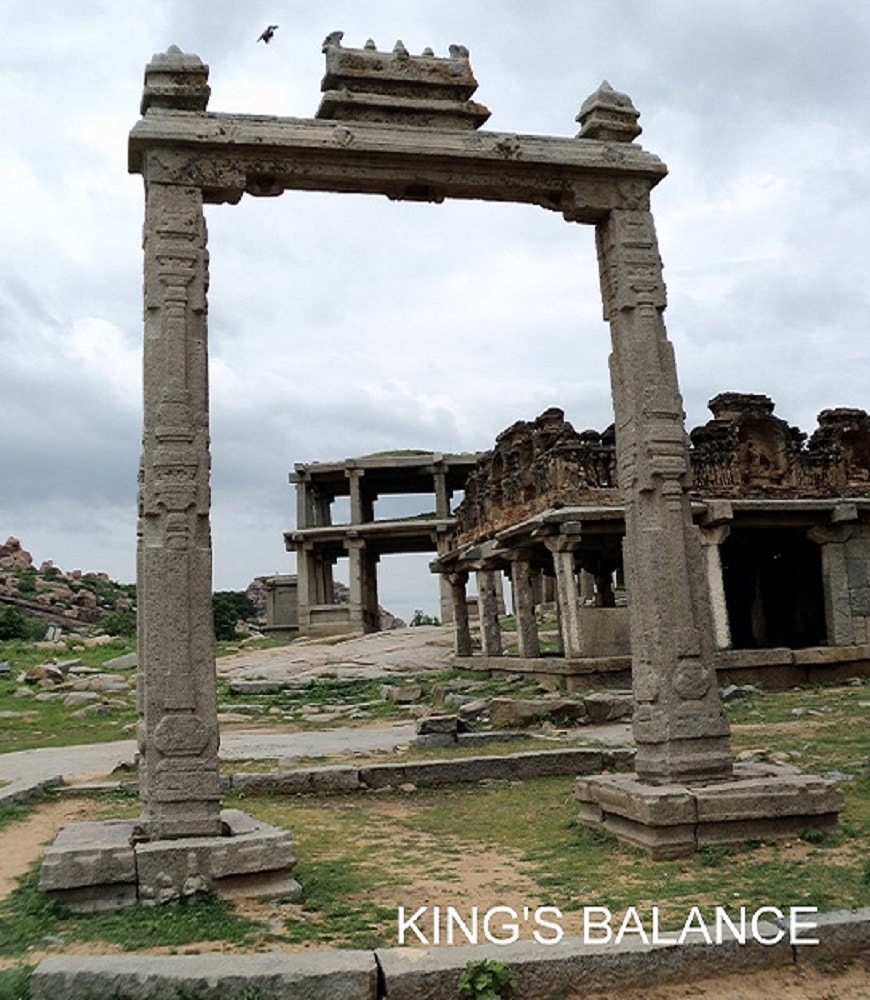 This balance like structure was actually used as a balance! Yes, the King used this in religious rituals to weight gold and precious jewelry equal to his weight in order to donate. This structure is of two pillars and a beam placed over it. The pillars are made of granite stones and beautifully decorated by carving.
25. Purandaradasa Mandap-
It is a small Mandap on the bank of Tungabhadra.
26. Queen's Bath-
This building can be found on the way from Hampi to Kamalapur. This is surrounded by a narrow moat. Outer view of this building is plain and uninteresting. Inside this building is a swimming pool. Around this pool, there is an arched corridor. The walls and arches have an interesting stucco work in the same style as Lotus Mahal.
27. Malyavanta Raghunanta Temple-
This Temple is located inside the high walled enclosure. The entrance is on Kampli road. The main object of worship in this Temple is a figure of Lord Rama. The Kalyana Mandapam and the large hall inside the Temple worth a look.
28. Pattabirama Temple-
This Temple was built by Achyutadevaraya. It is the largest Temple in Hampi and worth visit owing to its magnificence.
General Information : Hampi
Area : 26 sq km.
Altitude : 467 metres
Rainfall : 57.2 cm
Population : 1,64,240 (Hospet- 2001 census)
STD code : 08394
District : Bellary
BEWRARE !!!
As you land in Hampi, there are many trip advisors who will find you. Some will offer you good hotel deals and some will lure you for taxi etc. Do not pay attention to them.
Don't miss it:
There are so many Bamboo top restaurants in Hampi area. They offer multicuisine and continental food in pure Indian ambiance.