Shopping Cart
Oops! Your cart is empty.
Frequently Asked QuestionsRead All
Where the cashback shall be credited?

The cashback shall be credited to your RenTrip Wallet. You can use this promotional money to make future bookings on RenTrip.

Will I get the bike in good condition?

Yes you will get the bike in a very good condition. Our bikes get serviced after every trip and faulty parts are changed regularly. We fully check our machines before giving them to you so you can have an awesome time driving.

How can I book my bike?

Just login to www.rentrip.in, choose the place where you want your bike, select your favourite bike and book the best price for your bike. Here you go buddies; it's not that difficult right.

Where shall I get the bike? How shall I get the address to pick up the motorcycle?

It is not possible for us to provide the complete address with bike listing. However, on the bike search page, we have given a brief location of the bike. Once your booking is complete, you get an E-mail and SMS having the complete address and contact number of the dealer. These details are also printed on your invoice and always available on your personal dashboard.

How can I know my booking is confirmed?

After completing your booking on Rentrip you will get a message and email which includes your pick-up location and time and other details of the booking.

What will be the documents I have to provide?

Generally, any ID proof such as Aadhaar card, Pan Card, Voter id or Passport plus a valid driving license authorizing the type of bike rented in India shall be required. We don't accept colour copies of documents in place of the original. Additional requirements if any, are given on terms on bike listing page.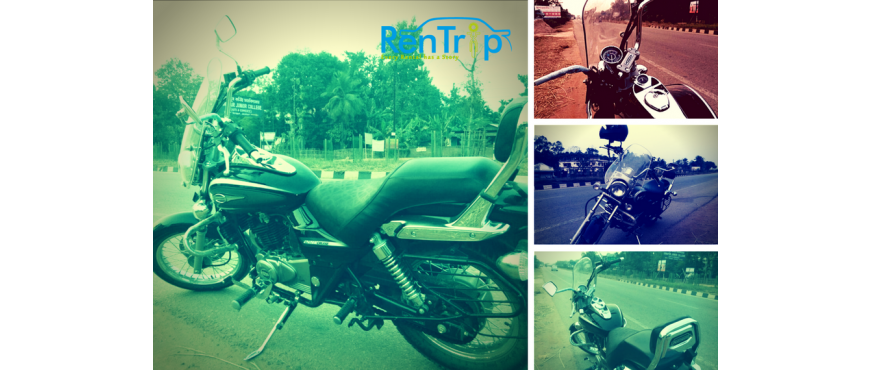 Bajaj Auto has already launched its much awaited motorcycle Avenger 220 Cruise. The motorcycle is powered by 4 stroke 219.89 CC DTSI Engine that churns out 19.03 PS power at 8400 RPM. The motorcycle is an advanced variant of Avenger 220 model, which is also very popular among riders. The fuel tank capacity of 220 Cruise is 13 liters with 3.8 liters of reserve fuel that is sufficient for riding long drives. Avenger 220 Cruise doesn't have kick starting system, so there is no stand by if the self start gets some problem. However, bike can be started by moving the crankshaft manually. The twin spark engine stops fuel wastage and helps the bike achieve more mileage. The typical mileage of the bike was found to be in between 30 – 40 KMPL.
We have taken the ride of the bike and found the performance satisfactory. The best thing about Avenger 220 Cruise is its stability over the road and better positioned rider and pillion. The leg rests are quite apart which makes the bike more comfortable. The height of the bike is 1309 mm which is fine for boarding the bike. We appreciate Bajaj for maintaining the ground clearance of 169 mm while keeping the height of the bike at minimum. The bike is taken as the copy of Harley Davidson Street 750, which is incorrect, since there is enough difference between the bikes in design as well as operation.
The indication system of Cruise is digital as well as analogue. The speedometer is needle type indicator, whereas the trip counter/ Odometer is digital. Other indicators are given over the fuel tank that includes turn signal indicator, Neutral indicator light, fuel level indicator, low battery indicator and Hi Beam Light indicator. One can also make use of Trip Meter to monitor the distance covered during the specific trip. In order to reset the Trip Meter to Zero, one needs to press the knob for 5 sec.
The gear system is standard which one down and rest up. Avenger Cruise 220 is best suited for long drives at fair speed. Cruise is not meant for racing and this reflects while driving the bike. The bike is comfortably driven till 80 KMPH which is quite fair speed as per Indian highways. This bike is also perfect for mountain trips such as Leh – Laddakh or Tawang. We got a very positive feedback from riders who drove it till Tawang. Its 220 CC engine churns out enough power to overcome the hassles coming on hilly roads and gives a smooth riding experience. The wind shield gives the motorcycle a look and style that is the soul of the Avenger Cruise.
CONS- Unlike Royal Enfields, no luggage carrier can be fitted on Cruise/ Street which is little uncomfortable for riders. RenTrip engineers are working hard to get one for Avengers and we hope soon it should be a reality. Also the bike does vibrate at higher speeds, but keeping in view of the cruiser type, it is fine and acceptable.