LOWEST PRICE GUARANTEED

Offer you the lowest priced bike

LOW-SECURITY DEPOSITS

Our deposits are as low as Rs 0

VERIFIED DEALERS

Trusted and verified dealers

100% MONEYBACK GUARANTEE

Yes! That's a promise.
Rent
Honda Activa 125 Disc BS6

Bike In Varanasi
Rent Honda Activa 125 Disc BS6 In Varanasi
Search
LOWEST PRICE GUARANTEED

Offer you the lowest priced bike

LOW-SECURITY DEPOSITS

Our deposits are as low as Rs 0

VERIFIED DEALERS

Trusted and verified dealers

100% MONEYBACK GUARANTEE

Yes! That's a promise.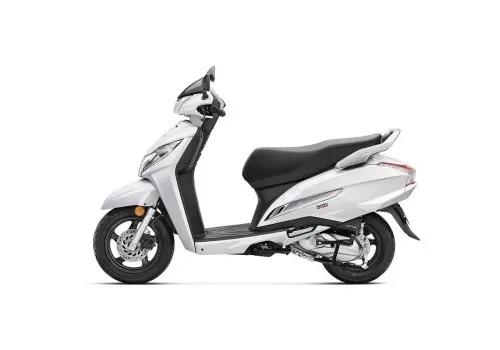 Honda Activa 125 Disc BS6
Honda Activa 125 Disc BS6
An overview (Main Features)
Name – Honda Active 125 Disc BS6
Colours – It is available in five different colours, namely
Pearl Nightstar Black
Heavy Grey Metallic
Midnight Blue Metallic
Rebel Red Metallic
Pearl Precious White with Salen Silver Metallic
Engine – 124 CC
Mileage - 60 kmpl
Road Price – Rs. 86,980 onwards
Brakes – Front: Disc: Rear: Drum
Tyre Size – Front: 90/90 R 12
Rear: 90/100 R 10
Power – 8.30 PS @6500
Torque – 10.4 Nm @5000
Fuel Capacity – 5.3 Litres
Weight – 109 Kg
Seat Height – 692 mm
Odometer – Digital
Speedometer – Analogue
Battery Capacity – 0.06 kWh
About Honda Activa 125 Disc BS6
Honda Activa 125 Disc is the mid variant in the Activa 125 segment. BS6 variant comes in 124 CC engine, which produces power of 8.30 PS @6500 and a max torque of 10.3 Nm @5000. It is available in five different colours. The two-wheeler's solid build quality and powerful engine make it the best-selling scooter in India. Its service is also vast, giving good mileage to the owners. The front brake is 190 mm, and Rear brake is 130 mm. The Honda Activa 125 Disc BS6 has a single-cylinder engine with an ABS braking system. The base version of the bike uses both drum brake combinations, while a higher version uses a disc-drum combination. The Activa rivals the likes of TVS Jupiter 125, Hero Destini 125 and other 125 CC scooters in the segment.
Engine and Performance
Honda Activa 125 Disc BS6 has an air-cooled, two-valve, four-stroke BSVI engine. The capacity of the engine is 124 CC. The maximum power of the engine generates 8.30 PS@ 6500 rpm, and the maximum torque is 10.4 Nm @5000. It gives a mileage of 60 kmpl, with a fuel capacity of 5.3 litres. The bore of the engine is 50 mm with a stroke of 63.113 mm. Its compression ratio is 10.0:1 with an engine immobilizer. It holds an automatic belt-drive transmission and a CVT gearbox.
In terms of performance, it gives a mileage of 66.8 kmpl max on highways and 51.23 kmpl in the city, apart from an average range of 60 kmpl marked by ARAI. The commuter bike's average top speed is 93.84 kmph. It comes with a two-year warranty for a standard 24000 kms. You can ride anywhere between 300-450 km in 8 -10 hours a day as the scooter can accelerate up to 0-60 kmph in around 8.7 seconds.
Design and Styling
The Honda Activa 125 is globally acclaimed with ESP technology and silent start. ACG starter motor removes gear meshing gear engagement noise and reduces maintenance. New Tumble flow technology increases the turbulence of air-fuel mixture, which keeps combustion and fuel efficiency. The digital odometer and analogue speedometer display information, real-time mileage and average mileage. The digital fuel gauge shows the fuel quantity in the scooter. It has a seat opening switch with bulb indicators.
The LED Headlamp, LED tail light, digital trip meter and excellent body graphics make it look attractive. It has under-seat storage and a carry hook below the handlebar. For extra safety of the vehicle from theft, it has a shutter lock as well. It has a Jet which helps maintain temperature in all riding conditions. The length, width and height are 1850 mm, 707 mm and 1170 mm. The wheelbase is 1260 mm. The wheelbase of the scooter ranges from 1260 mm with a ground clearance of 162 mm.
Suspension and Brakes
The tyres are tubeless, holding a combination of 12/10 inch front and rear alloy wheels. The front suspension is telescopic, and the rear suspension is a step-adjustable spring-loaded hydraulic.
The front brake diameter is 190 mm. The front tyre size is 90/90 -12. The front brake type is Disc. The rear brake diameter is 130 mm, and the tyre size is 90/100 – 10. The rear brake type is Drum. The two-wheeler holds a combi-braking system. It gives an optimum tyre pressure of 22 psi.
Mileage
The mileage of this two-wheeler vehicle is 60 kmpl which covers 0 to 60 km/h in 8.7 sec. The fuel tank capacity is 5.3 litres. The top speed of the Honda Activa is 85 km/h if the average mileage is achieved economically.
Road Price
The ex-showroom price is Rs. 86,980 + RTO + Road Tax + other charges of Rs. 11,558 + insurance Rs. 6,110, combining a total of which makes an estimated road price of Rs. 1,04,648. You may visit your nearest Honda two-wheeler showroom to get an exact estimate of the current price.
Conclusion
The variant of the Honda Activa 125 Disc BSVI is very comfortable and smooth while driving. It has all the modern features which a perfect scooty requires. It is one of the best-selling scooters in India. The power delivery makes it a top scooty in the urban area. Honda Activa gained popularity because of its reliability and long-term low maintenance.
Honda Activa 125 Disc BSVI is available for rent in Varanasi at an affordable price. If you need this scooty for the short term, you can rent it on an hourly or daily rental plan. You can subscribe to this scooty weekly or monthly for long-term rental needs. Hence Honda Cliq Rental costs lesser than buying it from the showroom and paying for maintenance.
Introducing REFER & EARN No Limit, Get Cashback on Every Friend Who Join Us.
Select Your Bike

You can search & select bike from our wide range.

Add to Cart

Easily add multiple bike in your cart or direct book from "BookNow" button.

Pick Your Bike

Find the pickup location and pick a bike.

Ride Anywhere

We do not have kms limit.
RENT ACTIVA 125 DISC BS6 IN OTHER CITIES
No Riding Limits

Odometer Won't Scare You Anymore.

Freebies

Helmets Always, Sometimes More.

Secure Payments

Our Payment Partners are Industry Leaders.

No Bullshit

A Day Rent is simply for 24 hrs, We mean it.

Verified Dealers

Every Single Dealer is Committed to Quality Service.

100% Moneyback

Not Happy With Service, Take Your Money Back.
We're here to provide helpful information when you need it most. And if you have a question, we're here to help with that too.
GENERAL ENQUIRY
info@rentrip.in
SUPPORT
support@rentrip.in
Now its easy to get two wheeler Activa 125 Disc BS6 for rent in Varanasi or Activa 125 Disc BS6 bike hire in Varanasi. We do provide monthly bike rental in Varanasi city. One of the best, bike rentals in Varanasi. We provide cheap bike rental Varanasi. Scooter rental Varanasi is our top priority to provide bike on rent near me (you). Find us with bike rental near me on search engines. You can hire good condition motorcycle for rent in Varanasi. We are extremly proud to have a customer like you to rent bike in Varanasi. User friendly website to rent bike in Varanasi. High quality assurance with rent a motorbike in Varanasi. We are everywhere, now rent a bike anywhere in india. We have flexible timings. You can rent Activa 125 Disc BS6 bike on an hourly, daily, weekly and monthly basis.
Explore Our Services
Bike Rentals in India
Car Rentals in India
Bicycle Rentals in India
Guided Motorcycle Tours