LOWEST PRICE GUARANTEED

Offer you the lowest priced bike

LOW-SECURITY DEPOSITS

Our deposits are as low as Rs 0

VERIFIED DEALERS

Trusted and verified dealers

100% MONEYBACK GUARANTEE

Yes! That's a promise.
Rent
TVS Zest 110

Bike In Bangalore
Rent TVS Zest 110 In Bangalore
Search
LOWEST PRICE GUARANTEED

Offer you the lowest priced bike

LOW-SECURITY DEPOSITS

Our deposits are as low as Rs 0

VERIFIED DEALERS

Trusted and verified dealers

100% MONEYBACK GUARANTEE

Yes! That's a promise.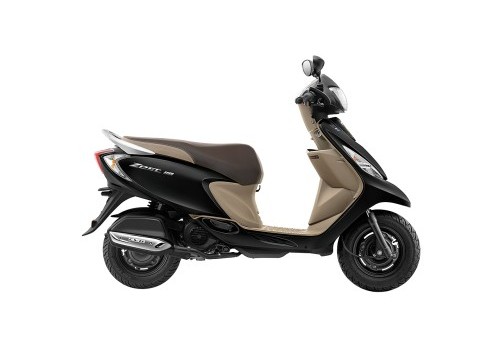 TVS Scooty Zest 110 is one of the best two-wheelers in Bangalore. Because of its low weight, this scooter has gained much popularity among female riders. Because of this, the general design language is modern while maintaining the recognizable Scooty look with its sharply declining apron, a large headlamp, and vertically stacked turn indicators.
The mileage of TVS Scooty Zest is good, which is approx 48 kmpl making it a fuel-efficient rental scooty in its segment.
The best thing is that the LED Daytime Running Light that comes standard on the Tvs Scooty Zest 110 illuminates automatically. It also comes with a unique LED tail lamp that is brighter and steadier, making this scooter look more fashionable and increasing its visibility.
This Scooty's regal and refined appearance is also a direct result of the unique silver oak interior panel. And the Scooty's odd dual-tone seats, which give it a luxurious and sophisticated aesthetic, make it stand out from the other vehicles in its class and increase its sold in the market.
The telescopic front suspension and the hydraulic mono-shock in the back take care of the ride and handling of the vehicle.
Regrettably, the manufacturer needs to include a disc brake as an available option for this most recent product model. However, you may now get the brakes with a linked brake system, and there is no additional charge for this feature.
When it comes to the colours, it comes in, and the standard model is available in five different colours, which are Red, Blue, Purple, Yellow, and Black. On the other hand, the Himalayan Highs model is only available in one colour, which is turquoise blue colour.
Below is the list of leading specifications of the scooty.
1. Engine Capacity: 109.7 cc
2. Mileage: 48 kmpl
3. Kerb Weight: 103 kg
4. Seat Height: 760 mm
5. Fuel Tank Capacity: 5 litres
6. Max Power: 7.71 bhp
7. Length: 1,770 mm
8. Width: 660 mm
9. Height: 1,139 mm
10. Seat Height: 760 mm
11. Ground Clearance: 150 mm
12. Wheelbase: 1,250 mm
13. Engine Displacement: 109.7 cc single cylinder
14. Transmission: CVT
15. Suspension: Front – Telescopic, Rear- Double rated hydraulic monoshock
16. Brakes: Front – 110 mm Drum, Rear – 130 mm Drum
TVS Scooty Zest On Road Price in Bangalore
It is available in two different variants: Scooty Zest 110 Standard, priced approximately at the Ex-Showroom price of Rs 73,002 in any colour. Another option is the Scooty Zest 110 Himalayan High, priced at around Rs 74,087. You can get this Scooty at any showroom in Bangalore or order it online after reading customer reviews. The RTO, insurance and accessories pricing should be included to arrive at the exact on-road price.
TVS Scooty Zest On Rent in Bangalore
If you want Zest Scooty on rent, you can take it for as low as Rs 499 daily. We have a wide range of colour options in the matte series, varying from matte red, matte blue to matte black. RenTrip is the only bike rental company that offers the lowest rental price of TVS scooty.
Talking about the reviews who have used this scooter, it is a good scooty since it has a comfortable seating posture, is effortless to ride, and has a dynamic 110cc engine. However, the instrument cluster has an outdated appearance, and the company may improve the brakes' effectiveness.

Introducing REFER & EARN No Limit, Get Cashback on Every Friend Who Join Us.
Select Your Bike

You can search & select bike from our wide range.

Add to Cart

Easily add multiple bike in your cart or direct book from "BookNow" button.

Pick Your Bike

Find the pickup location and pick a bike.

Ride Anywhere

We do not have kms limit.
RENT ZEST 110 IN OTHER CITIES
No Riding Limits

Odometer Won't Scare You Anymore.

Freebies

Helmets Always, Sometimes More.

Secure Payments

Our Payment Partners are Industry Leaders.

No Bullshit

A Day Rent is simply for 24 hrs, We mean it.

Verified Dealers

Every Single Dealer is Committed to Quality Service.

100% Moneyback

Not Happy With Service, Take Your Money Back.
We're here to provide helpful information when you need it most. And if you have a question, we're here to help with that too.
GENERAL ENQUIRY
info@rentrip.in
SUPPORT
support@rentrip.in
Now its easy to get two wheeler Zest 110 for rent in Bangalore or Zest 110 bike hire in Bangalore. We do provide monthly bike rental in Bangalore city. One of the best, bike rentals in Bangalore. We provide cheap bike rental Bangalore. Scooter rental Bangalore is our top priority to provide bike on rent near me (you). Find us with bike rental near me on search engines. You can hire good condition motorcycle for rent in Bangalore. We are extremly proud to have a customer like you to rent bike in Bangalore. User friendly website to rent bike in Bangalore. High quality assurance with rent a motorbike in Bangalore. We are everywhere, now rent a bike anywhere in india. We have flexible timings. You can rent Zest 110 bike on an hourly, daily, weekly and monthly basis.