Frequently Asked QuestionsRead All
Where the cashback shall be credited?

The cashback shall be credited to your RenTrip Wallet. You can use this promotional money to make future bookings on RenTrip.

Will I get the bike in good condition?

Yes you will get the bike in a very good condition. Our bikes get serviced after every trip and faulty parts are changed regularly. We fully check our machines before giving them to you so you can have an awesome time driving.

How can I book my bike?

Just login to www.rentrip.in, choose the place where you want your bike, select your favourite bike and book the best price for your bike. Here you go buddies; it's not that difficult right.

Where shall I get the bike? How shall I get the address to pick up the motorcycle?

It is not possible for us to provide the complete address with bike listing. However, on the bike search page, we have given a brief location of the bike. Once your booking is complete, you get an E-mail and SMS having the complete address and contact number of the dealer. These details are also printed on your invoice and always available on your personal dashboard.

How can I know my booking is confirmed?

After completing your booking on Rentrip you will get a message and email which includes your pick-up location and time and other details of the booking.

What will be the documents I have to provide?

Generally, any ID proof such as Aadhaar card, Pan Card, Voter id or Passport plus a valid driving license authorizing the type of bike rented in India shall be required. We don't accept colour copies of documents in place of the original. Additional requirements if any, are given on terms on bike listing page.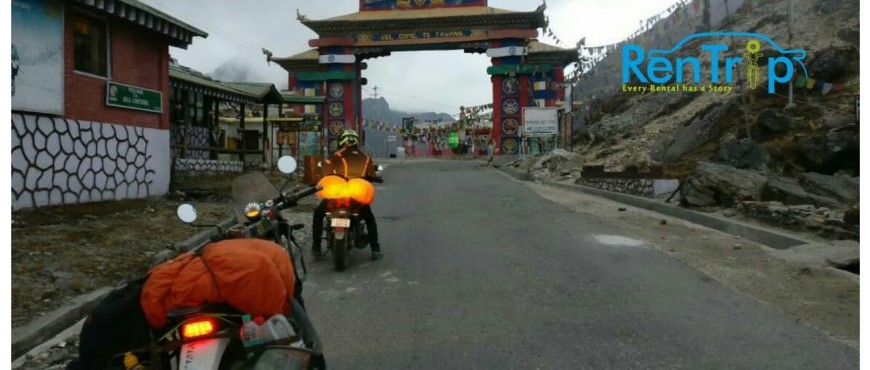 We know you are searching for the best possible itinerary for your motorcycle trip from Guwahati to Tawang. Here we are putting up one of the itineraries that we ourselves follow on our guided tours to Tawang. You can follow this itinerary for your solo bike trip or can join our guided motorcycle tours that include experienced ride captain, tour mechanic with essential spare parts, backup vehicle, medical facilities, accommodation in hotels and tents, local drinks, cultural shows and exclusive RenTrip experience.
So here is the itinerary for our upcoming bike trip from Guwahati to Tawang.
ROUTE
Guwahati-Nameri-Bomdila-Dirang-Sela Pass-Tawang-Bum La Pass-Tawang-Dirang-Bomdila-Guwahati
EXPEDITION ITINERARY
Day 1: Arrival at Guwahati
On your arrival at Guwahati, proceed towards your hotel. Get freshen up and gather information about the route you would be riding for the next 7 days. Along with that we would be discussing the challenges, dos and don'ts and other safety measures. You will be receiving your bikes today. Take out your bikes for a small ride across Guwahati to get used to it. If you need any changes in your bike, our tour mechanics shall be on the job. You will also get the time to get accused with your fellow riders who will be your riding buddies for the next 7 days and for a lifetime.


Day 2: Guwahati to Nameri (224 kms)
We would be flagging off our tour today at 9 AM sharp after breakfast. We would be riding till Nameri today which is 224 kms. Enjoy the greenery on the way as you will cruise through a very smooth highway. Overnight stay at Nameri Eco Park.


Day 3: Nameri to Dirang (165 kms)
On day 3, we would be riding till Dirang which is 165 kms from Nameri. Say hello to curvy roads and beautiful mountains. We would be staying in camps today alongside river Kameng surrounded by the beautiful hills. Enjoy the bonfire with local cultural show and have fun as the local drink called ARA will be on us. Cheers!!
Day 4: Dirang to Tawang (135 kms)
We would be riding towards Tawang today after breakfast which is 135 kms from Dirang. Pay homage to Jaswantgarh War Memorial and make a halt at Sela Pass, which is located at 13,700ft above the sea level. Enjoy the beautiful landscapes; snow filled mountains and foggy roads along the way. Check-in to your hotels after reaching Tawang and get refreshed. We would be arranging an evening tea/coffee for you Café' Suburb where a local Lama will tell you about the history and significance of Tawang. We would be discussing the next day ride which will be the most adventurous ride to Bum La pass after dinner.
Day 5: Tawang-Bum La Pass-Tawang (Overall 100kms)
On day 5, we would be riding towards the most adventurous and beautiful Bum La Pass which is located at Indo-China border at 16,500 ft above the sea level. This place will be mostly covered with snow. Bum La is the place where one of the fiercest battles took place in the 1962 Sino-Indian war. On the way, enjoy beautiful lakes such as Heart Lake, P.T. Tso and Sangetsur Lake. Check-in to your hotel after reaching Tawang. Evening time free for shopping and exploring the beautiful markets of Tawang.
Day 6: Tawang Local Sightseeing:
On 6th day, we would be exploring in and around places of Tawang after breakfast. Twang is full of beautiful monasteries. We would be visiting Tawang Monastery which is the largest monastery in India and the second largest in the world. We would be then visiting Urgelling Monastery which is the birthplace of the 6th Dalai Lama (born Tsangyang Gyatso). We would be then heading towards Chakzam village for a short adventure ride where you would find a hanging bridge which was handmade 560 years before with iron wires. We can also watch and sound show in the evening at the War Memorial of Tawang. Check-in to your hotels after a day full of adventure.
Day 7: Tawang to Dirang (135 kms)
We would be the beautiful Tawang today and would ride downhill towards Dirang. We would be visiting Jung waterfall which is 100 meters high, Apple and Kiwi Gardens and Kameng River on the way back to Dirang. Overnight stay in tents alongside Kameng River. Local drinks and bonfire will be arranged in the night.
Day 8: Dirang to Guwahati (380kms)
On the final day of the tour, we would be riding back from where we have started. We would be reaching Guwahati after riding 380 kms which will include both mountains and plain roads. Check-in to your hotel rooms after reaching Guwahati. Get freshen up and gather for the tour completion ceremony where all of us would be sharing our experiences. Rentrip T-shirts and certificates will be provided to all the participants. We have seen a dream before the starting of this trip and we have lived it now. Say goodbye to your fellow riders with a promise to meet again for another amazing ride.
Expedition Dates for 2019
25/12/2018-01/01/2019
11/01/2019-18/01/2019
28/01/2019-04/02/2019
14/02/2019-21/02/2019
15/03/2019-22/03/2019
05/04/2019-12/04/2019
22/04/2019-29/04/2019
09/05/2019-16/05/2019
Rent a bike in Guwahati for a solo trip or join us on our guided tour with lots of fellow riders. Happy riding.