LOWEST PRICE GUARANTEED

Offer you the lowest priced bike

LOW-SECURITY DEPOSITS

Our deposits are as low as Rs 0

VERIFIED DEALERS

Trusted and verified dealers

100% MONEYBACK GUARANTEE

Yes! That's a promise.
Rent
Honda Activa 3G

Bike In Nagpur
Rent Honda Activa 3G In Nagpur
Search
LOWEST PRICE GUARANTEED

Offer you the lowest priced bike

LOW-SECURITY DEPOSITS

Our deposits are as low as Rs 0

VERIFIED DEALERS

Trusted and verified dealers

100% MONEYBACK GUARANTEE

Yes! That's a promise.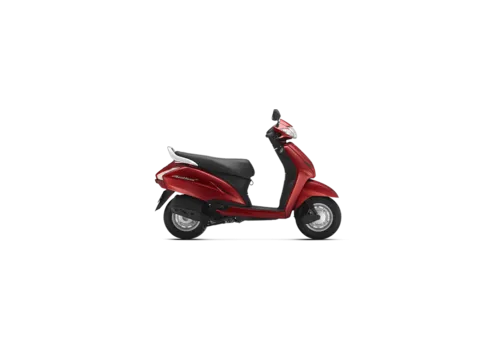 Honda Activa 3G in Nagpur
The most recent version of the Honda Series is the Honda Activa 3G, which stands for the third generation. It is one of the most well-liked automatic scooters available for both genders and is used by almost everyone, from young adults to teenagers in Nagpur.
Appearance
The Activa 3G is not overly dissimilar to its predecessor, but it does have some new features. It has received some minor cosmetic updates, as well as six new paint schemes and three-dimensional badges from which customers can choose. These paint schemes include Trance Blue Metallic, Geny Grey Metallic, Pearl Amazing White, Black, Majestic Brown Metallic, and Imperial Red Metallic. These paint schemes give the Honda Activa 3G a more premium appearance.
Even though the instrument cluster and the vast majority of the other components have been carried over from the previous model, the tail lamp assembly has also been modified to seem more like the larger Activa 125 scooter. Honda did this makeover in conjunction with the scooter's larger size. The quality of metallic paint has also significantly increased over the past few years.
Technical Specifications
Talking about its features, it has the following technical specifications
Engine Capacity: 109.2 ccs, single cylinder, air-cooled
Mileage: 45 kmpl
Kerb Weight: 108 kg
Seat Height: 765 mm
Fuel Tank Capacity: 5.3 litres
Max Power: 8 bhp at the rate of 7500 rpm
Number of Cylinders: 1
Max Torque: 8.83 Nm at the rate of 5500 rpm
Starting Mechanism: Self or Kick Start.
Fuelling: Electronic
Transmission: CVT
Clutch type: Centrifugal
Suspension: Front – Trailing Link, Rear – Spring loaded hydraulic type
Brakes: Front – 130mm dia drum brake, Rear – 130mm dia drum brake
Wheel size: 10-inch steel wheel
Tyres: Front - 90/100 R10, Rear – 90/100 R10
Wheelbase:1,238mm
Length: 1,761mm
Width: 710mm
Height: 1,149mm
Design and Comfort
The Activa 3G's overall design is not as exciting as some of its competitors' offerings. Although the quality of the switchgear is only modest, the overall build quality of the scooter is quite good. Unfortunately, the storage is average, as we could only fit a helmet with a face shield into the space under the seat.
One additional feature of the Honda engine is the incredible refinement it possesses. The riding position on the Honda Activa 3G is upright and comfortable, and there is adequate space for the rider's feet on the footboard. The pillion's comfort is also significant due to the appropriately cushioned seats and the substantial grasp handle.
Talking about its price, the New Honda Activa 3G has a starting price of Rs 48,852 in Nagpur (although this varies from store to store). This Activa is available at any Honda dealership in Nagpur or on many internet sites.
Is Honda Activa 3G worth renting?
Compared to other options available, the Honda Activa 3G remains a strong contender in the 110cc scooter class. It is an excellent choice for commuter vehicles because of its agile handling, exceptional fuel efficiency, and superbly honed engine. If you are interested in Activa Rental in Nagpur, you can book it on RenTrip.
Introducing REFER & EARN No Limit, Get Cashback on Every Friend Who Join Us.
Select Your Bike

You can search & select bike from our wide range.

Add to Cart

Easily add multiple bike in your cart or direct book from "BookNow" button.

Pick Your Bike

Find the pickup location and pick a bike.

Ride Anywhere

We do not have kms limit.
RENT ACTIVA 3G IN OTHER CITIES
No Riding Limits

Odometer Won't Scare You Anymore.

Freebies

Helmets Always, Sometimes More.

Secure Payments

Our Payment Partners are Industry Leaders.

No Bullshit

A Day Rent is simply for 24 hrs, We mean it.

Verified Dealers

Every Single Dealer is Committed to Quality Service.

100% Moneyback

Not Happy With Service, Take Your Money Back.
We're here to provide helpful information when you need it most. And if you have a question, we're here to help with that too.
GENERAL ENQUIRY
info@rentrip.in
SUPPORT
support@rentrip.in
Now its easy to get two wheeler Activa 3G for rent in Nagpur or Activa 3G bike hire in Nagpur. We do provide monthly bike rental in Nagpur city. One of the best, bike rentals in Nagpur. We provide cheap bike rental Nagpur. Scooter rental Nagpur is our top priority to provide bike on rent near me (you). Find us with bike rental near me on search engines. You can hire good condition motorcycle for rent in Nagpur. We are extremly proud to have a customer like you to rent bike in Nagpur. User friendly website to rent bike in Nagpur. High quality assurance with rent a motorbike in Nagpur. We are everywhere, now rent a bike anywhere in india. We have flexible timings. You can rent Activa 3G bike on an hourly, daily, weekly and monthly basis.
Explore Our Services
Bike Rentals in India
Car Rentals in India
Bicycle Rentals in India
Guided Motorcycle Tours