LOWEST PRICE GUARANTEED

Offer you the lowest priced bike

LOW-SECURITY DEPOSITS

Our deposits are as low as Rs 0

VERIFIED DEALERS

Trusted and verified dealers

100% MONEYBACK GUARANTEE

Yes! That's a promise.
Rent
TVS Radeon

Bike In Ahmedabad
Rent TVS Radeon In Ahmedabad
Search
LOWEST PRICE GUARANTEED

Offer you the lowest priced bike

LOW-SECURITY DEPOSITS

Our deposits are as low as Rs 0

VERIFIED DEALERS

Trusted and verified dealers

100% MONEYBACK GUARANTEE

Yes! That's a promise.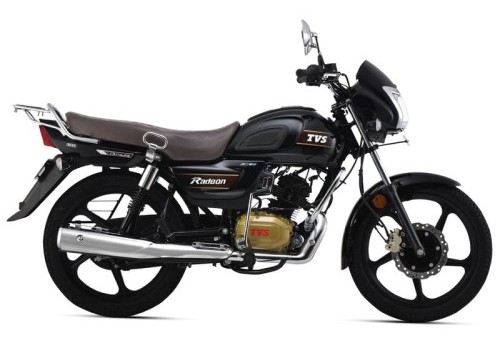 TVS Radeon is a popular commuter motorcycle known for its stylish design, comfortable ride, and excellent fuel efficiency.
Design and Styling
The TVS Radeon boasts an attractive, sophisticated look that will surely draw attention while driving. It features a chrome-finished rectangular headlamp, a black and chrome theme, and a comfortable single-piece seat. The motorcycle also has an easy-to-read instrument cluster that displays all the necessary information, including speed, fuel level, and gear position.

Also if you wish to TVS Radeon on rent in Ahmedabad, Some companies in India offer rental services for motorcycles, including TVS Radeon. These rental services may have different terms and conditions, such as minimum rental duration, security deposit, and insurance coverage.
Engine and Performance
The TVS Radeon is powered by a 109.7 cc single-cylinder engine that produces 8.4 bhp of power and 8.7 Nm of torque. The engine has a 4-speed gearbox and delivers excellent performance on city roads and highways. The motorcycle also has a synchronized braking system (SBS) that provides superior control and safety.
Comfort and Convenience
The TVS Radeon is designed for maximum comfort and convenience. Its long, wide seat provides ample space for the rider and pillion. The motorcycle also comes with a USB charging port, which allows riders to charge their smartphones on the go. Additionally, the motorcycle has a large fuel tank capacity of 10 litres, ensuring riders can go long distances without worrying about refueling.
Safety and Security
TVS Radeon has several safety features that make it one of the safest motorcycles in its segment. The motorcycle comes with tubeless tires, which reduce the risk of punctures and blowouts. It also features an LED tail lamp, which provides excellent visibility to other motorists.
Price and Availability
The TVS Radeon is priced competitively between INR 59,000 and INR 82,000 in India. Making it an excellent value-for-money option for commuters. It is available in several colours, including Pearl White, Golden Beige, Royal Purple, and Metal Black. The motorcycle is available at all TVS dealerships across the country.
Conclusion
The TVS Radeon is an excellent choice for commuters looking for a stylish, comfortable, and fuel-efficient motorcycle. With its powerful engine, comfortable seating, and advanced safety features, the motorcycle provides an excellent riding experience to riders of all ages and skill levels.

Introducing REFER & EARN No Limit, Get Cashback on Every Friend Who Join Us.
Select Your Bike

You can search & select bike from our wide range.

Add to Cart

Easily add multiple bike in your cart or direct book from "BookNow" button.

Pick Your Bike

Find the pickup location and pick a bike.

Ride Anywhere

We do not have kms limit.
RENT TVS RADEON IN OTHER CITIES
No Riding Limits

Odometer Won't Scare You Anymore.

Freebies

Helmets Always, Sometimes More.

Secure Payments

Our Payment Partners are Industry Leaders.

No Bullshit

A Day Rent is simply for 24 hrs, We mean it.

Verified Dealers

Every Single Dealer is Committed to Quality Service.

100% Moneyback

Not Happy With Service, Take Your Money Back.
We're here to provide helpful information when you need it most. And if you have a question, we're here to help with that too.
GENERAL ENQUIRY
info@rentrip.in
SUPPORT
support@rentrip.in
Now its easy to get two wheeler TVS Radeon for rent in Ahmedabad or TVS Radeon bike hire in Ahmedabad. We do provide monthly bike rental in Ahmedabad city. One of the best, bike rentals in Ahmedabad. We provide cheap bike rental Ahmedabad. Scooter rental Ahmedabad is our top priority to provide bike on rent near me (you). Find us with bike rental near me on search engines. You can hire good condition motorcycle for rent in Ahmedabad. We are extremly proud to have a customer like you to rent bike in Ahmedabad. User friendly website to rent bike in Ahmedabad. High quality assurance with rent a motorbike in Ahmedabad. We are everywhere, now rent a bike anywhere in india. We have flexible timings. You can rent TVS Radeon bike on an hourly, daily, weekly and monthly basis.