LOWEST PRICE GUARANTEED

Offer you the lowest priced bike

LOW-SECURITY DEPOSITS

Our deposits are as low as Rs 0

VERIFIED DEALERS

Trusted and verified dealers

100% MONEYBACK GUARANTEE

Yes! That's a promise.
Rent
Honda Cliq STD

Bike In Bangalore
Rent Honda Cliq STD In Bangalore
Search
LOWEST PRICE GUARANTEED

Offer you the lowest priced bike

LOW-SECURITY DEPOSITS

Our deposits are as low as Rs 0

VERIFIED DEALERS

Trusted and verified dealers

100% MONEYBACK GUARANTEE

Yes! That's a promise.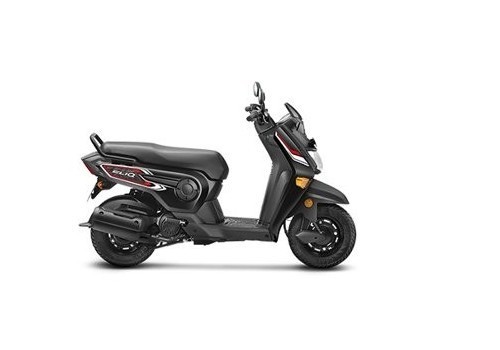 The Honda Cliq Standard features a body made of plastic and comes in a two-tone style with vibrant colours. As a result, it has an excellent and fashionable appearance. In addition, it includes a pattern embossed on the side panels that looks like the bike.
The engine that powers the Honda Cliq is a four-stroke unit that is carbureted and air-cooled. Its 109.19 cc engine produces a peak power of 8.03 PS delivered at 7000 rpm.
This single-cylinder scooty engine generates 8.94 Nm of torque at 5500 revolutions per minute. And it can reach up to 132 miles per hour (203 kilometres per hour).
The handlebar of the Honda Cliq is not concealed by a cowl but is left entirely exposed like a motorbike. Additionally, the plastic panels on this Scooty have a shiny finish. Due to these two features, this Scooty was extremely popular and quickly sold out.
In addition, the Honda Cliq sports a relatively simple instrument cluster that consists of a speedometer, an odometer, and a fuel gauge. This Scooty stands out from other scooters due to its unique appearance and body structure. Additionally, people of shorter stature will find it a comfortable fit and enjoy the journey safely and comfortably.
Honda Cliq Specifications
In terms of its dimensions, the Honda Cliq has a width of 695 millimetres and a length of 1745 millimetres. The height of this Scooty measures 1039 millimetres. The fuel capacity of Cliq is 3.5 litres.
The saddle height is 743 mm, the kerb weight is 102 kg, and the wheelbase is 1241 mm. These dimensions provide better stability for the bike
What are the features of the Honda Cliq?
It has an analogue speedometer and odometer, stunning body graphics, ample space for storage under the seats and a combined braking system, making it a sound and better choice. A decent tail light, self-start, automatic clutch, Spring Loaded Hydraulic front and rear suspension, a halogen headlamp, an air-cooled system, and an indication that illuminates when the fuel level is low are some additional features worth looking at. Unfortunately, the charging point is optional.
Specifications of the wheel of the Honda Cliq
The pressure in the front tyre is 22 pounds per square inch (psi), while in the back, it is 29 pounds per square inch. It has a radial and sheet metal type. In addition, the diameter of the wheel is ten inches.
What is the cost of the Honda Cliq in Bangalore?
Regarding cost, the Honda Cliq STD has a price range from Rs 45,329 to Rs 46,854.
What colour options are available in Bangalore?
Patriot Red, Morrocan Blue, Orcus Grey, and Black are the different colours you can choose from for your Honda Cliq.
Honda Cliq Price in Bangalore
Honda Cliq is available for rent in Bangalore at an affordable price. If you need this scooty for the short term, you can rent it on an hourly or daily rental plan. You can subscribe to this scooty weekly or monthly for long-term rental needs. Hence Honda Cliq Rental costs lesser than buying it from the showroom and paying for maintenance.

Introducing REFER & EARN No Limit, Get Cashback on Every Friend Who Join Us.
Select Your Bike

You can search & select bike from our wide range.

Add to Cart

Easily add multiple bike in your cart or direct book from "BookNow" button.

Pick Your Bike

Find the pickup location and pick a bike.

Ride Anywhere

We do not have kms limit.
RENT CLIQ STD IN OTHER CITIES
No Riding Limits

Odometer Won't Scare You Anymore.

Freebies

Helmets Always, Sometimes More.

Secure Payments

Our Payment Partners are Industry Leaders.

No Bullshit

A Day Rent is simply for 24 hrs, We mean it.

Verified Dealers

Every Single Dealer is Committed to Quality Service.

100% Moneyback

Not Happy With Service, Take Your Money Back.
We're here to provide helpful information when you need it most. And if you have a question, we're here to help with that too.
GENERAL ENQUIRY
info@rentrip.in
SUPPORT
support@rentrip.in
Now its easy to get two wheeler Cliq STD for rent in Bangalore or Cliq STD bike hire in Bangalore. We do provide monthly bike rental in Bangalore city. One of the best, bike rentals in Bangalore. We provide cheap bike rental Bangalore. Scooter rental Bangalore is our top priority to provide bike on rent near me (you). Find us with bike rental near me on search engines. You can hire good condition motorcycle for rent in Bangalore. We are extremly proud to have a customer like you to rent bike in Bangalore. User friendly website to rent bike in Bangalore. High quality assurance with rent a motorbike in Bangalore. We are everywhere, now rent a bike anywhere in india. We have flexible timings. You can rent Cliq STD bike on an hourly, daily, weekly and monthly basis.