Frequently Asked QuestionsRead All
Where the cashback shall be credited?

The cashback shall be credited to your RenTrip Wallet. You can use this promotional money to make future bookings on RenTrip.

Will I get the bike in good condition?

Yes you will get the bike in a very good condition. Our bikes get serviced after every trip and faulty parts are changed regularly. We fully check our machines before giving them to you so you can have an awesome time driving.

How can I book my bike?

Just login to www.rentrip.in, choose the place where you want your bike, select your favourite bike and book the best price for your bike. Here you go buddies; it's not that difficult right.

Where shall I get the bike? How shall I get the address to pick up the motorcycle?

It is not possible for us to provide the complete address with bike listing. However, on the bike search page, we have given a brief location of the bike. Once your booking is complete, you get an E-mail and SMS having the complete address and contact number of the dealer. These details are also printed on your invoice and always available on your personal dashboard.

How can I know my booking is confirmed?

After completing your booking on Rentrip you will get a message and email which includes your pick-up location and time and other details of the booking.

What will be the documents I have to provide?

Generally, any ID proof such as Aadhaar card, Pan Card, Voter id or Passport plus a valid driving license authorizing the type of bike rented in India shall be required. We don't accept colour copies of documents in place of the original. Additional requirements if any, are given on terms on bike listing page.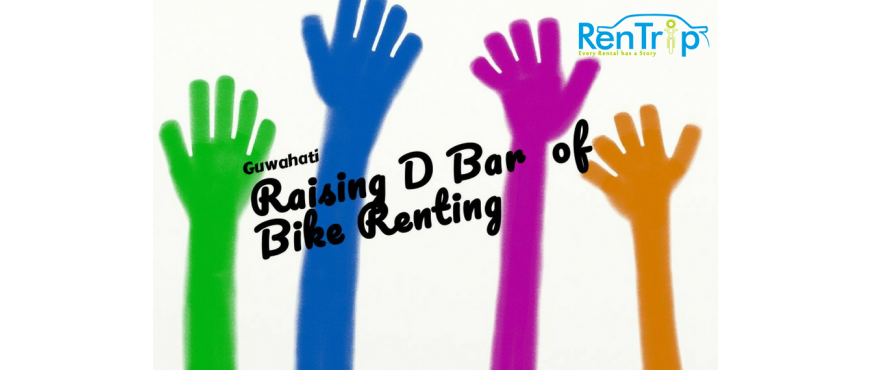 Rent Bikes in Guwahati at Zero Security Deposit
We have made Guwahati bike renting security deposit free. Now riders can rent bikes without any security deposit. The only requirement for renting motorcycles shall be a valid original ID proof and driving license.
Charge Phones While On Ride
Additionally, bikes are fitted with mobile charges and holders to facilitate riders charge their mobile phone while riding. Riders can also use mobile phone holders on the handle to place their phone to have GPS navigation on the ride. This service is totally free for the riders renting the bikes.
Highly Serviced Bikes
RenTrip was able to maintain 99.4% serviceability while the bikes were rented out. The bikes are immediately serviced after the trip, so the riders never had to face any issue while the bikes were on ride.
Accessories For Long Drives
As the weather in the North East is rainy most of the time and no one can say with confirmation about the rain, riders can avail raincoats, gloves and other accessories at nominal charges. Luggage racks can be fitted on prior request on Avenger and Royal Enfield models.
Local Guidance
Riders can get assistance on call about adventure sports, places to visit in Assam and North East India as well as camping and home stays.
Delivery On Request
You can make a request to us and we shall deliver and pickup the bikes anywhere within Guwahati.
Unlimited Miles Drive
We don't like placing restrictions. Let the rider inside you drive as much as it can. You can ride unlimited km only with RenTrip Bike Rentals.
Other cool features will be coming soon. Stay tuned to get most exciting experience with RenTrip.