Frequently Asked QuestionsRead All
Where the cashback shall be credited?

The cashback shall be credited to your RenTrip Wallet. You can use this promotional money to make future bookings on RenTrip.

Will I get the bike in good condition?

We have 0% quality tolerance. You have complete right to check and test drive your bike. Once you are not satisfied with the quality aspect, just tell us and we shall refund you in full, that's a promise.

How can I book my bike?

Just login to www.rentrip.in, Select the bike which you want to book and checkout. Once your payment is processed, you get the complete details of the dealer with location link and contact number. You shall also get the contact details of your dedicated trip manager at the same time. Just collect your bike and ride off. It's super easy, isn't it?

Where shall I get the bike? How shall I get the address to pick up the motorcycle?

It is not possible for us to provide a complete address with bike listing. However, on the bike search page, we have given a brief location of the bike. Once your booking is complete, you get an E-mail and SMS having the complete address and contact number of the dealer. These details are also printed on your invoice and always available on your personal dashboard.

How can I know my booking is confirmed?

After completing your booking on Rentrip you will get a message and email which includes your pick-up location and time and other details of the booking. You can also call your trip manager for any assistance 24 x 7.

What will be the documents I have to provide?

Generally, any ID proof such as Aadhaar card, Pan Card, Voter id or Passport plus a valid driving license authorizing the type of bike rented in India shall be required. We don't accept colour copies of documents in place of the original. Additional requirements if any, are given on terms on bike listing page.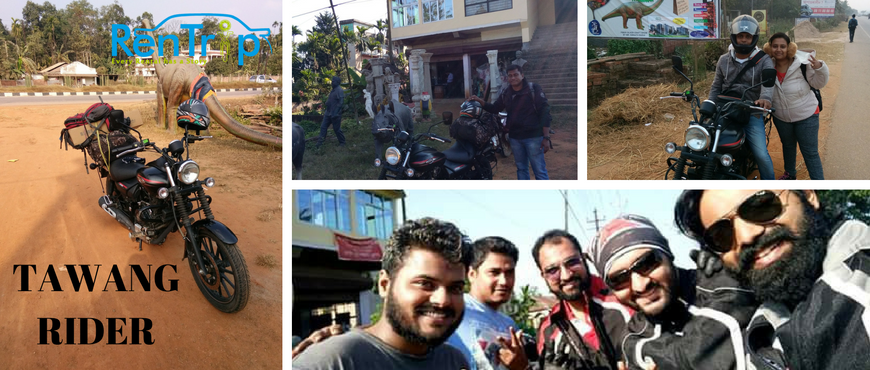 Guwahati – The Gateway of the North East is flooding this season with riders for the adventure ride of Tawang. After Leh – Laddakh, riders are looking to explore the unexplored and nothing can be better than renting the bikes from Guwahati and start exploring the North East. The most popular destinations being Shillong, Cherrapunji and Dawki, Tawang (Arunanchal Pradesh) is emerging as a great destination for adventure motorists.
We have seen that few riders approaching to Tawang without proper preparation, that is going to add to miseries only. Hence we came up with an article on how to approach for Tawang motorcycle ride.
1. Get your motorcycle reserved at rentrip.in/rent-bike/guwahati. The best motorcycles that are suitable are Bajaj Avenger 220 Street (900 / Day), Bajaj Avenger Cruise 220 (900/Day), Royal Enfield Classic 350 (1300/Day), Royal Enfield Thunderbird (1300/ Day), Desert Storm (1500/ Day) and Royal Enfield STD 500 (1800/ Day).
2. Ask for additional helmets if required.
3. Ask for luggage carrier if required.
4. Carry special gloves, Knee Pads and Jackets to keep yourself safe from weather and winds.
5. Roads in the vicinity of Tawang are trecherous as you may need to ride the bike over ice. Try not to apply brakes and go slow over them.
6. Don't make a short 5 -6 days trip for Tawang. We recommend planning atleast 10 – 12 days of trip so that you do not have to ride in hurry. Include additional days if you want to explore other regions such as Kaziranga National Park, Shillong, Cherrapunji, Dawki etc.
7. Don't forget to carry DSLR Camera so that you do not miss beautiful and mesmerising vallies of Arunanchal Pradesh and beautiful lakes.
8. Do not apply brake unnecessarily as brake shoes tend to wear out on excessive braking on downhills.
9. Get in touch with us in advance so that we can arrange permits and other things well before you start you trip.
10. Do not rent cheap motorcycles. Nothing in the world comes for free / cheap. People offering cheap services have evolved ways to lure riders and later they may make it costlier for you later.
11. Make sure you have a survival lit. A good quality match box, a swiss knife, toolkit (Ask us for it, we offer it for free for every motorcycle rental Ex Guwahati), clutch wire and enough cash.
12. Please do not ask for roadside assistance in Tawang as we may not be able to fulfil. You should yourself be able to tackle minor problems on the bike on the way. After all, humans are more reliable than machines.
Conquering Tawang is a great experience in itself. Get on to it this season. Tomorrow never comes!!!