Shopping Cart
Oops! Your cart is empty.
Frequently Asked QuestionsRead All
Where the cashback shall be credited?

The cashback shall be credited to your RenTrip Wallet. You can use this promotional money to make future bookings on RenTrip.

Will I get the bike in good condition?

Yes you will get the bike in a very good condition. Our bikes get serviced after every trip and faulty parts are changed regularly. We fully check our machines before giving them to you so you can have an awesome time driving.

How can I book my bike?

Just login to www.rentrip.in, choose the place where you want your bike, select your favourite bike and book the best price for your bike. Here you go buddies; it's not that difficult right.

Where shall I get the bike? How shall I get the address to pick up the motorcycle?

It is not possible for us to provide the complete address with bike listing. However, on the bike search page, we have given a brief location of the bike. Once your booking is complete, you get an E-mail and SMS having the complete address and contact number of the dealer. These details are also printed on your invoice and always available on your personal dashboard.

How can I know my booking is confirmed?

After completing your booking on Rentrip you will get a message and email which includes your pick-up location and time and other details of the booking.

What will be the documents I have to provide?

Generally, any ID proof such as Aadhaar card, Pan Card, Voter id or Passport plus a valid driving license authorizing the type of bike rented in India shall be required. We don't accept colour copies of documents in place of the original. Additional requirements if any, are given on terms on bike listing page.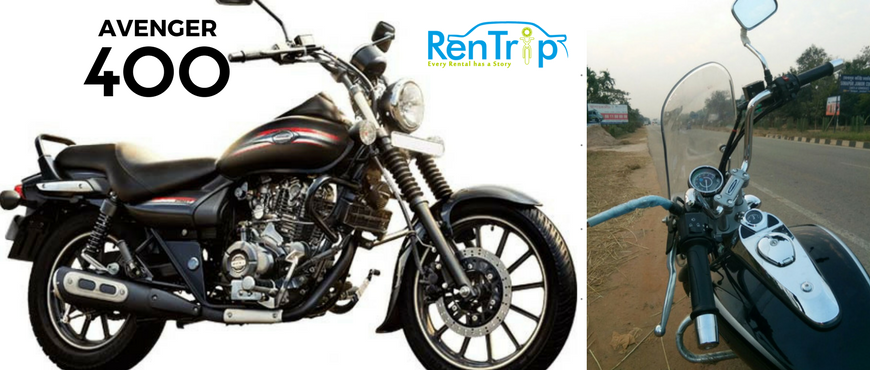 After the big hit of Dominar, Bajaj has fastened its belts to launch Avenger 400. The new Avenger 400 is planned to be launched in June 2017. The Avenger 400 shall be available in Cruise and Street model. The bike is said to be a challenge for Royal Enfield models of 350 and 500 CC.
The Avenger 400 is coming up with the same DTSI engine that is powering Dominar, however most of the features are anticipated to be same as of Avenger. The cruiser bike is expected to be a favourite for motorcycle tours and long distance bike rentals in India.
We have seen an intuitive and path breaking improvements in Bajaj engineering and Avenger 400 is just another milestone in that. The bike is well suited for Ladakh bike tours. We have already launched Bajaj Dominar rental which is available in Coimbatore and shall be coming up in other cities very soon. Dominar rental has got a good response from people and Avenger 400 rental is the vacant space that should be well filled with the launch of Bajaj Avenger 400.
The 375 CC single cylinder power plant shall deliver the power between 35 – 38 BHP and 34 NM of torque. The bike shall be priced at 1.75 L ex- showroom Delhi which is bit more expensive than Dominar 400.