Frequently Asked QuestionsRead All
Where the cashback shall be credited?

The cashback shall be credited to your RenTrip Wallet. You can use this promotional money to make future bookings on RenTrip.

Will I get the bike in good condition?

We have 0% quality tolerance. You have complete right to check and test drive your bike. Once you are not satisfied with the quality aspect, just tell us and we shall refund you in full, that's a promise.

How can I book my bike?

Just login to www.rentrip.in, Select the bike which you want to book and checkout. Once your payment is processed, you get the complete details of the dealer with location link and contact number. You shall also get the contact details of your dedicated trip manager at the same time. Just collect your bike and ride off. It's super easy, isn't it?

Where shall I get the bike? How shall I get the address to pick up the motorcycle?

It is not possible for us to provide a complete address with bike listing. However, on the bike search page, we have given a brief location of the bike. Once your booking is complete, you get an E-mail and SMS having the complete address and contact number of the dealer. These details are also printed on your invoice and always available on your personal dashboard.

How can I know my booking is confirmed?

After completing your booking on Rentrip you will get a message and email which includes your pick-up location and time and other details of the booking. You can also call your trip manager for any assistance 24 x 7.

What will be the documents I have to provide?

Generally, any ID proof such as Aadhaar card, Pan Card, Voter id or Passport plus a valid driving license authorizing the type of bike rented in India shall be required. We don't accept colour copies of documents in place of the original. Additional requirements if any, are given on terms on bike listing page.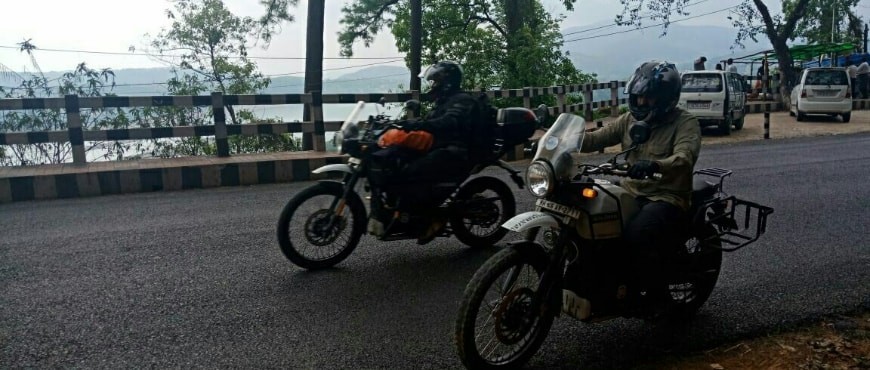 Have you ever been in a state where you just got out of your zone, dropped everything, got your car or bike, and left for a long long vacation? You have at least thought of it once in a while. Right! Well, in that case, you are not alone. A road trip with family or friends or the close one or a solo trip is better to communicate with oneself and a best approx to mingle.
If you are too much getting into your today's work you definitely need a road trip. No matter what is the distance like it is said, "I take to the open road, healthy, free, the world before me." In fact, there are a lot to explore and a lot to watch since there are adventurous treasures out in the world just for the people who carry all belongings in a vehicle and just get lost in a road trip.
So, we handpicked some of the best and exciting road trips in India. Keep going and keep getting lost because some beautiful paths can't be discovered without getting lost. We hope you enjoy these exciting road trips.
Things One Need for A Crazy Road Trip
A ride (a car or bike)
Some Friends
Music
A camera
Money
Now here are top ideas for an exciting road trip in India
1. Manali to Leh highway
Manali to Leh highway have the best serene roads and extremely sublime sceneries. It is like exploring through the soul of nature and getting a delightful traveling. The astonishing site is incapable to capture in just a few words. You have to go and feel the dancing wildflowers, the scented cool breeze, and the bluish-green hills and so on. Remember the song "Yeh Ishq Hai" from Jab We Met, and the scenery it shows. How incredible to just riding along this road on an open jeep or better on a bullet! However, the roads are little tricky and why not be, it has stored so many gems. The place is situating at an altitude in between 3 to 4 km and only summer seasons are good for traveling. But don't forget to acclimatize in between.
2. Visakhapatnam to Araka valley
Riding along with the scenery of the Bay of Bangle and the Eastern Ghats in Visakhapatnam are worth to see. When you entered through the roads to the Araka valley you will gonna behold at the mystic beauty of this union of the city and the hilly forests and skyful of roads. The place worth giving a view and the curvy roads is an exposure of the nonchalant composure of earthly realm and natural serenity. The roads are well maintained and it will be an amazing road trip to the southern part of India. The road is about 116 km and you will find caves and Tatipudi Reservoir on your way. And the best time to travel is in between October and March.
3. Shimla to Manali via Mandi
The Shimla to Manali via Mandi is a cherry on the top of your next bike-it-list. Right! The road is flowing near the River Beas and it is so off-the-chart breathtaking and need to be felt at least once. With snow-capped mountains, deep blue valley with green forests and magic hours, you will surely fall in love with the scenery. The best time to visit in this beautiful land is in monsoon season. it is among the best place to go.
4. Guwahati to Tawang
Northeast always keeps gems in the lap of nature. Tawang is one of them. Calm and serene. A beauty worth to watch. No matter how challenging the paths are but when you reach the spot you will be amazed guaranteed. The roads are through the hilly greenery and Guwahati and Tawang have a distance of about 520 km. You will never gonna regret to take this road trip. If the Guwahati has the city based locations and sites then Tawang also comprehend with calm Monpa villages and serene mountains. The roads are the curly and a little bit complicated but you will enjoy the ride. You can stop in midst of the journey and can behold the northeastern unique treasure.
5. Guwahati to Shillong
It is another road trip to take if you are willing to goNortheasteast and explore the valley. Shillong is the land of sweet cold breeze and warm scented flowers. The road is approximately three hours from Guwahati and it is like a zig zag line in a map. You will pass through the little Nangpo's town and the Borapani lake. The road is a bit tough but enjoyable with natural scenes. It is a perfect gateway for your weekend trip. Best season is in between March and October.
6. Puri to Konark
Orissa is always full of vivid scenic roads and idyllic natural tapestry. If you are in an east zone of India then you must take a ride from Puri to Konark. Both places are mystic land with ancient histories and architectural structures. The road is one of those highways where you are forced to click a memory with you. The road will take you in between the canopy of the trees and the soft scented breeze. The journey may take approx one hour and a perfect way to get lost for some time.
7. Gangtok to Lake Tsomgo and Nathula-La Pass
This road trip calls out the nature lovers; pass miles of treasure on both side of the road and the gem of the route which is embellished with blue mountains and green valleys, lakes and a lot more. The road may be challengeable but it is worth it because of the route you about to explore. Passing through the mountain ranges will surely cherish your mind. Take a road trip in winter and you will be amazed by the view. The stretch ids about 55 km long and will behold your vision.
8. Bangalore to Bandipur forest
The Bandipur forest trail is one of the most treasures road trips of India. Passing through the serene green land and ancient historic vivacity is a plus one for the enthusiast traveller. One can also take the Ooty to Bandipur National park through Mysore. You may be amazed at the views that forest stored for you. If the jungle wants then you can see the animals in the forest with close range. This road is beyond the imagination. Enjoy the journey with your family or close ones .the stretch is about 235 km long and five hours at a brief.
9. Pamban Bridge, Rameshwaram
Knock knock whose there! The Ocean. Have you ever imagined a road trip where you are in midst of the water and only water, like you are not riding but swimming. The road pr more precisely said the bridge is in between the ocean. This road trip is a therapy you need the most. It is about 20 minutes of a trip but worth of the ride.
10 Jaipur to Jaisalmer
The desert of Jaisalmer is a must trip if you want a varied experience of vivid India. The roads are in good condition and you will gonna like the journey it takes ahead. And what more to say about the pink city. Jaipur is a treasure with pink architectural structures and aroma of the sunny wind. The road will surprise you in every point. Passing through the valley of sands and dates you are amazed how it tunes with your soul.
So are you ready for a ride!