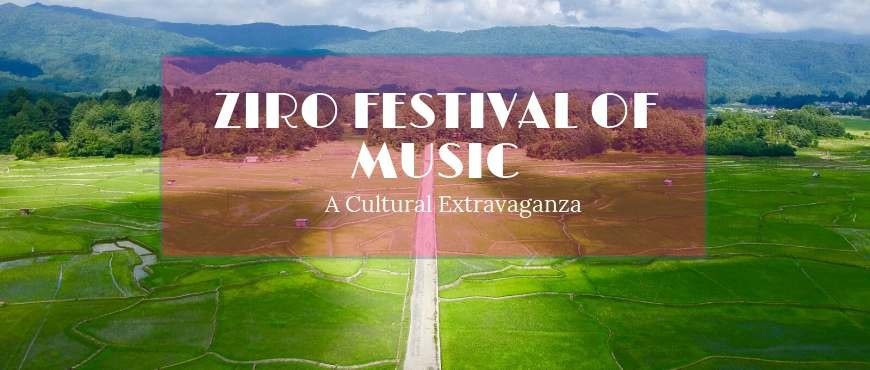 ZIRO: 4 Days Musical Extravaganza of Happiness
Contents:
Introduction
History
Celebrations
Main Attractions
Food
Where to stay
Festival date and timing
How to reach
Planning
Why you should visit
" Music . . . can name the unnamable and communicate the unknowable."
Music is that exposure that adventure, and that escape which a human mind always needed. Tuning with the humdrum life of vivacious upheavals we often forget to purify ourselves. And what better than music to declutter the mind, body, and soul. If you step back and think about it, then there is an opportunity stored for you inside the valley of Arunachal.
Yes! We are talking about the most awaited music festival of North East India-"Ziro Music Festival".
Endowed by Musician Bobby Hano and Anup Kutty in 2012, the Ziro Festival promotes regional, local, national and international musicians and bands around the globe. What more to say! It is one-of-its-kind of celebration where you can find the Independent and varied genre of music spanning over 4days.
This festival is hosted by the Apatani tribe of Ziro valley, one of the most enthralling sites of Arunachal Pradesh. The venue of the Ziro Festival is situated at the heights of 5,500 feet above sea level, surrounded by picturesque mountains and greenery. This outdoor extravaganza has currently opened its seventh edition after the successful '17th festival. Not only just the soulful music the festival has stored a lot more to explore. Let's keep digging what is serving on the menu of Ziro.
HISTORY OF ZIRO FESTIVAL
THE HILLY DELIGHT:
The Ziro valley is the home of the most hospitable and peace seeker tribe Apatani. It is a cradle to the unique tribal group with a balmy climate and of course a heaven for the seeker of music. Covering with the Pine Hills, rice fields and scented wildflowers the valley Ziro is topographically cut off from the rest of the mundane populated areas. The valley itself is an example of co-existence of man with nature and Apatani people shows how perfectly they manage to organize such a colourful festival in a small region like this. The zeal of their liveliness is the reason of the birth of this amazing festival.
Ziro is the district headquarters of Lower Subansiri District of Arunachal and is perched at a height of around 5,800 ft above sea level. Home to the Apatani tribe and plush with greenery and dawn-lit mountains, it's no surprise that it has been proposed for the World Heritage Site status. And once in a year, you have Ziro Festival of Music assorted music and performances on the donyii (stage)-that comes with local wild vegetables, homemade rice beer and "bow wow" meat.
The Apatanis are one of the major ethnic groups of eastern Himalayas. The tribe is well known for their ethnic culture, heritage, their vivacious festivals, intricate handloom designs, crafts, and so on. And of course, this tribe not only survive in midst of nature but conserve their traditions and their cultural activities. Their lively introspective towards the valley and their lifestyle still promoting that Zero is the most vibrant, an example of a living cultural landscape. The tune that keeps the tribe coexists with nature also can be heard through the "Ziro Festival". The development of the valley and also the people clarify their hard work and enthusiasm from years.
Souls in tune:
From the time of inception, the Ziro music festival serves as an exclusive platform for the local, independent and folk fusion bands and artists. The ZFM, in its seven years of existence, has seen the likes of Indus Creed, The Supersonics, and Menwhopause enthralls a niche audience, 80% of whom come from outside the state. The long lost journey or the tough road in midst of the nature no one could beat the experience that you will gain in the festival. Although the host Apatani people are very hospitable and you have a chance then you can interact with them directly, know about their culture and custom. And of course, dubbed as one of India's largest outdoor events, the four-day jamboree is a one-of-a-kind fest meant for indie artists from the world over.
"Music transcends everything. With the help of a good organizing body, good sound systems, and a good audience, music was delivered in its true sense,"--- this was a statement of "Indias' Bob Dylan about the festival of Ziro. He was once a headliner of the first edition of "Ziro Music festival. Here in this Ziro Festival of Music, you can find the connection between the desi entertainer and the British rock band. This Far East state of India nestled deep in the rainforests, the Hong village in the valley organizes the most enthralling music festival of the year. This festival put Arunachal in the world map as one of the trendiest places.
Quick facts about Ziro
1. Ziro is included in the list of World Heritage site status by UNESCO in the cultural landscape category.
2. The best things about the festival are that the artists who perform actually become a part of the community.
3. The unique fact about the inhabitant of Ziro- the Apatani people is that they have their exclusive tribal practice of Tattoo by the women.
4. The distinctive Nose piercing of the women is one of the familiar things to see in Ziro.
5. The festival showcases the rare folk songs and performance of the Northeastern valley.
6. Most importantly the festival not just about the music but also the valley is itself incredible with the sceneries, adventurous trips, trekking, cycling and what not. It is all about the location.
Celebration:
It is not just a celebration of music it is a celebration of life. The valley itself is in news all for the good reason. Not only the World Heritage Site (by UNESCO), but also it is the most favorite place for travelers for its musical extravaganza "Ziro Music Festival". The festival concludes music, food, drinks, and people from all around the corner of the globe. Currently, in its 7th edition, it is one of the greatest outdoor festivals. Approximately 6000 travelers come to this valley once a year to celebrate this vivacious occasion.
This 4days perfect gateway will give you a spirited enlightenment. Sleep under the starry sky, drink the local beer while listening to music, belter around a bonfire or just stare at those beautiful green hills. It is not just a festival of music but you can also be part of the trekking, Biking, Cycling or Bird watching and moreover the local food---Ah! This is a road to be taken once in a year.
Main Attractions
Let's see what is this all about in a glimpse:
What is this festival all about:
Set up in the most serene location of the country, the festival showcases the northeastern folk songs and Indi rock songs by different bands and artists. The festival has two stages with a variety of bands and music acts. The stage sets for the enthralling mix of indie, alternative, fusion, and folk, with the heavy presence of electronic ambiances. They display both local, regional and bands from the outside. The two stages are- the day stage (Daynii or Apatani for sun) and the night stage (Pillo or Apatani for Moon). The day stage is located on a slight incline with the valley below features a euphonious warm vibe with a music that gently takes you to a tuneful completeness by the folk and occasional singers. The night stage has the headliners and they have the mix tune of local heavy metal, alternative rock, and fusions. You can just take a sip of the rice beer and enjoy the hilly delight.
What is in the other pocket of Ziro:
The stage sets on fire from the afternoon onwards. So, you have plenty of time to do the other enthralling things in the valley.
You can spend the day by sipping the beer and talking with your friends by lying in the grassy bed.
Trekking is also a favorable option if you are an adventurous one. It is a popular tourist destination. It is at the elevation of 5500 ft. with the exotic pine forest, bamboo forests and terraced rice fields. The trekking also offers the breathtaking Ziro Valley along with a magnanimous Shiva Lingam on Kardo Hills. And can also visit the wildlife sanctuary.
The next thing you can do is bird watching. And of course, you are a nature lover. Right! Then, birding can be a fun experience for you in Ziro. Here you can see the Lesser-Rufous headed Parrotbill, White-hooded Babbler, Oriental White-eye, Pygmy Wren Babbler.
Then if you have enough time then you can go for river rafting in Kamle River.it may be the most indulging adventurous activity in the valley.
Biking and cycling is another experience you can participate in. It is an experience you rather not to miss.
Visiting the paddy rice field is another exposure if you need a field trip.
Of course, how could you forget the bonfire? After having a good bike trip or birding join in a bonfire and make memories.
Camping is actually the core attraction which makes this festival unique and better.
ROAM IF YOU WANT TO
If you love to explore new places and sights then Ziro has a lot of spots to contemplate. Some of the places are:
Paddy Cultivation:
Ziro has many natural resources and people of this valley are quite comprehensive with their lifestyle. Paddy Cultivation is a prime occupation in Ziro. In Ziro, there are mostly two types of rice are grown by the people and one of those requires a variety of fish in the water to keep the crops growing rapidly. The people of the valley planted bamboo and pine trees around the fields. It is the dominant cultivation process of the valley and if you want to see their lifestyle along with nature than you must visit the place.
TALLY VALLY WILDLIFE SANCTUARY:
As one of the most beautiful states of India, Arunachal Pradesh contains 40% of the floral and faunal species of the country. The Ziro itself has a quite a large portion of this share. Tally Vally is a wildlife sanctuary of the valley exhibiting the dense forest with pine trees, dazzling grandeur, and an exquisite wasteland. It also has the endangered species of the tiger the clouded leopard and those beautiful orchids. You should not miss this natural essence.
KILE PAKHO:
The Kile Pakho is a hilly point from where the visitors can get an alluring view of the whole plateau with the Himalayan overview. This is a major tourist spot for its beauty and serenity; it is also a photographer's heaven if you say so.
SHIV LINGA:
Now you can visit the self-made Shiv Linga located 1500 meters above the sea level. The Shivlinga which was discovered by the locals is said to be the world's largest Shivalinga. And of course, the place is ideal for trekking and hiking.
MAGHNA CAVE TEMPLE:
Maghna Cave Temple is dedicated to Lord Shiva. It is also an ideal place for hiking and trekking. The temple is located of about 3000 feet above sea level in midst of the natural greenery.
PINE GROVE:
If you have a hobby in photography then Ziro stored many more surprises for you. The Pine Grove is one of them. It is a favorite picnic spot and also a scenic beauty for the photographers. You can plan a one-day outing to this place and have a quiet and mesmeric time.
DOLOMANDO:
It is the best destination for the couples. Actually, the place is a reminder of the love affair of Dolo and Mando. You can trek to the spot and view the mesmerizing beauty of old Ziro and Hapoli Town.
MIDEY:
This beautiful place is known for its looming blue pine and astonishing views. Also, it has the biggest and tallest tree in the valley. The place is favourable for trekking and hiking.
FOOD
Any food enthusiast out there. There is a good news for you. Ziro has a lot to offer in this section. If you like to try new kinds of cuisine from diverse tribes and culture then you must try the food available in Ziro. They provide some local tribal foods like the bamboo chicken, steamed meat, fish, pork, silkworms and rats prepared in a traditional style and many more. And if you don't like those bizarre items then they also sell burgers, sausages etc. but you must try their rice beer. Many stalls in the festival stock fresh local wines and rice beer at an affordable price. But you must know that you are not allowed to carry alcohol inside the venue.
WHERE TO STAY IN ZIRO
Camping:
At the festival, you can try the experience of camping. For this, you have to book tents. If you book a tent the organizer will send you the important things you have to bring for the camping. And if you are an ardent camper you know what the important things you need to carry are. There are basically two different camping options- one is the official Ziro campsite and another one in the open valley where you have to bring your own tent.
Other Options:
And if you are not into camping then there are other options for you. The Hapoli town has a lot of hotels and lodges. Also, you can try a homestay. Many NGO and families provide home stays for those days and it is open for the travelers.
ZIRO FESTIVAL 2018 DATE AND TIMINGS
Event Name: Ziro Festival of Music 2018 (ZFM 2018)
Ziro Music Festival Venue: Ziro, Arunachal Pradesh
Start Date: Thursday, 27-Sep-2018
End Date: Sunday, 30-Sep-2018
Hosted by: Ziro Music Festival 2018 is spread over three days and is hosted by the Apatani people of Ziro
Ziro Valley Festival Ticket Prices: You can get the tickets from the official website of Ziro.
HOW TO REACH:
Traveling to Ziro is also an adventurous experience. There are no direct transport and communication to Ziro.
BY AIR:
You can take flight from your city to Guwahati Airport. This is an international airport and connects to the almost all major cities of the country. But after that, you have to take train or road trip to Ziro since there are no other options. Another nearest Airport is Salonibari Airport. It is a domestic airport of Tezpur and it may take roughly 6 hours from the airport through the roads to complete the trip to Ziro.
BY TRAIN:
From the Airport, you can take the train from Guwahati to Naharlagun Station, the closest one from the venue.
By MOTORCYCLE:
If you are an adventurous and rider. Phew! You can take the amazing bike trip from the airport. You can take it from rental or can ride your own. Riding through these magnificent places will definitely blow up your mind. Check here the available bikes on rent in Guwahati for Ziro festival.
WHY YOU MUST VISIT ZIRO
Exhibiting an amazing independent music scene in India, the Ziro Festival is a phenomenal and exciting event to attend. Still, you have any doubt then just scroll down why you should attend the amazing festival.
Unfasten your wild spirit
The hectic mundane lifestyle always swipes away the wild thirsty zeal of the human soul. You have tried a routine life, a lethal life now make it adventurous. If you are finding a place where you can lose your scheduled zone then Ziro Music Festival is the right place to go. The valley is far away from the mechanical city life and you can just float in music and nature. Don't think twice. You will never gonna regret! It is just the place for you.
No Crazy Drama
You have visited many music concerts or festivals. And maybe your idea of a festival is all about those loud songs and crowded places. But here, in Ziro, you can listen to that melodious music from anywhere around the paddy fields without constantly feeling pushed over the edge.
A Route to YOURSELF
"The impulse to travel is a helpful symptom of life"—Ziro is not all about the music. It is about the journey, the views and the experience you can get in exchange of a little busy time of your schedule. The narrow roads, the picturesque views, the scented wildflowers, blue hills and the floating clouds; what do you need more than that in a trip. Ziro is just the Treasure Island unfolding to you step by step. Get lost for some time and come back with more energy.
A Budget-Friendly trip
Sometimes we have time and opportunity to travel but because of the cost, we have to think twice before making any trip. Here is the good news for you, traveling to Ziro will not burn a hole in your pocket. You can plan it under 20,000. That's why you should not miss the chance.
A Warm Welcome from THE HEART OF NATURE
The people who live away from the materialistic cacophony have a warm and simple heart. They are friendly and do not jeopardize it with complicacy. The people of Ziro are like that and their hospitality will win your heart. Since it is a festival of a certain community so the doors of their home and heart are always open.
The duo of mouth-watering food and distinctive culture:
This festival is not always about the music, it is also about the tribal cultures and customs. Ziro Music Festival is organized by the Apatani people, a tribe of Arunachal Pradesh. You will find out how beautiful their culture, their cuisine and their lifestyle. In a very limited expense, they concluded their whole life. Their nose piercing and tattoos are unique. And their food! Oh, how can you forget that the food prepared in traditional style a must try during the festival. You will never gonna regret taking a bite. Just dig in!!!
You have to sing until BEER O'clock
Why do you care how time advances. Just take a sip of the beer and forget all sorrows. The local beer prepared in traditional Apatani style is a cherry at the top of your trip. It is served in bamboo glasses with a fantastic smell and mixing with a local unique flavor.
Planning to go? Here is some information you can use:
Ever since its inception, the festival has drawn huge crowds from all across the country and abroad to feel and be a part of this splendid occasion by the impeccable artist and bands. In 2018, the festival will be running in its seventh year and is already much eagerly awaited. This year's main attractions are
1. Khasi Bloodz: Khasi Bloodz is a hip-hop act from Shillong, Meghalaya.
2. Kroashia: Kroashia is a band from Mizoram with varying sounds from punk, alternative, grunge, rock and roll to pop punk.
3. Aswekeepsearching: Aswekeepsearching is a post-rock band from Ahmedabad, Gujarat.
4. Carolina Norbu: Carolina Norbu is a singer/songwriter based in Itanagar, Arunachal Pradesh
5. Burudu: Burudu is a two-person electronic act from Mumbai.
6. Vivek Arora: Vivek Arora is a rapper based in Dehradun.
7. Lateral: Lateral is a live electronic music duo originating in Guwahati, India and formed by brothers Siddharth Barooa and Amitabh Barooa
8. Atingkok: Atingkok is an experimental/alternative folk band based in Imphal.
9. Sky Level: Sky Level is a math rock band from Shillong, Meghalaya
10. Reggae Rajahs: Reggae Rajahs are a reggae and bass music sound system crew based out of New Delhi, India
11. Alaska Snack Time: AST is an Israeli band with music that features a mix of electronica, African rhythms, hip-hop and jazz
12. Alobo Naga & The Band (ANTB): Alobo Naga is an award-winning composer and musician based in Nagaland
13. Bint El Funk: Bint El Funk is a proposing band who has founded the genre Yemen Funk. Their debut album, "Bint el Funk" (daughter of Funk) was released in March 2016. Each performance quickly becomes a native tribal party with sounds, rhythms, colors, and scents, which unite on a thread connecting Sana'a in Yemen, Harlem in the US, and the Shaariya neighborhood in Petach Tikva, Israel.
14. Rizal Abdulhadi : Rizal Abdulhadi is a uniquely talented multi-instrumentalist, folk singer, songwriter, instrument builder and social activist from West Java, Indonesia
15. Jambili: Jambili is a folk-pop fusion group from Diphu Karbi Anglong, Assam
16. Thaalavattam: Thaalavattam is a percussion-based project by Montry Manuel, which uses instruments created from waste plastic and metal with the aim to inspire people to think creatively about waste
17. Dhruv Visvanath: Dhruv is a multi-instrumentalist, composer, singer-songwriter and the only Indian to be mentioned in Acoustic Guitar Magazine USA 's "30 Great Guitarists under 30"
18. Sofia Ashf: Sofia Ashraf is a writer by profession, a rapper by digression and a comic if you're drunk enough. At Ziro, she will be joined on stage with Marti Bharat and Tapass Naresh of Sapta fame for a high energy performance
When: 27th September- 30th September.
Stay at Ziro
You can have a stay at the campsite or pick any hotel from the nearest town. Although you can try a homestay also.
The Inner Line Permit
Even Indian travelers need a permit to travel to Arunachal. The Inner Line Permit can be obtained from Resident Tourism Office, Guwahati International Airport, Assam Paryatan Building in Guwahati, Arunachal Bhawan at Delhi, Arunachal Bhawan at Kolkata, or Naharlagun Railway Station
International Permit
International travelers need the Protected Area Permit. The organizers of the festival help you arrange this permit.
Now, you are all set for one of the most beautiful places in the country. Not only the festival but Ziro will enthrall you with the picturesque view and the hilly charm. If you can manage 4,5 days extra after the concert. Shilling and Tawang are also near the valley. Or, if you want to see Ziro valley then Ziro will never disappoint you. Just book those ticket and grab the opportunity to be a part of the amazing experiences.
2 Stages – 40 Musicians – 6000 Attendees. Are you ready for the most awaited festival of music, food, and culture?
( RenTrip is an official partner at Ziro Festival of Music 2018. Contact us for packages and tickets. Only limited seats available on first come, first serve basis)
Chitra Pandey
25/07/2019 11:46 am
Your blog is so nice and full of information. I really enjoying reading your blog. We are
Cab Rental Service
provider in India as Bharat Taxi.