Shopping Cart
Oops! Your cart is empty.
Frequently Asked QuestionsRead All
Where the cashback shall be credited?

The cashback shall be credited to your RenTrip Wallet. You can use this promotional money to make future bookings on RenTrip.

Will I get the bike in good condition?

Yes you will get the bike in a very good condition. Our bikes get serviced after every trip and faulty parts are changed regularly. We fully check our machines before giving them to you so you can have an awesome time driving.

How can I book my bike?

Just login to www.rentrip.in, choose the place where you want your bike, select your favourite bike and book the best price for your bike. Here you go buddies; it's not that difficult right.

Where shall I get the bike? How shall I get the address to pick up the motorcycle?

It is not possible for us to provide the complete address with bike listing. However, on the bike search page, we have given a brief location of the bike. Once your booking is complete, you get an E-mail and SMS having the complete address and contact number of the dealer. These details are also printed on your invoice and always available on your personal dashboard.

How can I know my booking is confirmed?

After completing your booking on Rentrip you will get a message and email which includes your pick-up location and time and other details of the booking.

What will be the documents I have to provide?

Generally, any ID proof such as Aadhaar card, Pan Card, Voter id or Passport plus a valid driving license authorizing the type of bike rented in India shall be required. We don't accept colour copies of documents in place of the original. Additional requirements if any, are given on terms on bike listing page.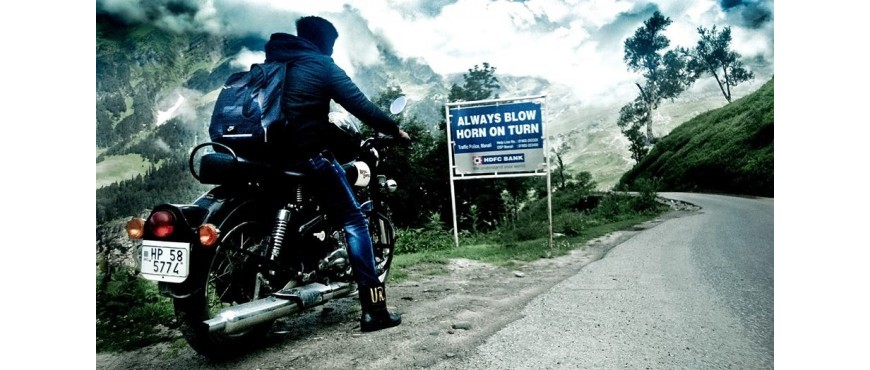 Agam Raghav/ Photo by Vivek Chaudhary
Riding a Motorcycle can be a joyous thing. Every time you push the self start button or twist the throttle you can feel an emotion rushing deep inside your heart. The emotion of being happy and free from this world. When you make your motorcycle roar on an open road or highway, it gives you an adrenaline rush like no other. A feeling which is alien to any person who has never laid hands on a motorcycle. A sense of being liberated, a sense of rejuvenation and pride.
But often people with inadequate knowledge about motorcycles have pre-conceived notions that motorcycles are a threat to the commuters as well as to the biker's life. These kinds of notions leave a negative impact in the mind of every person who wants to ride a motorcycle & refrain them from doing so.
Here we need to break this notion that motorcycles are not safe, because they give you a satisfaction of freedom and joy. Because millions of people ride them every day and many have to try their hands on motorcycles for the first time.
People have misconception because biking is hard to get into and it's not everyone's cup of tea. Due to this one restrains from becoming a life-long rider. But we cannot blame motorcycles for this. We cannot deny the fact that motorcycles are one of the best machines we have so far. Of course we have to be more cautious and sensible while riding a motorcycle.
About 80% of the motorcycle -riders ride sensibly and safely. They wear proper gears while riding, they follow traffic rules, and they take care of themselves and other commuters while riding. Most of the accidents happen due to the negligence of others. Owing to some people who don't have the sense of riding a motorcycle safely, the blame of reckless driving is passed on to the whole bunch of riders.
On the other hand there are some rich brats who directly try their hands on big sports motorcycles. This is one more reason why motorcycles are not considered safe. They should first set their hands on 200-250 cc motorcycle before going on to big machines. Before riding motorcycles of 650-1000 cc, you first have to experience the ride of low cc bikes.
Motorcycle riding is not dangerous if one rides with caution and sense. One should not confuse reckless riding with adventure and thrill, riding is not about speed .Riding in actual sense is to explore oneself. It is to enjoy and celebrate life. One can surely experience the world which only we riders know, the world without boundaries; the world that is free from all shackles…..all you need is conscience to ride.
Happy riding!