5 Bikers Heaven of North East from Guwahati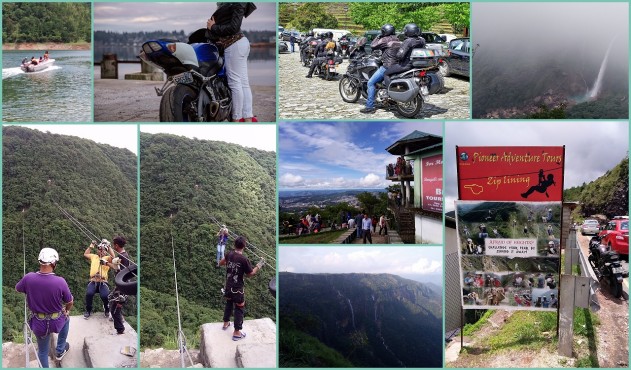 Renting a Bike was never as easy before the advent of Rentrip. With a jump start from the valleys of North Eastern India, Rentrip is now the top provider of Rental Bikes at very affordable prices in India. Come and explore North East with easy and affordable rentals from us. Here we are giving the list of top 5 Bikers destinations in the North East India. These destinations are given keeping in view of the roads as well as the worthiness of the places.
SHILLONG
If you are visiting North Eastern India, ignoring Shillong is truly unaffordable. It is also known famously as the Scotland of the East. Misty hills and beautiful waterfalls let one forget everything bitter. Journey to Shillong from Guwahati is clearly uphill and one needs to take sufficiently powerful Bike to enjoy riding. Avoiding 100 CC Bike on this road is advisable. Otherwise the way is beautiful and enjoyable. Though there are fewer fuel stations on the way. Total distance from Guwahati to Shillong is approximately 80 Km, but it takes at least 2 – 2 ½ hrs to cover the distance. You can rent a Bike in Guwahati from our pick up point and continue your journey straightway to Shillong.
Having rain coat with is a wise choice as chances of raining are live anytime throughout the year. On reaching Shillong explore places like Elephant Falls, Shillong Peak and Don Bosco Museum. Don't forget to enjoy water sports on the Umiam Water Sports Complex which is on the way to Shillong at famous Umiam Lake. There another places too which worth visiting like Air Force Museum which is very near to Elephant Falls, Sweet Falls and Wards Lake.
CHERRAPUNJI:
Cherrapunji is just 70 km away from Shillong and journey can be taken up after visiting Elephant Falls (last place on the road to Cherrapunji from Shillong) if one want to save some time. It is one of the best roads in India to drive a motorcycle being enormously beautiful and challenging. Waterfalls here are a common thing and one should be able to see them flowing along the way. Where ever you like, stop and enjoy the nature has given to us.
Being the rainiest place of the world, keeping raincoat while driving is the highly advisable. Don't forget to test your adrenalines as there is a place to do Zip Lining just 20 km off Shillong. As you move towards Cherrapunji, journey becomes more and more exciting. Places to visit there are Mawsmai Limestone Caves (Tip: Remove your shoes are there is some water inside and floor is slippery), Nohkalikai Waterfalls, Seven Sisters Falls and Double Decker Living Roots Bridge.
DAWKI:
Riding to Dawki is again a pleasure. Hilly terrains, lovely mountains and loud waterfalls will make you feel like in the heaven. Dawki is 80 Km from Shillong and the must visit things are Living Root Bridge, Mawlynnong which is the cleanest village of India and Bangladesh Border. Doing adventure sports is a pleasure here. You can enjoy doing scuba diving, Snorkelling, Kayaking etc
ZIRO VALLEY:
This place is itself a World Heritage Site owing to its mesmerizing beauty and stunning landscapes. If you are planning a drive from Guwahati, take a break a Rentrip Lounge at Sonapur and continue on NH 37 till Tezpur. The 4 lane road is fine and will make you reach Tezpur in about 3 to 4 hrs. From Tezpur it takes around 8 hrs to reach Ziro. You can also plan to break your journey in Itanagar which is on little diverted route.
Watching the valley of Ziro is a pleasure in itself. Places to visit there are Talley Valley Wildlife Sanctuary, Kile Pakho, Ziro Puto, Tarin Fish Farm etc. Trekking and watching birds in Ziro is one of the loveliest adventures you may plan to enjoy.
TAWANG:
A heaven on the earth! Words can't describe the stunning beauty of this place. And the road to this heaven will definitely test your driving skills. This place is snow laden in winters and the best time to visit Tawang is march/ April and Oct/ Nov. There may be road blockages in winters and rainy season of July and September is not advisable too. Keep winter wears and rain coats with you. Normal itinerary is Guwahati- Tezpur- Bhalukpong- Bomdila and Tawang.
The road to Tawang may enthral the riders with slush, snow, tea gardens and hilly twists. Prominent places to visit in Tawang include Sela Pass, Tawang Monastery, Jung waterfalls, Jaswantgarh, Madhuri Lake and P.T. Tso Lake.