Frequently Asked QuestionsRead All
Where the cashback shall be credited?

The cashback shall be credited to your RenTrip Wallet. You can use this promotional money to make future bookings on RenTrip.

Will I get the bike in good condition?

Yes you will get the bike in a very good condition. Our bikes get serviced after every trip and faulty parts are changed regularly. We fully check our machines before giving them to you so you can have an awesome time driving.

How can I book my bike?

Just login to www.rentrip.in, choose the place where you want your bike, select your favourite bike and book the best price for your bike. Here you go buddies; it's not that difficult right.

Where shall I get the bike? How shall I get the address to pick up the motorcycle?

It is not possible for us to provide the complete address with bike listing. However, on the bike search page, we have given a brief location of the bike. Once your booking is complete, you get an E-mail and SMS having the complete address and contact number of the dealer. These details are also printed on your invoice and always available on your personal dashboard.

How can I know my booking is confirmed?

After completing your booking on Rentrip you will get a message and email which includes your pick-up location and time and other details of the booking.

What will be the documents I have to provide?

Generally, any ID proof such as Aadhaar card, Pan Card, Voter id or Passport plus a valid driving license authorizing the type of bike rented in India shall be required. We don't accept colour copies of documents in place of the original. Additional requirements if any, are given on terms on bike listing page.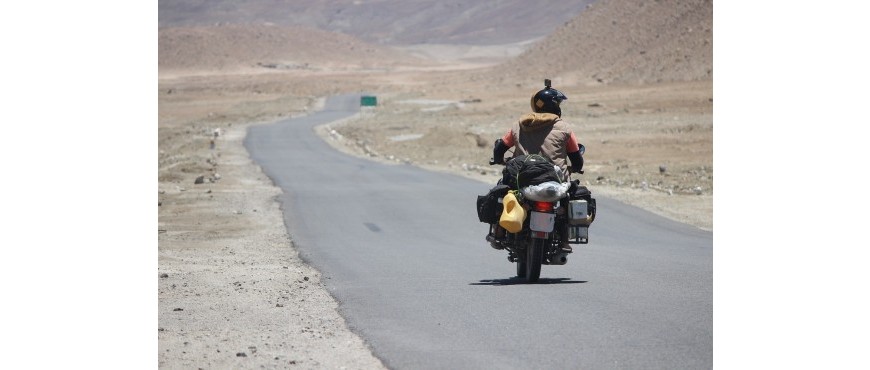 I'm sure that you know already that a lot of road trip enthusiasts prefer taking the Manali-Leh path while on their Delhi to Leh Ladakh bike tour. But, have you ever wondered why this is the case? What is that makes these adventure seekers take the way that's more thrilling and challenging? Why is the Manali to Leh Ladakh bike tour preferred?
Time-saving: Yes! This is most important when you are on a bike tour to Leh Ladakh. You have limited time at hand because let's face it, we all have work to do and families to get back to. We cannot waste time on travelling from one place to another and actually miss out on what truly matters. Thus, bike trip enthusiasts to Leh prefer the Manali to Leh Ladakh bike tour route. Manali is only a day away from India's capital city, New Delhi. The gorgeous scenic beauty is unmatched.
Quick adrenaline rush: Do you what sets bike trip enthusiasts apart from the crowd? Well, it's the desire for an instant high or kicks to the spirits. The fast adrenaline rush is something difficult to explain until you yourself enjoy to live life on the edge. Quite literally! The sharp turns and bends are bound to challenge your inner rider and bring out the best in you. In fact, these are what make the best memories to look back on to your Leh Ladakh bike tour. However, be careful and ensure all safety measures are taken. Within a distance of 13 km, the Gata Loops incline you from 4,198 to 4,664 meters.
Passing highest motor-able passes: The entire point of a bike trip is to ensure that you get to places that are not possible otherwise. This means that it goes without saying that you must pass through the highest motorable passes in India. That itself sounds like quite an achievement. After all, a bike trip & tour to Leh Ladakh means to get out of your comfort zone and push yourself to the ultimate. Passes like the Rohtang Pass, Khardung La, Barlach La and Nakila are among the highest in the list. I'm sure you can imagine already how beautifully breathtaking it must be to see it all from the top. However, be safe at Tanglang La which is the third highest motorable pass in the world. It is recommended to not stop here for too long as the oxygen levels are really low and help may be difficult to get at such a high altitude
Enchanting landscape: Have you ever looked at picture-perfect landscapes and felt that that's just where you need to visit? Well, a Manali to Leh Ladakh bike tour will take you exactly there. It's a pleasure to stay away from the city life and witness something so serene, soothing and challenging at the same time.
Why not get the best deals on Leh Ladakh bike trip packages 2018 and get going!