Shopping Cart
Oops! Your cart is empty.
Frequently Asked QuestionsRead All
Where the cashback shall be credited?

The cashback shall be credited to your RenTrip Wallet. You can use this promotional money to make future bookings on RenTrip.

Will I get the bike in good condition?

Yes you will get the bike in a very good condition. Our bikes get serviced after every trip and faulty parts are changed regularly. We fully check our machines before giving them to you so you can have an awesome time driving.

How can I book my bike?

Just login to www.rentrip.in, choose the place where you want your bike, select your favourite bike and book the best price for your bike. Here you go buddies; it's not that difficult right.

Where shall I get the bike? How shall I get the address to pick up the motorcycle?

It is not possible for us to provide the complete address with bike listing. However, on the bike search page, we have given a brief location of the bike. Once your booking is complete, you get an E-mail and SMS having the complete address and contact number of the dealer. These details are also printed on your invoice and always available on your personal dashboard.

How can I know my booking is confirmed?

After completing your booking on Rentrip you will get a message and email which includes your pick-up location and time and other details of the booking.

What will be the documents I have to provide?

Generally, any ID proof such as Aadhaar card, Pan Card, Voter id or Passport plus a valid driving license authorizing the type of bike rented in India shall be required. We don't accept colour copies of documents in place of the original. Additional requirements if any, are given on terms on bike listing page.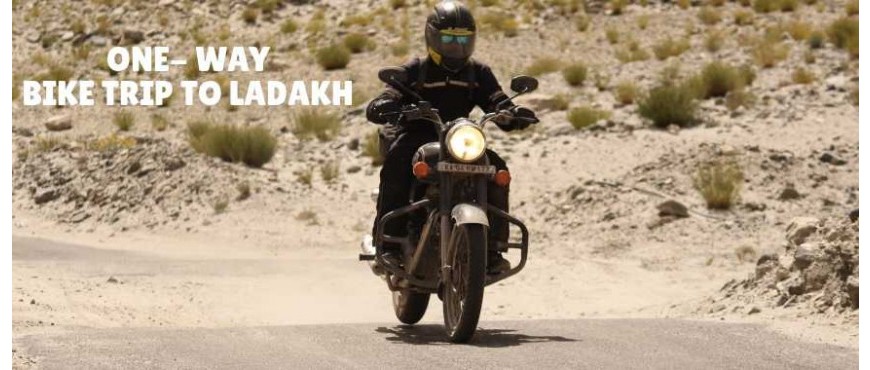 Voila! Now you just need not come the same way back to Manali. RenTrip has made it easy for the tourists who have less time to cover Leh-Ladakh on the bike. The picturesque valley of Ladakh offers a pleasure to connect with Nature in a real sense. It normally takes 12 - 15 days to cover some important spots on your Leh-Ladakh bike trip like Rohtang La (famous for its treacherous weather), Khardung La (Obviously world's highest motorable road), Baralacha La, Leh, Pangong Lake and Nubra Valley. Availing one-way bike rent to saves some time, as you can catch the return flight from Leh Airport.
If you are really looking for Leh-Ladakh bike rent from Manali and don't want to come back, just contact us and we shall arrange a customized deal for you at really affordable rates.
Here is the sample Itinerary for One-Way bike rental to Leh from Manali –
| | |
| --- | --- |
| Day 1 | Arrivals at Manali |
| Day 2 | Manali to Jispa (150 KM) |
| Day 3 | Jispa to Sarchu |
| Day 4 | Sarchu to Leh |
| day 5 | Leh - Kardungla - Nubra Valley |
| Day 6 | Nubra Valley to Pangong Tso |
| day 7 | Pangong Tso to Leh |
Check your cost of bike rental in Manali and bike dropping charges for the same from Leh to Manali. Generally, you should incur 8k - 10k bike dropping charge from transport.
You can also opt for our One-Way Guided Motorcycle Tour packages where you just need to subscribe to the tour and forget everything else. These tours are cost-effective where we have included bike, fuel, backup vehicle, mechanic, accommodation in hotels and tent, campfire and a lot of other things. As an inaugural offer, these One-Way tours can be subscribed for as low as Rs 26550 onwards.
Call us on +91 9127008800 / send us an email and tell us your requirements. We shall try to offer you a best, customized and memorable experience for your Leh Ladakh bike trip.