Frequently Asked QuestionsRead All
Where the cashback shall be credited?

The cashback shall be credited to your RenTrip Wallet. You can use this promotional money to make future bookings on RenTrip.

Will I get the bike in good condition?

Yes you will get the bike in a very good condition. Our bikes get serviced after every trip and faulty parts are changed regularly. We fully check our machines before giving them to you so you can have an awesome time driving.

How can I book my bike?

Just login to www.rentrip.in, choose the place where you want your bike, select your favourite bike and book the best price for your bike. Here you go buddies; it's not that difficult right.

Where shall I get the bike? How shall I get the address to pick up the motorcycle?

It is not possible for us to provide the complete address with bike listing. However, on the bike search page, we have given a brief location of the bike. Once your booking is complete, you get an E-mail and SMS having the complete address and contact number of the dealer. These details are also printed on your invoice and always available on your personal dashboard.

How can I know my booking is confirmed?

After completing your booking on Rentrip you will get a message and email which includes your pick-up location and time and other details of the booking.

What will be the documents I have to provide?

Generally, any ID proof such as Aadhaar card, Pan Card, Voter id or Passport plus a valid driving license authorizing the type of bike rented in India shall be required. We don't accept colour copies of documents in place of the original. Additional requirements if any, are given on terms on bike listing page.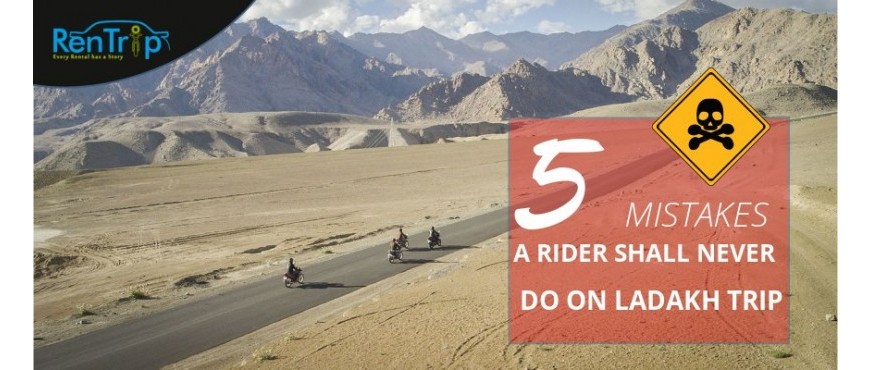 5 MISTAKES A RIDER MUST AVOID ON LADAKH BIKE TOUR
Hey Guys, Ladakh is knocking your mind, right. So what are the things you must carry before you embark on Ladakh bike trip? Things go differently when you plan your Ladakh tour from Delhi and different when planned from Manali. You can also opt to directly land at Leh airport and start your Leh Ladakh Bike Expedition from there. We have done much talking about Leh Ladakh bike tour before too, but here are some of the essential things that may cost you dearly if not considered seriously.
Fuel cans with extra fuel –
Your bike tank has a too limited capacity to be sufficient enough for the entire route, and there is no fuel stations midway! There are a couple of fuelling stations in Manali, after that you can find a petrol pump at Tandi which is 110 km from Manali. You can refill your tanks here. Now you have 350 kilometers to drive without a single fuelling station! Here your fuel cans shall come into action. You shall get fuel at Karu, which is about 40 km before Leh or at Leh itself. Make sure your jerry cans can carry enough fuel for the required ride. You will also need to consider.
Snow Riding Boots –
You can have even frostbite if you forget to wear. You can also rent one if don't want to buy a new one.
Don't consider too cheap bike rents for Ladakh Trip–
In most cases, you shall rent a bike in Delhi or take a rented bike in Manali. Bike rental shops in Delhi or Manali are usually run by unverified dealers who can cost you more money later than later. RenTrip has verified dealers who maintain the highest serviceability and if you are really don't want to get stuck in Leh, consider rightly priced bike rents.
Prebook your accommodation –
To avoid last minute disappointments, pre-book your accommodation in Manali, Jispa, Sarchu, Leh etc. Prepare your ride itinerary for Leh Ladakh bike tour yourself, where you can plan your ride, riding kilometers, accommodation etc.
Join Other fellows –
So your friend has changed his mind at the last minute? What next? We have seen many moto riders canceling their trip for this. You can get more friends to accompany you or just join other riders. Book fully guided Ladakh motorcycle tour here.
Finally, there are too many things where you shall need to find an answer. Email our Leh Ladakh bike trip experts on hello@rentrip.in or give a call on +91 9127008800 and we shall be happy to assist you.